2 March 2015 Edition
Alternative to JobBridge 'cheap labour' scheme
Sinn Féin proposals call for tailored internships developed in co-operation with trade unions and Education & Training Boards with employers supported to be best mentors they can be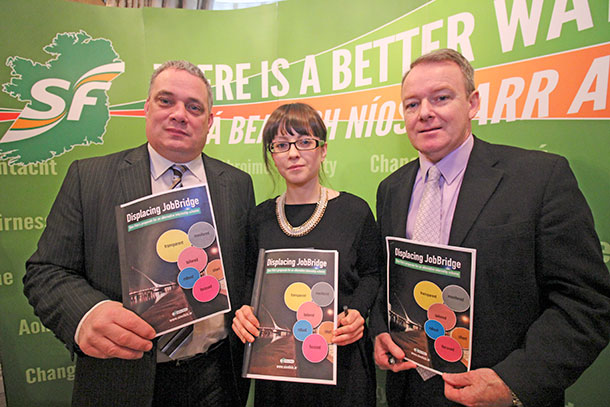 Aengus Ó Snodaigh says JobBridge is working to disadvantage good employers who do treat their staff fairly
JOBBRIDGE is not working, cannot work and needs to be replaced," says Sinn Féin Social Protection spokesperson Aengus Ó Snodaigh TD, who hit out at the Government over a scheme which he says exploits young people who are searching for employment.
The Dublin South Central TD was speaking to An Phoblacht after the launch of the 'Displacing JobBridge' document, Sinn Féin's proposals for an alternative internship scheme to the Government's JobBridge programme. 
Fine Gael and Labour's JobBridge scheme has been repeatedly and severely criticised for displacing real jobs, depressing wages and providing a source of cheap labour for employers.
The Sinn Féin proposals came following discussions and engagements with trade unions including Mandate, SIPTU, INTO, CWU, ICTU Youth and campaign groups including the National Youth Council of Ireland, the Irish National Organisation of the Unemployed and We're Not Leaving, as well as individuals who had taken part in the JobBridge scheme itself.
During the consultation process, Aengus Ó Snódaigh invited Tánaiste and Social Protection Minister Joan Burton and Junior Minister Kevin Humphreys to defend JobBridge and outline their views but they didn't bother to take up the offer. 
David Gibney of Mandate trade union says JobBridge facilitates the race to the bottom in terms of conditions for workers:
"It allows employers to undercut their competitors. This can force competitors to either go down that route themselves or reduce costs, and one of the easiest ways of reducing their costs is to attack the terms and conditions of their workers.
"In the absence of JobBridge, would people be hired anyway? Indecom's survey found 29% of employers say they would, and that's just among the ones willing to admit it. So that proves it is displacing real jobs."
Pointing out that he had engaged with employers, Aengus Ó Snodaigh says JobBridge is working to disadvantage good employers who do treat their staff fairly:
"Some employers are disgruntled about JobBridge as it is giving their competitors unfair advantages. These employers are seeing their competitors using JobBridge to keep labour costs down and so they feel they have no choice in order to stay competitive but to use the scheme."
Aengus also says many of the jobs advertised are simply entry-level positions that do not require much more than a short amount of on-the-job training.
"If you go on the JobBridge website today you have positions that previously would have been entry-level positions in retail or office work. It doesn't take six months to learn how to stack shelves; it doesn't take nine months to learn how to pick potatoes in Donegal."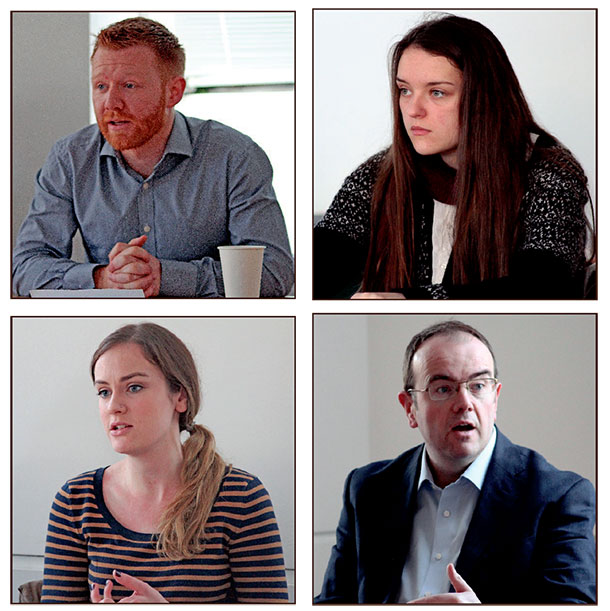 • David Gibney (Mandate trade union), Anne Marie Butler (We're Not Leaving campaign), James Doorley (NYCI) and Deirdre Dunne (SIPTU) at the meeting with trade unions, NGOs and campaigners meeting on the issues coming from the Government's JobBridge programme
The Sinn Féin proposals call for tailored internships which would be developed sector by sector in full co-operation with trade unions and Education & Training Boards with employers supported to be the best mentors that they can be.
In a workplace where a trade union collective agreement exists, use of the new internship scheme would require the prior and ongoing approval of the employees' union. 
Any employer found to be in breach of employment law in the previous two years would be excluded from offering internships. 
The scheme would also preclude an internship for any job where an apprenticeship or in-work training at an entry level would be more appropriate – thus ensuring that graduates who have already undertaken work experience as part of their course would not be required to accept more unpaid work.
The Sinn Féin proposals include strict monitoring of the internships offered and recourse and a route to compensation for any intern exploited by an employer who breaches the principles of the scheme.
Aengus says: 
"The inappropriateness of the JobBridge scheme needs to be dealt with and the only way I believe that can be done is to scrap it."
The full set of proposals can be read here.