2 March 2015 Edition
Right2Water goes to Brussels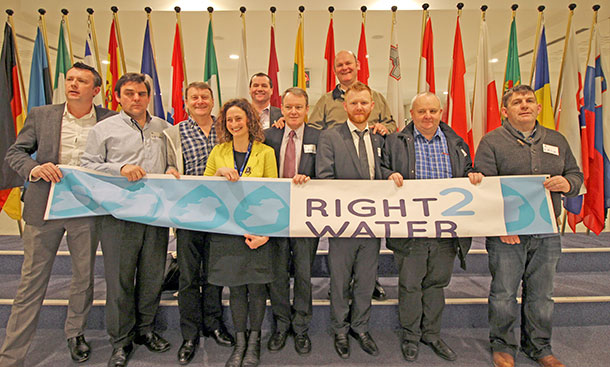 Water services in Paris and Berlin reverted to public ownership after a decline in service quality and soaring prices while in private hands
IRISH TRADE UNIONISTS and campaigners against water charges took their cause to the European Union in February alongside Sinn Féin MEP Lynn Boylan. The delegation discussed the broader issues of the campaign for fair access to clean water services across Europe, how to tackle privatisation, and also had a chance to quiz a representative of the European Commission's Water Status Unit.
The European Citizens' Initiative on the Right2Water collected more than two million signatures and has forced the European Commission into an official position on the role of water in the EU and wider world.
Addressing European Commission representative Jorge Rodriguez Romer of the Water Status Unit, Unite trade union and Right2Water co-ordinator Brendan Ogle said: 
"Water should not be subject to the market capitalist profit system that is being applied across Europe."
He said the Commission's attitude to the European Citizens' Initiative on the Right2Water was giving citizens the impression that their worries are of no concern to them:
"I think that is a very dangerous message for the EU to be giving because that has the potential to create all sorts of problems in terms of disenfranchising people and we know in Europe what can happen in terms of political extremism where people feel they are disenfranchised from the political system."
Quizzed by Sinn Féin TD Brian Stanley over a derogation which previously allowed Ireland to exempt itself from charging for water directly, the Commission representative would only point out it was up to each state to decide the charging mechanism.
• Sinn Féin's Conor Murphy MP and Brian Stanley TD
Brian Stanley said the response proves the Irish Government "can continue to have a derogation and have it included on the next river management plan." Sinn Féin MP Conor Murphy, who in 2007 blocked water charges in the North when he was Regional Development Minister, confirmed that the North is still operating within EU law without implementing domestic water charges.
Brian Stanley said later: "The Fine Gael and Labour Government is not being upfront and honest with people on this matter and I call on the Environment Minister to stop using the European Commission as an excuse for charging people twice for water. "
The delegates also heard from Odile Nieuwyaer of the Paris Water Observatory and from German left-wing party Die Linke on the experiences after the privatisation of water services in Paris and Berlin and the subsequent reversion to public ownership following a decline in service quality and soaring prices while in private hands.
The use of water as a weapon was also outlined by Marek Szilvási of the Roma Rights Centre, who explained how some local authorities had disconnected villages where Roma people were living as a way of forcing them out of an area.
Milo Fiasconaro of Aqua Publica Europea, Dr Louisa Parks and Right2Water EU co-ordinator Pablo Sánchez Centellas also discussed the imporance of the European Citizens' Initiative.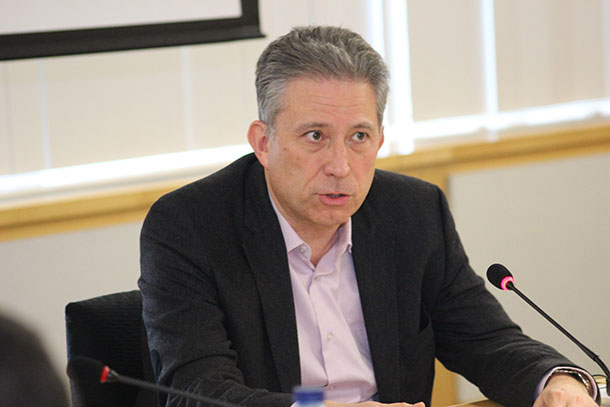 • SYRIZA MEP Kostas Chrysogonos
SYRIZA MEP Kostas Chrysogonos outlined public opposition to plans to privatise water in Greece's second city of Thessaloniki:
"A referendum was organised last May where people were asked if they agreed with the privatisation or not. Over 200,000 voted with 98% against privatisation. This showed how concerned people are with the possible fall in the quality of water services as well as by possible increase in price. There were also protests in many other cities. This indicates how people perceive water. Indispensible common goods should not be treated as commodities. National governments and the EU should have more respect regarding human rights and take more concrete actions to safeguard them. Let's not forget that access to water and sanitation is inextricably linked to the right of life and human dignity."
Sinn Féin MEP Lynn Boylan said:
"While the focus in Ireland at the moment is on water charges, and rightly so, we would be remiss if we took our eye off the ball in relation to the threat of privatisation – a prospect which has not been adequately dealt with by the Irish Government."
• Unite and Right2Water spokesperson Brendan Ogle