2 March 2015 Edition
Death of radical theatre director Pam Brighton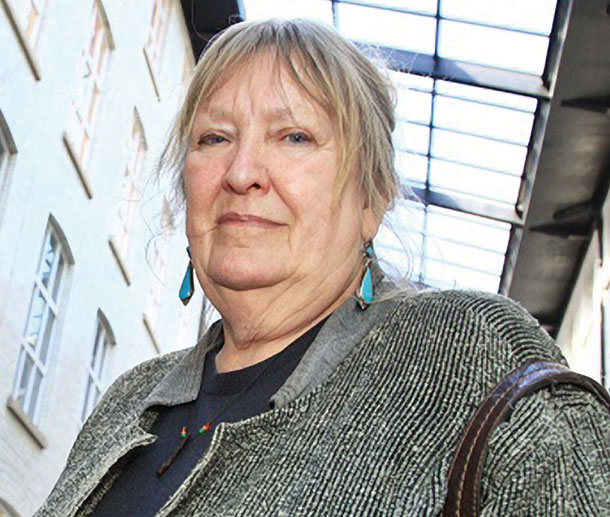 "She lived her life according to her personal politics and she put integrity before money . . . before fame and fortune."
Death of radical theatre director Pam Brighton
THE DEATH has occurred as An Phoblacht goes to press of Pam Brighton, the English-born radical and pioneering international theatre director whose contribution to enriching the cultural life of Belfast and beyond has been acclaimed, particularly by republican prisoners who worked with and enjoyed her plays.
Pam, from Bradford in Yorkshire, developed her early directing reputation at the agitprop theatre group 7:84, London's Royal Court Theatre, and Hull Truck Theatre. After returning to college to qualify as a lawyer, she moved to Belfast and worked at the BBC. Pam co-founded the award-winning Dubbeljoint independent theatre company with Marie Jones and Mark Lambert in 1991. Unafraid of controversy, she was director of landmark works such as Binlids, Diary of A Hunger Strike, Murphy's Law, A Night in November, Black Taxis, Ballymurphy The Aftermath and Stones in His Pocket.
Laurence McKeown, a former H-Blocks hunger striker and playwright who worked with Pam, said she would be remembered for putting west Belfast before fame and fortune.
"I first met Pam in 2001 when she produced The Laughter of our Children about the 1981 Hunger Strike, written by Brian Campbell and myself.
"Brian and I continued to work with Pam in later years. She directed and produced A Cold House for us in 2003. Just before Brian's death, in 2005, we were about to write a new play for her.
"She lived her life according to her personal politics and she put integrity before money — to her cost, financially, but not in terms of the friends she ultimately made and who will remember her for her courage and conviction and for putting community – especially the community of west Belfast – before fame and fortune." 
Brassneck theatre company artistic director Tony Devlin said her passing was a sad day for the theatre community in Belfast "and right across Ireland as we mourn the loss of one of its biggest and most influential characters".
Pam, who was in her 60s and had suffered an illness for several months, passed away on Sunday 22 February. Her funeral was at Roselawn Cemetery, Belfast.