2 March 2015 Edition
St Mary's funding cut blocked by Executive
West Belfast community celebrates a victory for local teacher training college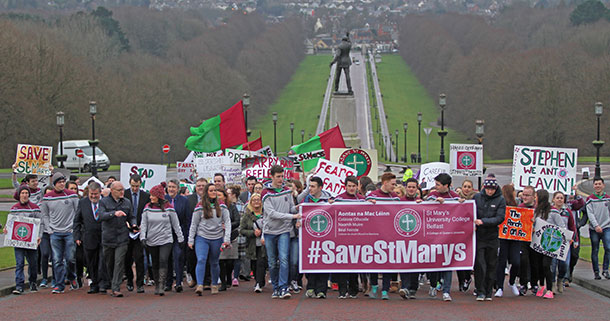 "There was widespread support in the community of west Belfast for St Mary's, from students, local businesses, the Mairéad Farrell Republican Youth Committee and the trade unions"
HIGH MARKS and high fives to the energetic and imaginative campaigners who got the North's Executive to block a move by Department of Employment and Learning Minister Stephen Farry to cut funding to St Mary's Teacher Training College in west Belfast.
Farry threatened to cut the special premia payment of £1.1million to both St Mary's and Stranmillis College, a move that would have threatened the future of both teacher-training colleges. At the Thursday 12 February meeting of the Executive, however, ministers put the brakes on Farry's plans and reinstated the premia.
Farry's argument that his proposals were based on economic considerations and cuts to his budget as well as the need to reform teacher training were rejected by campaigners. Supporters of St Mary's claimed Farry intended to force a merger of St Mary's and Stranmillis in line with his party's, the Alliance Party, support for integrated education.
Campaigners also argued for St Mary's unique status as a Catholic institution training teachers for future employment in Catholic schools.
St Mary's additionally has a significant Irish-language stream, training many teachers for the Irish-language sector, which adds to its unique appeal and attracts students from across the Border.
The news that the Executive had blocked Farry's proposals for St Mary's was especially welcomed by Sarah Jane Maskey of the Mairéad Farrell Republican Youth Committee (MFRYC) and a St Mary's student (The MFRYC had been very actively supporting the campaign.) 
Sarah Jane said:
"St Mary's has been training students to the higher standards for decades and is part of the economic infrastructure of west Belfast, providing employment and bringing much-needed investment to the area."
The area's MP, Sinn Féin's Paul Maskey, said "this the right decision" and he acknowledged the support of Martin McGuinness and Peter Robinson who brought this issue into the Executive. 
"There was widespread support in the community of west Belfast for St Mary's, from students, local businesses, the Mairéad Farrell Republican Youth Committee and the trade unions," Paul Maskey said.