2 February 2015 Edition
All the news that's fit to tweet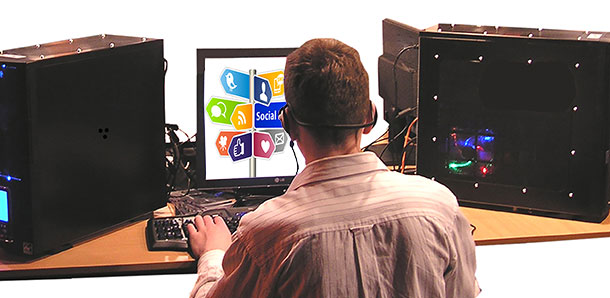 CLICKBAIT, content marketing, social media news distribution and the remote possibility of a political news revolution – An Phoblacht looks into the dynamic online news world which is growing at such a pace that the traditional media have to jump on board the Facebook, Tweet and app express train.
The good old bad days
Time was when the news media in Ireland, Britain and many other developed economies had developed an elite cartel of limited competition and comment. The daily papers set an agenda often reported in morning radio news bulletins and current affairs programmes. TV news producers would pick up on this and the evening news would effectively tell us, in the words of legendary US news anchorman Walter Cronkite, "That's the way it is."
RTÉ's Radio 1 flagship station still has a "What it says in the papers" slot twice a morning after the 7am and 8am news bulletins. Funnily enough, there's no 'What it says on the Internet' and I can't see one anytime soon. The broadcast media commentariat is still largely made up of newsprint gatekeepers, fellow broadcasters, retired Establishment politicians, or media/political backroom types now operating as lobbyists.
The New York Times used to carry a strap proclaiming that within its pages you would find "All the news that's fit to print" and this establishment news media was and still is at times a powerful gate keeper in determining what is and isn't reported to the wider public. 
Then came the Internet, social media apps, the tablet and the smart phone and a news media revolution. Our old school print, radio and TV outlets have a range of new competitors in a news media world without borders or the establishment consensus that dictates in telling Ireland what is or isn't news.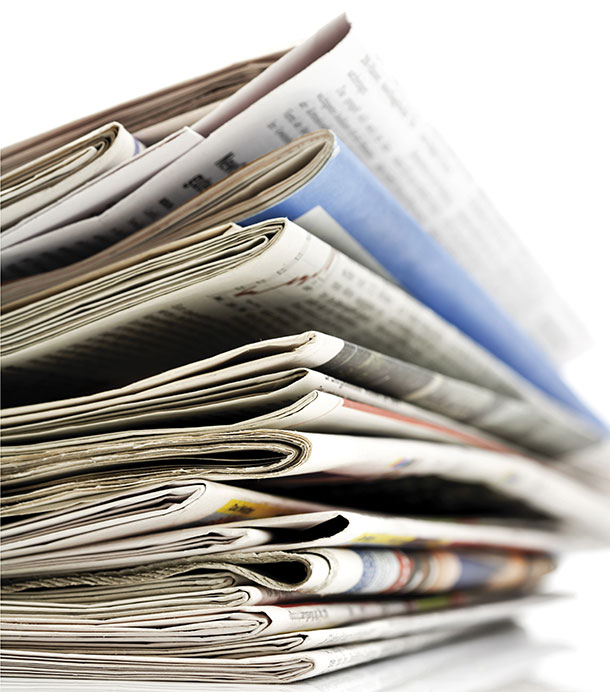 • Newspaper sales are steadily falling
News grazers not paying
The idea that news arrives every morning like fresh baked bread has been shredded by the Internet. In the 19th century, urban societies developed a habit of daily structured news made possible by mass printing of papers and rapid rail distribution networks. In the years after World War Two this conditioning had built into starting the day with breakfast, radio news and a paper, we finish it with a nightly TV news.
This audience is dying. Newspaper sales are steadily falling. Even in Dublin where 65,000 copies of the Metro Herald were given out free every morning to commuters – until the paper went under in December - there is still a declining habit of print news consumption.
According to Audit Bureau of Circulation data published by the National Newspapers of Ireland there were daily sales of 632,985 papers in January to June 2009. The figure for January to June 2014 was 501,937.
In radio the news-driven Morning Ireland is the largest radio show, and RTÉ Radio 1 has at 27% the largest audience share in Dublin according to the Joint National Listenership Research data. Newstalk has a significant 15% share, but in the city there is a greater audience for the music driven channels of FM104 (18%), Q102, (9%) Spin, (13%), 98 FM (10%), summed up by Spin FM's 'five word weather' and a news reader introduced as 'Rory with the story'!
It is not that there is less interest in news. For the key 18 to 35-year-olds demographic, the news generation of the future, there is more news consumption. They are 'news grazers' and get news snacks throughout the day, a lot of them. It is this phenomenon that is disrupting the established news cycle.
This consumption is diverse and jumps from the DailyMail.co.uk to Guardian Sport, BBC and RTÉ News, the Journal.ie, the Irish Times and Irish Independent. There is little brand loyalty here and, yes, there are a lot of cute cats, Kardashians and a daily tsunami of sports updates.
Two key points here: 
Firstly the news comes through smartphones, tablets, laptops and even desktop PCs for some; 
Secondly, in most cases the news is free - consumers are not paying for their grazing.
According to ComScore, an Internet and digital analytics measuring company the most popular Irish online site in 2013 was Distilled Media. They are the publishers of the Journal.ie, DAFT, the Daily Edge, The Score and Boards.ie. Their combined websites had over 1.34 million unique visitors a month. Next came RTÉ.ie with 1.24 million uniques. Independent.ie recorded 919,000 uniques, The Irish Times was at 794,000 and Done Deal, the buy and sell online site has 785,000.
From a news and information perspective the top five were Independent News and Media, BBC, Mail Online, About.com and the Irish Times.
The new news map
What is striking about the online news media consumption in Ireland is the next tier in popular sites. 
ComScore data from November 2013 showed the Guardian with 422,000 Irish visitors every month, followed by the Telegraph on 326,000 unique visitors. The Daily Mirror are there on 233,000 followed by the New York Times on 209,000. 
The Internet is altering our news media consumption significantly. In May 2014 daily circulation of the Guardian and Telegraph in the 26 Counties was 2,752 and 2,708 copies respectively. The Internet has opened the papers to a vastly greater audience, more than a hundred times greater than their print reach.
The news Internet map is a very different place from the traditional media marketplace. For a start everyone is competing and TV networks have had to upgrade their written content while the newspapers online have invested significantly in video and podcasts. All of the successful online news media groups have a cross-media offering of words, sound and vision.
Google is no longer the driving force for online news; Facebook has supplanted it. 
The annual Pew Research State of the News Media report for 2014 found: "Half of Facebook and Twitter users get news on those sites as do 62% of Reddit users." It added: "Overall, three in ten adults get at least some news while on Facebook."
There is as yet no similar study in Ireland but it is not a great leap in reasoning to assume that similar conditions will be found in Ireland. YouTube and Twitter were the next-largest audiences for news sources.
In the case of Facebook, 78% of news consumers stumbled across the news story they consumed, and 50% had picked up on a news source someone else had shared with them. 
Entertainment was the biggest news item with 73% of users accessing this type of stories;
65% of users were accessing content that was geographically local to them;
57% were accessing sports stories;
National government and politics was at 55%, just ahead of crime at 51%.
A new generation of news creators
Yes, the big 'old media' are on Facebook but they have a lot of competitors and in some cases new voices and new views are reaching audiences not possible 20 years ago.
First up are the early entrants into online media news. Buzzfeed, Mashable and Gawker. Buzzfeed claims an audience of over 150million users and describes itself as a "social news and entertainment company". What do they do is drive topical content to sell adverts.
Mashable claims 40million unique visitors monthly and labels the site as a "leading source for news, information & resources for the Connected Generation". Its content is less entertainment-driven than Buzzfeed.
Gawker is a gossip website and a remarkably successful one. Started in 2005, the Huffington Post is another long-term survivor. It was the first Internet-based news group to win a Pulitzer prize and in a recognition of the audience power and advertising revenue the site can generate the Post was sold to the AOL multinational mass media corporation for $315million in 2011.
Will the revolution be online?
If new business profit focused start-ups can break the old media control of news, what about political views and opinions. Scotland's independence referendum offers a stunning case study of what is possible. With the BBC, STV and all of the printed newspapers except for the Sunday Herald supporting a No vote Independence groups took to the Internet and have built up six figure audiences for their news.
Bella Caledonia, Newsnet Scotland and Wings Over Scotland are all examples of this new wave of political news sites. Wings Over Scotland has used its audience to crowd fund books and opinion polls allowing it the depth of coverage found in the old media giants.
It remains to be seen post referendum whether these sites continue to thrive.
These are just a snapshot of the online news media. We are just skimming the surface. There is a lot more jewels to be found. Among these is Russell Brand's Trews website. Truth in the News, the theme song was done by the Rubber Bandits.
Anarchic, detailed and very funny Brand offers a revolutionary view of the our world today. Check out his recent analysis on the Irish Water saga. Brand has a new book out on revolution which has been widely derided in reviews: "his revolution reads like soft-soap therapy" – Guardian; "How typical of England to produce a revolutionary who offers no route map towards a revolution" – Independent. You get the idea.
Thomas Piketty's Capital in the 21st Century provoked a similar response with the great and good of mainstream media queuing up to review and subtly undermine his book. Google the terms "Thomas Piketty Wrong" and see what I mean.
But in this brave new Internet news world, the media establishment is still there. They haven't gone away you know . . . 
Government routed by republicans in social media war
BY MARK MOLONEY
WHILE the mainstream media's hostility to Sinn Féin continues unabated, the Establishment parties are finding themselves significantly outpaced by the republican party when it comes to building support online.
In a detailed study of the use of the web by Irish political parties, the Irish Daily Mirror notes that "Sinn Féin is the dominant party on social media by a country mile". 
With a dedicated online following of users who engage and share content, the party comes in ahead of traditional media heavyweights like RTÉ News and The Irish Sun on platforms such as Facebook.  
Overall, Sinn Féin's following on Twitter and Facebook exceeds that of Fianna Fáil, Fine Gael and Labour COMBINED with over 95,000 users and with hundreds of thousands seeing content from the party every week. 
Years of official state censorship and ostracisation by traditional mainstream media has meant that Sinn Féin has always had to be imaginative and proactive in getting the republican message across to the public.
The party was quick to embrace the web and social media (in 1997, An Phoblacht was the first Irish newspaper to have a fully online edition) as it allows the party to get its message direct to people without distortion by traditional media heavyweights who attack and demonise the party at every turn in the interests of their owners or the status quo. 
"It's not somebody else's interpretation of our position and that's what's important," a Sinn Féin spokesperson said.