12 January 2015 Edition
West Belfast 'Scrooged' again
The case for Casement Park
How could the Socialist Workers' Party and the SDLP slam Sinn Féin ministers in a power-sharing Executive for neglecting poverty when the area of greatest poverty is targeted for regeneration?
IT WAS LIKE the ghost of Christmas past. In October 2002, power-sharing institutions stumbled from the blow of the Stormont PSNI raid charade. 
Within days, the first significant capital investment in the most deprived part of the Six Counties was jeopardised. Despite the fact that former US President Bill Clinton cut the first sod on the Springvale university campus, the promised multi-million-pound investment was lost to west Belfast. 
Reasons offered never came close to the truth. 
Senior civil servants connived with other bureaucrats to abort the plans.
Then came the ghost of 'Christmas Present'. 
Whilst intense efforts were invested towards the end of 2014 to broker a political accord at Stormont Castle, investment at Casement Park was imperilled. A Belfast High Court judge ruled that a planning process had not been conducted properly or lawfully and, two days later, quashed the stadium proposal. The parallels are unmistakable.
You may say that there are differences between the two developments, and that's obvious. News reports gave the false impression that all local residents objected to the plans. That's not the case. 
Those in court do not speak for me or my family and we live within the area likely to be most affected by redevelopment. There are other neighbours and residents in nearby streets who strongly support the investment package. For us, the short-term disruption is worth it for the long-term dividend for the local community and the Gaels of Belfast. 
The potential for redevelopment of Casement Park to catalyse economic regeneration within the heart of west Belfast is irrefutable. Whilst many services in this part of Belfast are in dire need of significant public investment, perhaps one of the community's greatest assets has been Gaelic games and culture. So this massive injection of spending, jobs and infrastructure directly into a major organ in community life has transformative value.
Ironically, it was a small group of people – purporting to speak on behalf of the local residents – who held up regeneration. You might ask if the problem is that simple. No. 
Redevelopment of Casement Park was politicised by others. After all, how can you slam Sinn Féin ministers in a power-sharing Executive for neglecting poverty when the area of greatest poverty is targeted for regeneration? Both the Socialist Workers' Party and the SDLP hopped on the bandwagon. This was a case study in "wedge politics", a concept imported from tacky American politics. 
The tactic is to pick a social issue with controversial or divisive potential and exploit it to polarise opinion within a community. Wedge-types pick a side and easily enlist supporters. A case in point is local SDLP Councillor Tim Attwood, who issued a statement in February 2013 welcoming the decision by the GAA to build a 38,000-seater stadium at Casement Park; 18 months later, he was standing outside the court beside anti-Casement litigators with a clenched fist salute! This is despite the fact that the Environment Minister who gave approval for planning permission for the new stadium is also in the SDLP.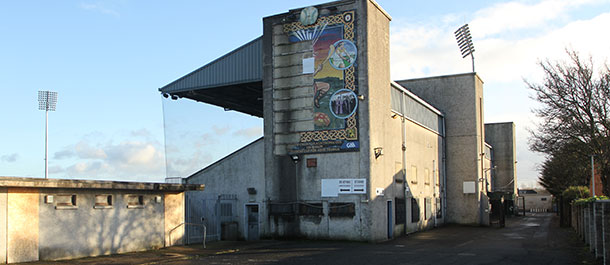 Whilst some waged wedge politics, others used weasel words. Perverse as it sounds, one elected activist once asked why the MP for west Belfast had been lobbying for investment in Casement Park in the middle of west Belfast. Another wanted to pickpocket the investment for projects in local areas. 
Suffice to say, the voices of support for redevelopment of Casement Park could have and should have been louder and more consistent. The void was filled by a noisy minority of aggrieved citizens and agents provocateurs. Others could explain better why that happened.
Defence of the project was left to Sports Minister Carál Ní Chuilín with able backing by MP Paul Maskey. GAA Ulster Council officers also worked hard over a sustained time. Latterly, assurances from project chairperson Tom Daly that Casement is the only show in town are hugely important.
Hope remains that a fresh planning application and new design for Casement Park will be submitted early in 2015. Existing capacity is 32,000 and to reduce that would be regressive. 
For more than a year now, the gates to the only GAA stadium in Ireland's second city have been locked. They must be opened soon.