1 December 2014 Edition
TTIP – Tipping point for democracy
This is funded by the European United Left/ Nordic Green Left (GUE/NGL)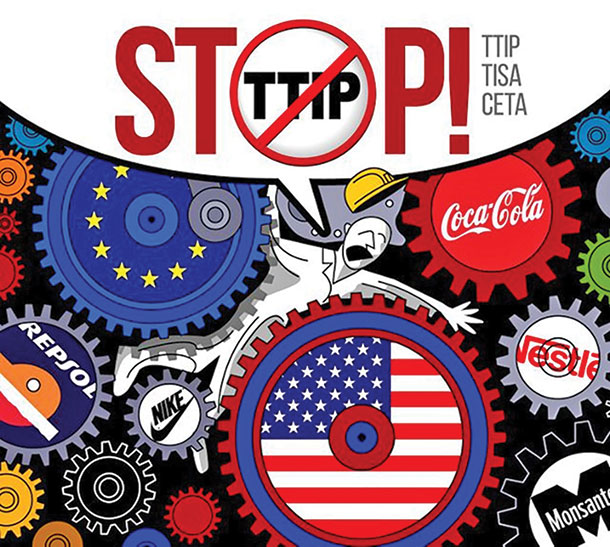 TTIP could see US companies sue European governments for legislating for their citizens in a way that reduces firms' ability to make profits
THE Transatlantic Trade and Investment Partnership, the controversial trade deal being negotiated behind closed doors by Brussels and Washington, is supposed to be aimed at boosting trade between the US and the EU through the reduction of regulations but it also threatens jobs, public services and the environment.
If TTIP is agreed, it will also be easier for global firms to sue governments for "interfering" with profits by, for example, passing safety regulations or other protections 
Public services could be forced to undergo privatisation through deregulation and the liberalisation of public procurement.
TTIP will cost Europe 600,000 jobs, according to US academic researchers at Tufts University. 
The emphasis on regulation in this treaty poses challenges in areas such as food safety (US regulations regarding processed food are much more lax than those within the EU). TTIP could threaten the livelihood of farmers who adhere to higher EU standards regarding animal welfare, growth hormones and the ban on GM crops.
Employment rights could also be affected. Reducing employment regulation in the EU could allow multinational firms to challenge collective bargaining rights as well as pay and conditions across all sectors within the EU.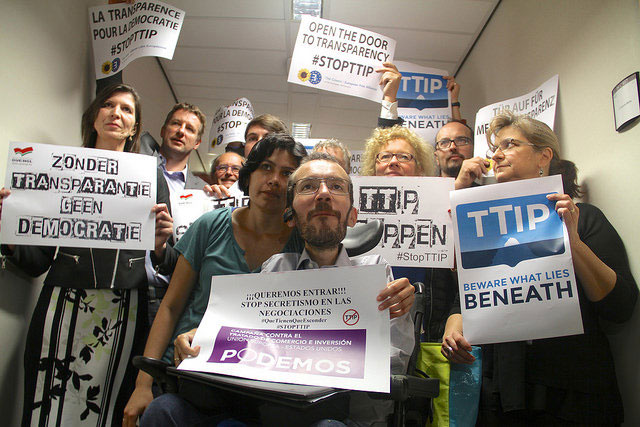 • Access Denied  MEPs (including GUE/NGL) stage TTIP demonstration
A most worrying clause of the proposed treaty is the proposal for an 'Investor State Dispute Settlement' mechanism (ISDS), which gives multinationals the ability to sue the government of a member state if the policies of that government are considered to have been detrimental to the corporation's investment.
The Slovakian Government was prosecuted through an ISDS for reversing a policy decision in 2004 which liberalised the health insurance market.
This precedent raises significant concerns for the ability of governments across the EU to make policy decision in the best interests of their citizens. 
It additionally poses a direct threat to public services that have already been outsourced or privatised. Any attempt to bring these services back under public ownership could be prosecuted by any US investor with a financial interest.
Much of what has been agreed so far by negotiators is not on the public record and there has been no scrutiny of the process by the European Parliament or any EU body with democratic legitimacy although GUE/NGL MEPs have been vociferous in challenging this secretive deal, including a protest in the European Parliament itself in October.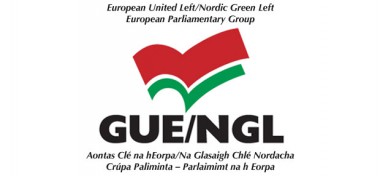 In November, GUE/NGL MEP Helmut Scholz welcomed a move by nearly 300 civil society groups from all over Europe who have together filed a lawsuit against the European Commission regarding its refusal to register the official European Citizens' Initiative on TTIP and CETA, a similar deal with Canada.
At a GUE/NGL study meeting on TTIP in Florence later in November, Helmut Scholz said:
"TTIP is aiming to create a transatlantic common market by jeopardising the role of the state in guaranteeing the rights of citizens and taking away the ability for a government to stimulate local development through intelligent public procurement."
Italian MEP Eleonora Forenza said that TTIP represents the affirmation of the primacy of investors over "popular sovereignty", in other words the rights of citizens and workers.
Dutch MEP Anne-Marie Mineur said:
"We should try to improve the domestic markets before international ones and we must fight the impunity of major multinational companies. It's very important to think how the Left wants to develop a social economy and an alternative trade policy which will also safeguard the environment."
Irish MEP Martina Anderson said TTIP could be one of the biggest pieces of legislation ever to come before the European Parliament.
"TTIP could see major US companies and their subsidiaries sue European governments for legislating in a way that reduces their ability to make profits.
"That is totally unacceptable as it would allow business interests to override democratically-elected institutions.
"I and my colleagues – Lynn Boylan, Liadh Ní Riada and Matt Carthy – have already opposed TTIP in the European Parliament and will continue to do so.
"Opposition to this proposed partnership is growing with trade unions, environmental groups and anti-poverty organisations voicing serious concerns about the impact this could have on Europe.
"The discussions around TTIP need to reflect this impact, particularly on a government's right to legislate for its own people.
"The debate needs to be open and transparent so people can learn the truth about TTIP.
"Those in favour of the legislation, including British Prime Minister David Cameron, have made claims about job which have been described by academics from across Europe as vastly overblown.
"The reality is that TTIP, far from solving unemployment problems, could actually lead to the loss of one million jobs in the EU and USA."
Liadh Ní Riada, Matt Carthy, Martina Anderson and Lynn Boylan are MEPs and  members of the GUE/NGL Group in the European Parliament