1 September 2014 Edition
Israel's terror campaign against Gaza
Protests and boycotts continue across Ireland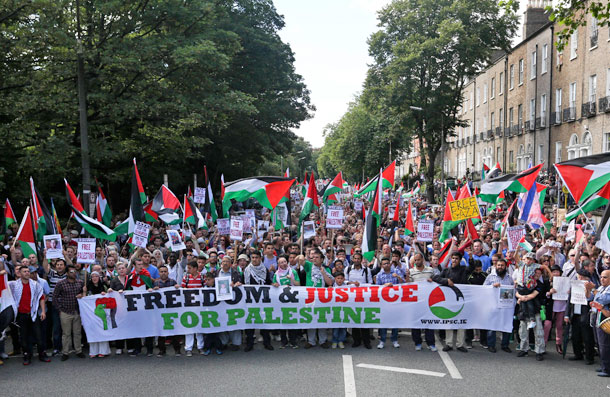 PROTESTS in support of the Palestinian people and against Israel's horrific onslaught and siege of Gaza have continued across cities, towns and villages in Ireland as peace talks in Cairo in late August collapsed.
In Galway, the village of Kinvara took a collective decision to boycott all Israeli products. John Griffin, one of those behind the initative, says the overwhelmingly positive response to the move from local people and businesses sends out a strong message of solidarity.
In Newry and Mourne, attempts were made by unionist parties to oust Sinn Féin Mayor Dáire Hughes over his support for the Palestinian people after he wrote to local businesses in a personal capacity asking them to consider taking part in the boycott of Israel.
The motion of no confidence failed with the 24-year-old mayor pledging "to continue to stand in solidarity with the people of Gaza and to call for a lasting and verifiable ceasefire and an end to violence in the Middle East".
Each week throughout August, thousands of people marched in protests or held pickets and vigils across each of the 32 Counties.
The Israeli Embassy in Dublin was a particular focal point with demonstrators placing a symbolic siege on the building on several occasions. Palestinian Ambassador to Ireland Ahmad Abdelrazek spoke at the Sinn Féin annual Hunger Strike Commemoration in Derrylin. He said lessons from the Peace Process in Ireland could provide a model for a resolution of the Israel-Palestine conflict.
In the European Parliament, Sinn Féin MEP Martina Anderson will take up the position of Chair of the European Parliament's delegation for relations with the Palestinian Legislative Council.
Martina says it is a major diplomatic opportunity to build on Irish solidarity with the victims of Israel's siege of Gaza and to support the implementation of the two-state solution
"The root cause of this onslaught is the Israeli occupation. In eight years, Gaza has experienced four wars. It's no coincidence that the attack on Gaza and the collective punishment of Palestinians in the West Bank began after Hamas and Fatah announced a unity government."
Martina Anderson says she and other members of the committee hope to gain access to Gaza in early September to meet with officials, medical staff and others working for peace in the region.