4 August 2014 Edition
Conor Murphy in peace mission to Colombia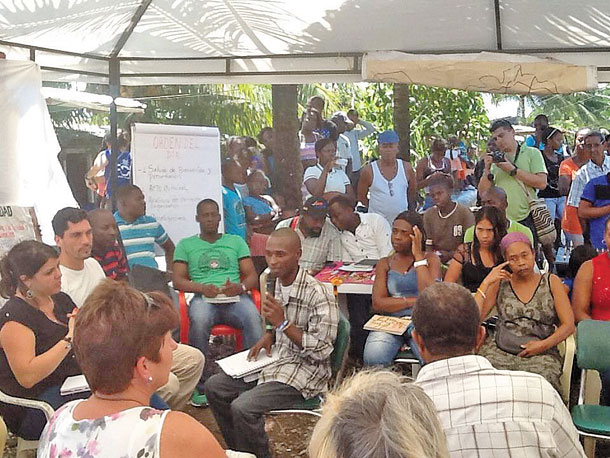 They met the Sons and Daughters group, which brings together children of murdered trade unionists and civic society leaders
FOR FIVE DECADES there has been a war in Colombia between government forces (including right-wing death squads) and left-wing guerrilla groups in one of the world's longest-running conflicts. In mid-July, Sinn Féin MP Conor Murphy, Irish Congress of Trade Unions President John Douglas and ICTU Assistant General Secretary Peter Bunting travelled to the South American country and Cuba as part of an international delegation of politicians, trade unions, journalists and lawyers to help the country's peace process.
The delegation was organised by the Justice for Colombia campaign group.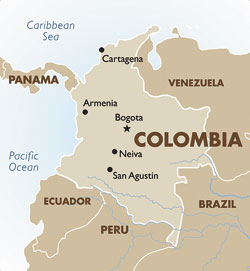 During the two-week-long mission, the Newry & Armagh MP and colleagues travelled to the Colombian capital, Bogota, and visited rural and coastal areas. They met trade unionists, human rights activists, victims of the conflict, prisoners and representatives of the Colombian Government.
Their first engagement was with Dr Carlos Lozano, spokesperson for the Patriotic March movement and editor of Voz newspaper.
Conor also met with human rights lawyers who told the delegation about the Colombian government's attempts to cover up its role in the conflict.
"They told us of plans by President Santos to allow military courts to deal with all accusations of violence and abuse by state forces and to counter what he claims is a 'legal war' by human rights lawyers on behalf of victims. This is despite the fact that the state has enjoyed a 98.5% impunity for all killings."
The Newry & Armagh MP said much of what the lawyers told the group resonated with the peace process in Ireland.
 "In an interesting parallel with Ireland, the lawyers talked about attempts by the Colombian Government to downplay its role in the conflict and the creation of a hierarchy of victims ahead of any agreement around a proposed truth commission.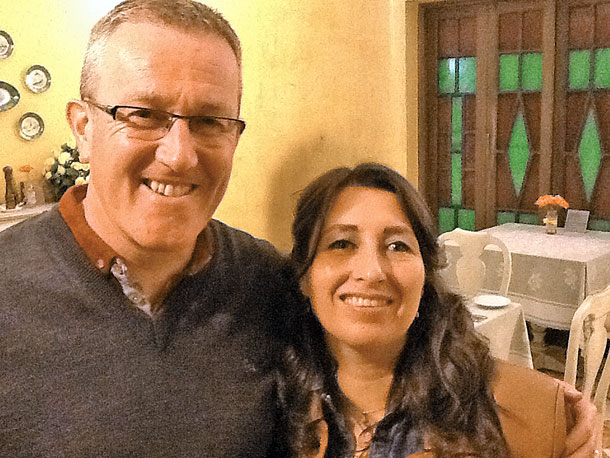 • Sinn Féin's Conor Murphy MP with Liliany Obando, activist and academic, who was jailed in 2008 while working on human rights projects with agriculture workers
"One note of optimism was our meeting with a young woman, Yessika Hoyos, a human rights lawyer who established the group, Hijos y Hijas (Sons and Daughters) which brings together children of murdered trade unionists and civic society leaders.
"This is clear evidence that the struggle for peace and justice remains strong in Colombia."
Dealing with victims is a crucial issue in the Colombian peace process and Conor Murphy met a number of victims groups.
"We had the opportunity to hear the harrowing stories of some of the victims of Colombian state violence when we visited the 'Mothers of Soacha' group.
"In 2005, the Colombian military leader, General Montoya, issued a secret order to his forces offering financial and other bonuses for the killing of guerrillas which led to a huge upsurge in extrajudicial executions. Protests from human rights groups that the military were killing non-combatants and dressing their bodies in rebel FARC uniforms were dismissed as propaganda by the government despite the fact that the groups had identified almost 1,000 cases.
"In 2008, the army established a bogus employment scheme in the poor neighbourhood of Soacha, on the southern outskirts of Bogota, to tempt young men to leave the area. Twenty-three young men vanished from Soacha as part of this scheme and their bodies were subsequently found hundreds of miles away, 'killed in guerrilla fighting', according to the army.
 "One mother told us how she and her other son refused to accept this account of her son's death and began to publicly challenge the army, leading to death threats to the family. Her surviving son was kidnapped by two policemen and thrown off a bridge, surviving with serious injuries, only to be subsequently executed by gunmen.
"Despite the ongoing death threats the mothers banded together and took on the state, prompting a United Nations investigation into what has now become known as the scandal of the 'False Positives'.
 "These women have begun to organise and educate themselves and are not daunted by taking on the might of the Colombian military and state.
 "They want the world to know their story and we promised to tell it for them," Conor Murphy said.
The Sinn Féin MP also travelled to the Putomayo region to meet prisoners in some of Colombia's most notorious jails.
"I visited La Picota Prison, where Huber Ballesteros, a trade union leader, and David Rabelo Crespo, a human rights activist, are being held.
"After a three-hour wait, we finally got to meet the two men and hear of the dreadful conditions in Colombia's jails, where overcrowding and non-existent healthcare are the norm.
"Colombia has around 10,000 political prisoners, about 60% of them combatants and the rest from trade unions, human rights groups and political opponents of the government," he explained.
•  Imprisoned: Trade unionist Huber Ballesteros and human rights activist David Rabelo
Following the visit to Colombia, Conor Murphy and other members of the delegation travelled to Havana to meet with FARC negotiators currently in peace talks with the Colombian Government.