1 July 2014 Edition
The battle for hearts and minds
Between the Posts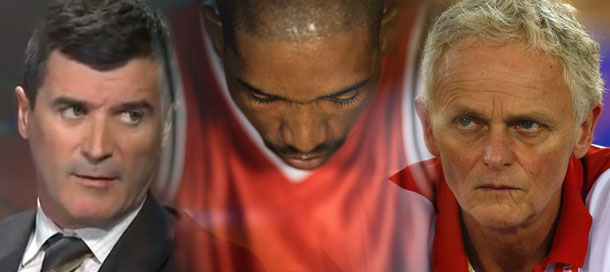 The irony of Roy Keane talking about psychology in sport went unremarked
IRELAND is missing from this year's World Cup but Roy Keane still added his own little twist to proceedings. In the aftermath of England's first round defeat to Italy, the media 'blame game' began. Keane was invited to comment on the inclusion of psychiatrist Dr Steve Peters in the England's backroom team.
"The sports psychologist should be the manager," insisted the former Ireland international. "Brian Clough was the best sports psychologist for me, and Alex Ferguson was good."
Keane went onto concede that Dr Steve may be able to help younger players or others with frustrations or injuries but the callous English media had got their first scapegoat.
Even the irony of Keane talking about psychology in sport went unremarked. Had former Ireland manager Mick McCarthy read Keane's comments, he'd likely have had flashbacks to Saipan. If ever Ireland needed a sports psychologist at the World Cup it was then.
But even Keane's curt comments about Steve Peters raise interesting questions about the value of sports psychology.
While the England soccer team were struggling to find their football feet, their rugby union team were putting it up to the mighty New Zealand in an international. As expected, the Kiwis won that test but it was not the outcome but the character of the match that was interesting.
The All-Blacks came from behind to win by the slimmest of margins. It's a pattern Ireland would recognise.
In November 2013, on the cusp of an historic victory in the Aviva Stadium in Dublin, Ireland lost in the final moments to an All-Blacks comeback. The last kick of the game by Kiwi Aaron Cruden stole victory from an Irish team that fumbled its way through the final moments of the match they had led throughout.
New Zealand's victories against Ireland and England were no accident. The All-Blacks train for times like this and a vital part of their training and performance is informed by sports psychology.
As place-kicker Cruden says:
"Dark moments do creep into your mind where you think it might go against you. If we stay in the present, we know things will turn our way."
When asked by the media after the thrilling comeback against Ireland how they did it, All-Blacks captain Richie McCaw explained his frame of mind:
"It doesn't matter what the scoreboard says, it's about mental fortitude and composure – there's still a chance. You won't always get there but there's still a chance." 
The All-Blacks have their own sport psychologist who has been working with them for 12 years. Gilbert Enoka works as the Kiwi's 'mental skills coach' and heads up a small part of the backroom team responsible for player well-being. He also helps inform strategies for team coaching.
It is true that the psychology of a team manager matters. Good managers have good psychological skills in every walk of life. There are managers in Gaelic games who exhibit such qualities. There are also those who don't.
Does this have any bearing on their team? Definitely.
There are more working parts in the human mind than even the most sophisticated, multi-speed racing bike. There are 100billion bytes in a personal computer. There are 32trillion bytes in the Library of Congress in Washington. But the human mind has up to 1,000trillion synapses, the small links between the memory units in our brain. Cyclists have specialists fine-tune their bicycles. Why not have someone help with getting their heads in gear?
One afternoon on The Sunday Game, former Dublin footballer Ciarán Whelan referred to 'The Battle of Omagh'. It's a reference to a match between Dublin and Tyrone back in Whelan's day.
The reference to 'The Battle of Omagh' came from 'The Blue Book', a project devised by a sports psychologist working within the Dublin county team of that era. The document was later leaked to the media. That hasn't deterred the Dubs from using sports psychology in several other ways to help improve performance. And they're not on their own. It may be a fairly new addition to improving performance in Gaelic games but sports psychology is here to stay.
Examples of sports psychology in action are all around: the penalty shoot-out; the free kick in the closing moments of a championship match; the Centre Court duel at Wimbledon; on the golf greens all over the world.
Match reports frequently refer to 'hunger', 'mindset', 'passion' and 'mental strength'. None of this is a training drill or a tactical switch. It's the character and qualities that we bring to any endeavour as people.
In sport, the final whistle never blows in the battle for hearts and minds.