1 July 2014 Edition
Israel to force-feed Palestinian hunger strikers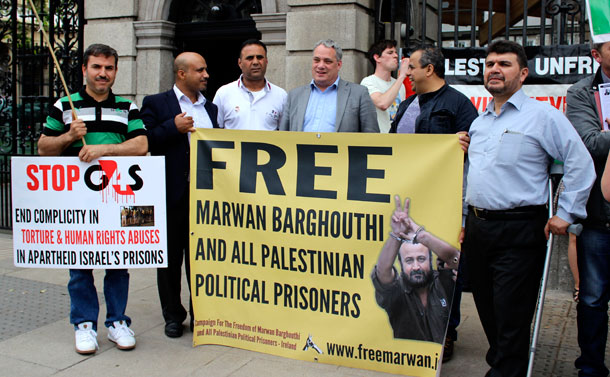 THE Israeli Parliament may still authorise the force-feeding of Palestinian political prisoners even though an agreement was being reported – on the day An Phoblacht went to print – to end a mass hunger strike against the use of internment without trial and brutality against prisoners.
More than 125 Palestinian prisoners were taking part in a mass hunger strike in protest against Israel's use of so-called "administrative detention" to imprison Palestinians living under their illegal military occupation. More than 80 of the protesting prisoners had been hospitalised.
Some prisoners have been held for more than five years without charge or trial. Eleven Members of Parliament are among the 5,265 being held, 200 of them children.
Speaking to An Phoblacht during a protest at the Dáil by the Ireland Palestine Solidarity Campaign (IPSC), Sinn Féin Foreign Affairs Spokesperson Seán Crowe TD said:
"We know from our own republican past that Irish republican prisoners who were force-fed in Irish and British jails, a number of them died.."
Seán Crowe said he wants to see the prisoners released:
"I'm calling on the Israeli Government to end its systematic use of administrative detention and to put in place negotiations which could facilitate the ending of this hunger strike and save the lives of these prisoners."
Under the proposed legislation, a judge could sanction force-feeding if an inmate's life is perceived to be in danger. The Israeli Medical Association (IMA) has slammed the move as "unethical".
IMA President Dr Leonald Eidelman said:
"It's very important to behave according to ethical principles even if it contradicts the law. And force-feeding is a kind of torture."
The World Medical Association has also called on Israeli politicians to reconsider backing the move.