29 April 2014 Edition
'Educate that you may be free'

The need for political activists to reflect regularly through the medium of political discussion and education is a continual process
From Thomas Davis to Bobby Sands to Nelson Mandela the importance of an environment where ideas are conceived, discussed and adopted
By Liam Lappin & Darren O'Rourke
(Sinn Féin Political Education Committee)
"EDUCATE that you may be free" is a powerful revolutionary quote given to us by Thomas Davis. It is often used by other revolutionary movements across the world but what is our understanding of these formidable words and how do we interpret and relate them to our struggle and its strategic objectives?
Information and knowledge are key components required by revolutionary activists for the successful methodology and prosecution of their political aims and objectives. It's how we develop as activists, how we challenge ourselves, how we improve.
Activists need to be completely immersed in the fundamental principles and theories of their political ideology, history and policies in order to review progress, contribute to decision making and to understand the rationale behind, and significance of, tactics and methods employed.
It is essentially about being equipped with the requisite knowledge to become confident persuaders and advocates of our vision and having the ability to offset and counteract any negative elements aimed at disrupting our project.
To Irish republicans, political discussion and education is about being rooted and grounded in the core principles and ideals of what we're about. It's about calibrating, and vigorously testing, our political compass. It's about provoking fresh ideas and radical thought in a comradely way while challenging disparity and discrimination. It's about having the ability to recognise societal inequalities and injustices while having a clear understanding about the alternative and new 'Ireland of Equals' which we're in the business of creating.
The principle of revolutionary organisations as learning organisations is not a new one, nor is it unique to Ireland. From Thomas Davis to Bobby Sands to Nelson Mandela, there has been a long history of successful leaders with a clear understanding of the importance of creating an environment where ideas could be conceived, discussed, debated and adopted.
Mandela wrote of his time on Robben Island: "At night, our cell block seemed more like a study hall than a prison."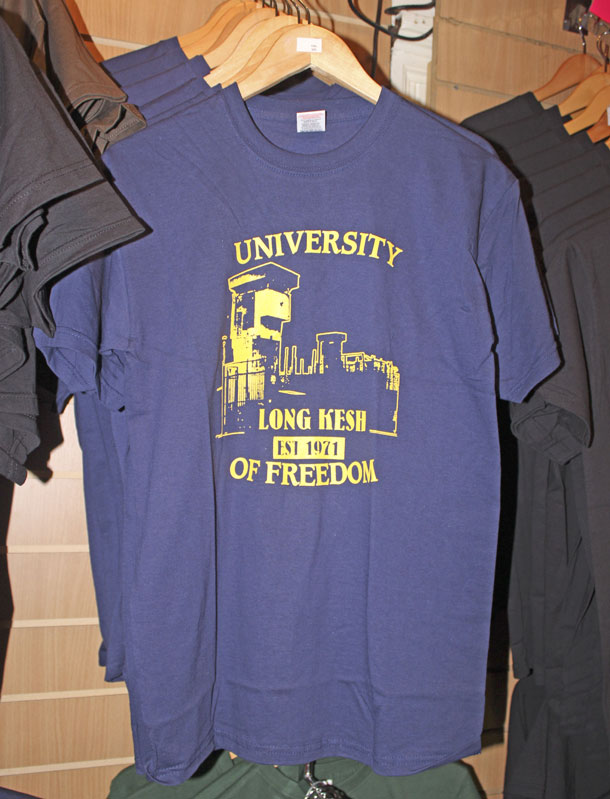 Many Irish republicans understood first-hand what "Long Kesh - University of Freedom" meant. More of us were just happy to wear the T-shirt!
The need for political activists to reflect regularly through the medium of political discussion and education is a continual process. It should be recognised as such. We are all lifelong learners and should seek to continually improve our knowledge base and our understanding in a collective effort to improve not only the quality of our struggle but our Ireland of the future.
Sinn Féin has sought to actively encourage political discussion and debate with the recent launch of a new political education programme. This programme is currently being delivered to activists across the island and presents in the form of five key modules:
Republican ideology
Republican history
Republican strategy
Party structure and constitution
Policy overview
Political education has never been more accessible, particularly now in this modern technological era where information can be found instantly, no further than the buttons of a keyboard away.
It further manifests itself in the daily environments where we live and work, whether that is in the form of books or DVDs, documentaries, debates, lectures or discussions. We are surrounded with the resources and equipment which can further enhance our political maturity and progress. While the new Sinn Féin programme is not intended to be an exclusive or definitive project, it provides an excellent overview and a starting point for us all to engage more critically with our struggle, allowing us to further challenge our politics and improve our vision and expectation of the new Ireland which we continue to strive towards.
With local and European elections only weeks away, it is clear that the Irish freedom struggle is now at a critical juncture. We have never been closer to the realisation of our aims and objectives but there is still some way to travel. While political progress continues to be made by the work of dedicated activists coupled with innovative initiatives, magnanimous gestures and Irish society's growing appreciation of the relevance of core republican values, it is true to say that constant reflection to political education has never been more necessary. Many have passed this juncture in the past and lost their way.  Let the words of Thomas Davis act as an inspiration in the important times ahead.
• Nelson Mandela and anti-apartheid resistance campaigner Walter Sisulu on Robben Island