29 April 2014 Edition
Political posters, papers and prints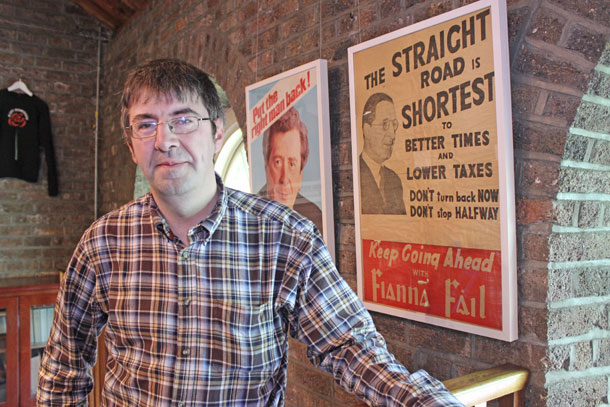 'Asking people, 'Could you keep that election stuff for us when it comes through the door?' I would've felt like a total weirdo'
AS local and European elections loom, An Phoblacht's MARK MOLONEY caught up with ALAN KINSELLA, whose exhibition of political literature from elections and referendums gone by is on display at the Dublin's National Print Museum
ALAN KINSELLA is busy rearranging stickers and badges in one of the display cases upstairs at the National Print Museum, located in the former Garrison Chapel in Beggar's Bush, the former British military barracks in Dublin.
Running to almost 40 display panels and cabinets, the exhibition provides a fascinating visual history of elections, referendums and political campaigns in Ireland. Despite taking up the entire top floor of the building, Alan says it is just a tiny fraction of his overall archive:
"Sorting out the pre-1970s stuff was okay," he tells me as we walk past posters and flyers, "as I haven't an awful lot from those periods. But from then onwards it really was very difficult deciding what to include and what to leave out.
"It was also a matter of trying to choose the most even, balanced way of showing it and getting all the different parties and groupings in. It might be a political exhibition but I didn't want to put my own political slant on it. I tried my best to be neutral," Alan says with a smile.
With everything from the 'big two' of Fine Gael and Fianna Fáil all the way through to minor or defunct parties and groups such as the National Party, Ailtrí na hAiséirghe and the Socialist Labour Party, the exhibition certainly does have something for everyone.
Alan's collecting days began outside a polling station in in Dún Laoghaire in February 1982.
"You were allowed to canvass outside them at that time. It was very busy, almost a carnival atmosphere. Barry Desmond of Labour was there and he handed me a card and signed it. I kept it, so that's where it started. It was a lot easier in those days. Also, as a lot of the leaflets arrived the morning of the election, you didn't have to watch the post for weeks."
Alan says a big change he's noticed since those days is the strength of parties on the ground:
"The larger parties certainly had a lot of people on the ground to deliver stuff door-to-door. On the morning of an election you would get a card in the letterbox from them saying 'Don't forget to vote for me'. Now a lot of leafleting is contracted out to commercial companies, whereas parties used to have the people to do it themselves."
We come to a leaflet by Fianna Fáil in 1982 slamming Fine Gael. Headline "So who was right?" it criticises Fine Gael for dismissing criticisms of their policies as "lies" — only for the party to go on and implement said 'lies'.
"You don't really see this kind of very negative stuff anymore," says Alan . . . "well bar maybe against Sinn Féin," he laughs. "Part of the reason is that by using negative campaiging you're only getting attention for the person you're attacking."
Throughout the 1970s and 1980s, Fianna Fáil and Fine Gael are able to produce stylish full-colour leaflets while others are left with black and white ones. "It just shows that the two big parties had money. The Labour stuff looks very cheap in comparison."
Some issues never seem to change.
In the 1980s, parties are campaiging for the roll-out of telephones across the state; today it's broadband. Crime is another constant issue.
"What you see consistently is parties attacking the Government over the levels of crime. It's the lowest common denominator," Alan points out. "For example, Fianna Fáil can't really make too big a deal about tax or other issues at the moment so they have to focus on other areas. You'll see that strategy right up to the present and generally it happens when the economy is in good shape. It's scaremongering almost but it's easy to make political capital on it."
Alan has managed to amass such a vast collection (stored in boxes and crates at his home) by writing to politicians, asking friends to hold on to leaflets, and, more recently, by people contacting him via the online archive:
"Years ago I would have been very conscious about asking people, 'Could you keep that election stuff for us when it comes through the door?' I would've felt like a total weirdo," he laughs. "But because I've been so vocal and well-known about it, it meant I got a lot of people in different areas willing to save literature for me."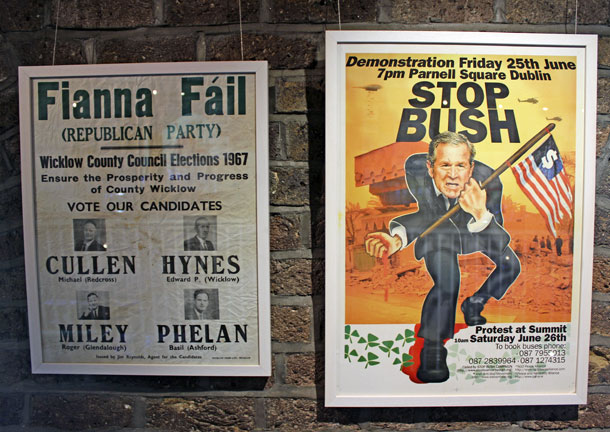 Some fantastic framed political posters adorn the walls. One of note is by the Irish Anti-War Movement advertising protests against US President George W. Bush's visit to Ireland in 2004.
Also included in the exhibition is a collection of political newspapers and magazines from the award-winning Cedar Lounge Revolution Irish political blog archive. It features left-wing publications including An Phoblacht, The United Irishman, Worker's Republic, Class Struggle, Socialist Worker and many more.
I ask Alan has he any particular favourite leaflets. He takes me over to a selection of framed pieces above the display of badges and key-rings. "Read the first point on this one," he says, pointing to an orange-tinted leaflet from John Burns of the Natural Law Party from the 1999 EU election in Dublin. Burns calls for NATO to stop their bombing campaign in Yugoslavia and for the immediate deployment of "7000 experts in Transcedental Meditation and Yogic flying to radiate peace in the region". Burns came bottom of the poll with 1,006 votes and lost his deposit.
Others included are Alan Shatter's bizarre leaflet comparing himself to William Shatner, complete with Shatter in Star Trek uniform.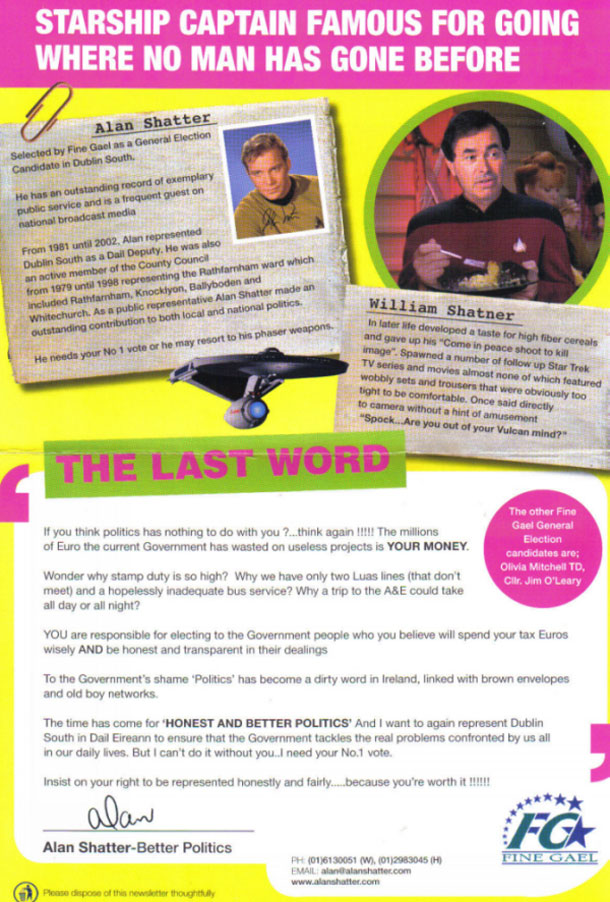 Another favourite of Alan's is joke candidate Bernie Murphy. The sandwichboard man was elected to Cork City Council in 1985 and ran for the Dáil two years later under the slogan: "A Legend in the Making", causing uproar. His policies included a commitment to medical and dental care: "They have taken all our money, they can at least keep us alive," he said. He also called for gardaí to stop patrolling the Border and instead be redeployed on the streets: "Let Maggie mind it," he declared in a nod towards British Prime Minister Thatcher. Finally, he notes the odds of 50/1 being offered by local bookmakers against him taking a seat: "Get your money on Bernie and vote yourself the price of a holiday!" Many in the city did just that and his election to the city council caused huge losses to local betting shops.
Some of the most interesting pieces in the collection come from referendum campaigns. While elections are confined to political parties and independents, referendums can bring out a host of different organisations, some often with very hardline views which they aren't afraid to put to paper, particularly when it comes to divorce and abortion.
"One of my favourite pieces (although I don't agree with it) is this Pro-Life Movement leaflet on the abortion referendum from 1992," says Alan. The highly emotive language in the trifold leaflet accuses those in favour of easing the ban on travel to England for women seeking an abortion of supporting "the vicious killing of  defenceless Irish babies by English doctors".
Some of Alan's nephews were at the opening of the exhibition. "They're in their 20s now but they couldn't believe how vitriolic the debates around things like abortion and divorce really were. I think this leaflet really encapsulates that."
Having the exhibition on public display in the National Print Museum and it being opened by Taoiseach Enda Kenny has been very beneficial for the archive, Alan notes.
"A great thing about the exhibition is that people come to see it and then come back to drop in leaflets and whatever else they have at home."
Alan Kinsella is always grateful for donations of political literature.

To see some of the archive, get more information
and for details on how to make a donation, visit:
irishelectionliterature.wordpress.com