18 April 2014
Remembering the 1916 Easter Rising means discussing the future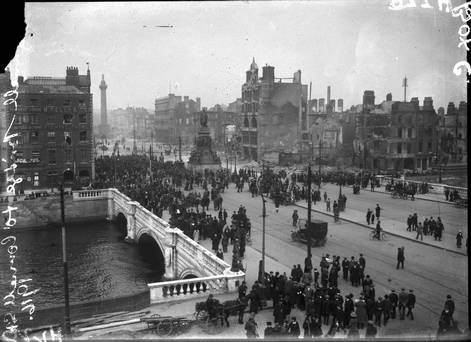 THIS SUNDAY will mark the 98th anniversary of the Easter Rising. In two years' time the centenary of it, and publication of the Proclamation of the Irish Republic, will occur.
Irish republicans use Easter week as an opportunity to commemorate and remember our patriot dead.  It is also an occasion to reflect upon the legacy of Easter 1916 — which includes the republican narrative and experience of history, particularly during the 20th century, and how that should inform our vision for the future.
There is of course more than one narrative: unionism and the British state have a different perspective on our shared history of political conflict. That is an acknowledged fact.
The proclamation of the Republic looked to the future. It was a remarkable manifesto for change in Ireland. Equality was its touchstone. It addressed national democracy, sovereignty, economic and social justice, and the rights of all Irish citizens, regardless of religious persuasion and none.
The timeless ideals of the proclamation have served as a signpost for the evolution of Irish society, transcending the blight of partition.
A compelling modern day interpretation of the proclamation is that it presaged the need to entrench equality in all aspects of society, including proper legislation north and south to guarantee rights and protection of LGBT citizens, ethnic minorities, women, the disabled, the old and vulnerable.
To exhort support for the proclamation's values in today's Ireland undoubtedly means standing up against austerity and economic injustice north and south.
The proclamation's vision is not the property of republicans alone.  Its genius was to inspire change for the benefit of all citizens on the island, and urge us "…to cherish all the children of the nation equally".  That's a statement with a powerful resonance for today.  It merits consideration by everyone, whatever our political affiliation.
It's essential that the spirit of 1916 and ideal of a new Republic are reclaimed by Irish society.
We need a popular, island-wide engagement between now and 2016 on the relevance of the proclamation's values, to guide the continuing journey of change begun by the Peace Process; the pursuit of reconciliation and healing among all our people; and building economic recovery, growth, and prosperity which benefits everyone – and not just some.
Any consideration of Easter 1916 and evaluation of that legacy, of necessity, means looking to the future; and having an inclusive national discussion about the new opportunities to be realised, in an agreed, pluralist, multicultural and united Ireland.