2 February 2014 Edition
400 at Bantry meeting vow to fight Single Farm Payment cuts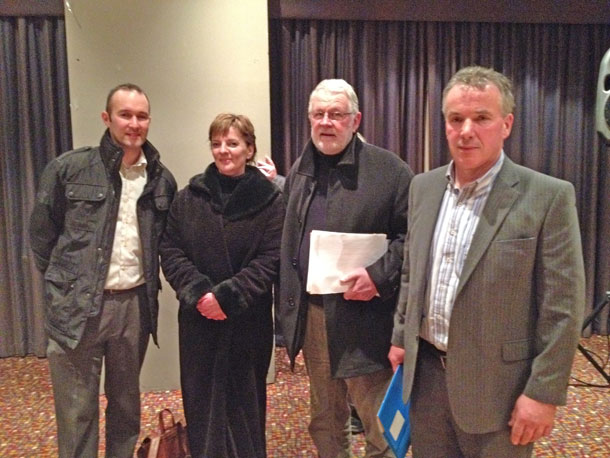 CUTS to Single Farm Payments are another attack on farmers and come as a blow to those who are already marginalised because of the disadvantaged land that makes up many of the holdings in west Cork, a packed meeting in Bantry heard in mid-January.
The SFP cuts, after a year which saw a fodder crisis due to the wet weather and recent storm damage and flooding, are causing severe stress to many farmers in the region and all along the western seaboard.
The meeting, attended by over 400 people, was chaired by Councillor Donnchadha Ó Seadha and addressed by Martin Ferris, Sinn Féin's spokesperson on Agriculture, Food and the Marine.
Martin Ferris spoke about the unequal nature of SFPs, where a small number of big farmers get millions compared to the meagre payments made to small farmers, farmers who need support much more. Many of those on payments as low as €4,000 to €5,000 per year are farming in disadvantaged areas and living in rural communities suffering the effects of the Fine Gael/Labour Government's austerity policies.
A number of others spoke from the floor, including young farmers, members of West Cork IFA, and regional Sinn Féin EU candidate Liadh NÍ Riada, who gave her backing to the efforts of those seeking to reverse the cuts.
Various speakers expressed their disgust that not one of the three Government TDs who are supposed to represent the area bothered to turn up or send anyone to represent them.
The meeting decided to protest by collecting signatures on a petition against the cuts and to visit the clinics of Government TDs to express opposition.
Dermot Kelleher of the Irish Cattle and Sheep Farmers' Association, Seamus Sherlock of the ICMSA and the Life After Debt group, Donie Shine of the Farm Family Rights Association, and Bantry-based Senator Denis O'Donovan were also at the meeting.
Rural Affairs Ard Fheis fringe meeting
Sinn Féin's Rural Affairs Group in Leinster House will host a fringe meeting, 'Challenges Facing Rural Coastal Communities', at the Ard Fheis in Wexford.
The group is headed by Martin Ferris TD (Agriculture, Food and Marine), Micheal Colreavy (Energy and Natural Resources), and Brian Stanley (Environment).
It will be addressed by a representative of the United Farmers' Association and the South and East Fish Producers.
Ard Fheis Saturday at 1pm.
Venue: Crean Room