2 February 2014 Edition
The self-preservation societies
Establishment councillors put their own jobs ahead of constituents in Donegal and Dublin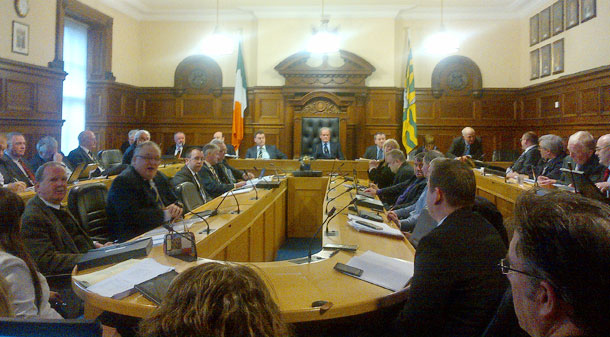 In Donegal, Thomas Pringle's protégé (a former spokesperson for the Campaign Against the Household & Water Taxes) rode in behind Fine Gael and Labour to back the budget
 IN DONEGAL AND DUBLIN in January, councillors from Fianna Fáil, Labour and some self-styled left-wing Independents displayed an amazing ability to ensure their jobs were protected to the cost of the people in their respective counties.
Throughout December and the beginning of January, Donegal County Council met four times for 39 hours in futile attempts by Fine Gael and Labour to push through their unfair €138million budget package. It included austerity measures, the introduction of water charges and the signing over of the council's €300million water network to Irish Water without any compensation. Opposed to them were Sinn Féin and Fianna Fáil who, along with Independent councillors held a 15-13 majority.
Speaking as the council almost collapsed following a defeat of the budget proposal on 8 January, Sinn Féin Councillor Mick Quinn said:
"We were not given a mandate to introduce water charges and we will not be doing Phil Hogan's dirty work for him."
He went on to say that this could mean the collapse of the council and the loss of salaries for councillors but made it clear where he and Sinn Féin stood:
"We did not seek election for salary or personal gain."
The national media was eagerly awaiting the final meeting to see the Government embarrassed by the failure of the budget to pass and watch as Phil Hogan was forced to install a commissioner to take over from what was dubbed a "rebel council".
At the final meeting, however, Fianna Fáil Councillor Rena Donaghey disappeared from the chamber without notice, allegedly to teach an adult education class the same evening she knew the council's fate was in the balance.
Meanwhile, Independent councillor John Campbell, the protégé of Independent TD Thomas Pringle, switched sides. The self-styled leftist who had previously acted as a spokesperson for the Campaign Against the Household & Water Taxes (CAHWT) flip-flopped and rode in behind Fine Gael and Labour to back the budget after he received some concessions on tourism and library funding. This allowed the budget to pass on the deciding vote of the mayor.
Sinn Féin's Mick Quinn was furious.
"It's clear Donegal has been ignored and has been fed the crumbs from the Dublin table," he said. "We had a huge opportunity to try and force the minister's hand to address our needs."
Sinn Féin Councillor Jack Murray was also seething at the turn of events.
He said the unfair budget will "inflict untold suffering on struggling families across the county. Let's be clear, the councillors who supported this budget did so to save their own skin and they should hang their heads in shame."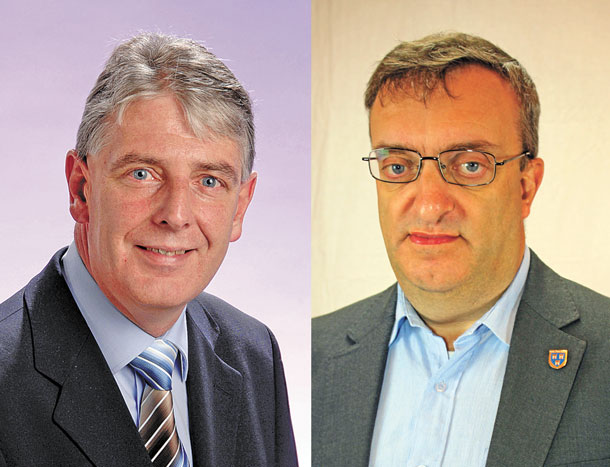 • Donegal Councillor Mick Quinn  and Dublin City Councillor Mícheál Mac Donncha  
Labour propaganda stunt in Dublin
In Dublin, the day after the Donegal debacle, there was another stunt pulled during the budget debate there, this time from Labour.
At the beginning of January, a draft Dublin City Council budget for 2014 was published which included plans to impose rent rises, cuts to homeless services and cuts to grants for disabled and older people to adapt their homes, among a raft of other unacceptable measures.
With a lack of support from Labour councillors for the cuts to older people and those with disabilities and also against the rent rises, though, there were discussions with Fine Gael.
Councillor Mícheál Mac Donncha tells An Phoblacht: "Suddenly, out of nowhere, in the space of two days, the money was found to avoid these three cuts. And, hey presto, Labour rides in on a white horse posing as the saviour of the people for avoiding cuts (arising from their own Government's actions), cuts that should never have been proposed in the first place!"
The first time opposition councillors got to see these new amendments was at the council meeting that evening.
"Were these cuts and rent rises ever really going to take place?" asks Mícheál suspiciously. "Were they put up to be shot down? Or was it a case of the cuts and rent rises being pushed by Environment & Local Government Minister Phil Hogan but then withdrawn to try to save the skins of Fine Gael and Labour councillors in Dublin?"
While the Sinn Féin team supported the amendments to remove rent rises and cuts to homeless services, the party voted to reject the overall budget which introduces water charges and the Local Property Tax.
"This budget was not about saving the citizens of Dublin or about standing up to the Government," Mícheál Mac Donncha says. "It was an attempt to save Labour seats in the local elections, while still maintaining the austerity policies of the Government and leaving unchallenged the scandals of the Local Property Tax and Irish Water."