12 January 2014 Edition
Ireland should officially recognise Palestine, MP urges Dáil parties
Palestinian Member of Parliament and Nobel Peace Prize nominee in Ireland meets Tánaiste and Sinn Féin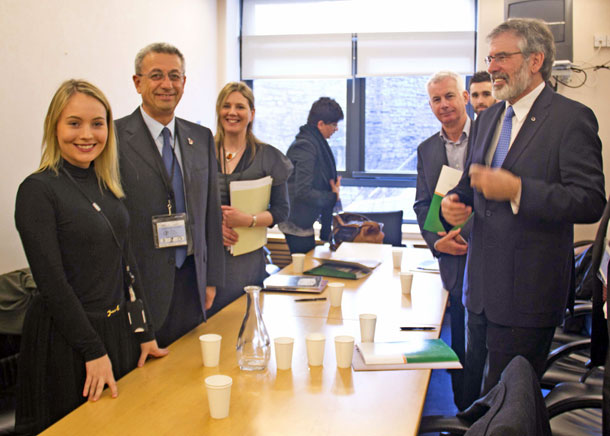 'We appreciate that Ireland voted at the United Nations for Palestinian statehood but we don't know why Ireland cannot recognise Palestine if Ireland believes in the two-state solution' – Dr Mustafa Barhgouthi, Palestinian MP and non-violence activist
UNITED NATIONS members such as Ireland who have declared their support for the two-state solution to the Palestine/Israel situation should have no problem in giving official recognition to Palestine, a Palestinian MP internationally renowned for his work as a non-violence activist has told the Irish Government and Dáil parties in a visit to Ireland.
As well as meeting Sinn Féin, Dr Mustafa Barhgouthi met Tánaiste Eamon Gilmore as Minister for Foreign Affairs and on behalf of the Irish Government.
Dr Barhgouthi told Sinn Féin:
"We appreciate that Ireland voted at the United Nations for Palestinian statehood but we don't know why Ireland cannot recognise Palestine if Ireland believes in the two-state solution."
Dr Barhgouthi sits on the Central Council of the Palestine Liberation Organisation (PLO) and is a former secular candidate for President of Palestine. He is Secretary General of the Palestinian National Initiative (affiliated to the Socialist International) and a member of the Palestinian Legislative Council (Palestinian Parliament).
He has always been a strong advocate of non-violent responses to the Israeli military occupation and was nominated for the Nobel Peace Prize in 2010.
• Gerry Adams TD meets with Palestinian MP Dr Mustafa Barhgouthi
His three-day visit to Ireland in December was organised by Sadaka (The Ireland Palestine Alliance). Sadaka's Marie Crawley, who attended the briefings with Dr Barhgouthi, said the international community has taken a step back while negotiations continue but this is a mistake, allowing Israel "to continue its colonisation of the West Bank and its blockade of Gaza" without any repercussions internationally.
Meeting Sinn Féin President Gerry Adams TD and Sinn Féin Foreign Affairs spokesperson Seán Crowe TD in Leinster House, Dr Barhgouthi showed them maps showing the increasingly aggressive expansionism of Israeli settlements on occupied Palestinian lands.
Seán Crowe explained that Sinn Féin had raised the issue of Palestine in the Irish Parliament at every available opportunity and directly with the Irish Government. Dáil questions have been tabled regarding Israel's illegal settlements and the crisis in Gaza.
Gerry Adams – who has visited Palestine and Gaza three times – added that Sinn Féin has "consistently" raised Palestine with successive US Presidents, including President Obama. He said that Sinn Féin had regularly lobbied the Irish Government during its EU presidency to put the EU Heads of Mission 'Jerusalem Report'* on the EU agenda.
Dr Barhgouthi expressed his admiration for what Sinn Féin has achieved and he believes that similar historical experiences have led to the evident sympathy that many Irish people have for Palestine.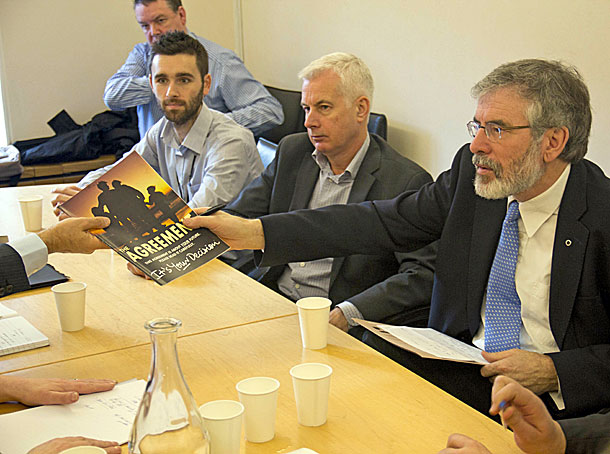 • Sinn Féin's Eric Scanlon, Seán Crowe TD and Gerry Adams TD at the Sadaka-organised meeting
With obvious disappointment and regret, he feared for the prospects of successful talks, due to "the imbalance of power" between Israel and Palestine and also because the Israeli Government contains ministers with hardline views. Some come from settler backgrounds, families living on Palestinian land occupied since 1967, including the Israeli Foreign Minister, Avigdor Lieberman, and the Housing Minister, Uri Ariel, of the pro-settler Jewish Home party.
Dr Barghouthi told Sinn Féin that there is little hope of any success in the current peace talks while the growth of illegal settlements and the violence of the Israeli military occupation continues.
"What has actually happened during the recent negotiations is a consolidation of a system of apartheid," the Palestinian MP said. "During this time, the rate of settlement expansions was 132% higher than in previous years, 550 Palestinians were arrested, while only 52 were released from jails and 24 Palestinians were killed."
Palestinian homes are being demolished by the Israeli military and replaced with Israeli illegal settlers, he said. "Ethnic cleansing is taking place on the ground."
Less than a fortnight after Dr Barhgouthi's visit, Israeli Prime Minister Benjamin Netanyahu called for a "reassessment" of his Housing Minister's plans to build nearly 24,000 settler homes – not because the policy was wrong but because he feared an international outcry that would divert attention from Israel's lobbying against a nuclear deal with Iran.
Speaking after the meeting with Dr Barhgouthi, Sinn Féin TD Seán Crowe said the Irish Government must continue to be active:
"It could and should fully and formally acknowledge the Palestinian state as 134 countries out of the 194 represented at the UN have already done this."
* The Jerusalem Report, produced by EU diplomats in Jerusalem and Ramallah, is a scathing indictment of the Israeli Government's flouting of international law and its violation of the rights of Palestinian citizens living in East Jerusalem and the Occupied Territories.