3 December 2013
British Army files say top agent Brian Nelson was 'mentally and emotionally unstable'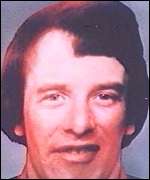 'It is now up to Desmond de Silva to state whether he was aware of this information'
BRIAN NELSON was kicked out of the British Army because he was "mentally and emotionally unstable", according to British military documents uncovered by McGurk's Bar justice campaigner Ciarán Mac Airt.
The documents also reveal that Nelson had a long list of "military misdemeanours" when he was discharged from the Black Watch regiment in February 1970.
Ciarán Mac Airt is investigating suspected British Army involvement in the 4 December 1971 McGurk's Bar bombing in which his grandmother, Kitty Irvine, died.
Claimed by the UVF, the attack took the lives of 15 men, women and children in north Belfast.
Reacting to the disclosure of the new Nelson files by Ciarán Mac Airt, John Finucane, son of assassinated solicitor Pat Finucane, described the news as "disturbing".
He said it is something that the British Ministry of Defence "will have to explain".
"It is now up to Desmond de Silva to state whether he was aware of this information."
Sir Desmond de Silva was asked by British Prime Minister David Cameron to review the investigation into the assassination of Pat Finucane but his report on 12 December 2012 was rejected by the Finucane family as "a whitewash".
Despite his poor military record and mental health issues, Nelson was still issued with a legally-licensed weapon by the British authorities.
He was carrying this gun when he was arrested in 1973 with Catholic man Gerard Higgins in his car. Nelson, along with other UDA members, had savagely beaten Higgins in a so-called 'Romper Room'.
Nelson received a seven-year sentence for this attack.
In the mid-1980s, Nelson was recruited into the British Army's secretive Force Research Unit (FRU) – under the control of British Military Intelligence – and was infiltrated into the UDA.
Under the guidance and assistance of his FRU handlers, Nelson became the UDA's senior intelligence officer in Belfast and it was in this role that he was central to the 1989 killing of Pat Finucane.
The British Army agent was also instrumental in smuggling hundreds of AK47 assault rifles into the North that were distributed to a number of unionist groups. These weapons were used in the killings of hundreds of nationalists.
Ciarán Mac Airt asked:
"How could Nelson have been issued with a gun if, as his military record tells us, he was mentally and emotionally unstable and discharged from the British Army because of this?"
Nelson's mental state did not prevent him being recruited by high-ranking British Army officers to target republicans and Catholic non-combatants for torture and murder by sectarian UDA gangs.