1 December 2013 Edition
Give eels a chance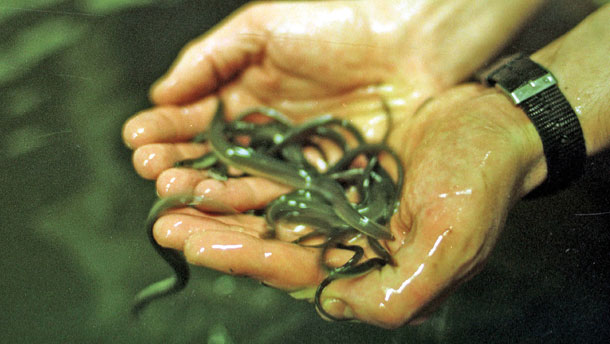 The fishing rights were leased to them from Lord Shaftesbury, whose family had been awarded them by the English crown in the 17th century, following 'The Flight of the Earls'
Robert Allen gives us a flavour of Lough Neagh's eels, regarded as the best in Europe
FATHER OLIVER KENNEDY was always going to be a tough act to follow. For 50 years he devoted his life to maintaining a centuries-old tradition. Now it is Pat Close's chance – and many aren't giving him one.
Every night between May and October, DHL ship boxes of live eels packed in ice from Belfast International Airport to Heathrow and Schipol, sent by the Lough Neagh Fishermen's Co-operative Society on Bannside in Toomebridge.
Now the lough is serene, the eels are in their habitat, the fishers are out of their boats, and the markets for this unique Irish resource are secure.
The season is over for another year.
Pat Close doesn't get sleepless nights worrying about the emerging problems that might threaten this valuable industry, like disappearing eels, ageing fishers and bureaucratic conservationists.
He is a positive man and, like Father Kennedy before him, he embraces the future with a purpose, just like the eels, who are no longer a mystery, always a delicacy, especially in London where they go to make jellied eels and in Amsterdam where they go to make smoked eels.
Two years ago, the Lough Neagh eel received 'Protected Geographical Indication' status. This is an official stamp that recognises a food product's unique place in the lives of people and place.
But it is this past year that has been significant. Like the eels who make a 4500-kilometre trip twice during their lifetimes, the fishers of Lough Neagh are celebrating a salient fact – they have come a long way in 50 years.
It's mid-morning and the fish shop on West-Kruiskade in the centre of Rotterdam is selling out of smoked eels. The demand these days always seems to exceed the supply. Lovers of this treat are worried.
Pat Close insists they have nothing to worry about. He sends the same message out to those who have been predicting the end of the Lough Neagh eel fishery.
"We are in a unique situation in that we are in control. We have a commercial operation to run and the goal is to support our members and the sustainability of the fishery."
• Boxes of live eels packed in ice on way to Heathrow and Schipol, sent by the Lough Neagh Fishermen's Co-operative Society
Close was Father Kennedy's 'second-in-command' for 25 years. Born in Toome into a farming background, he gave up a good job as an advisor in the Department of Agriculture, accepting the call of the eels.
Like everyone in the area, he knew about the crash. Two years before he joined the co-op, the young eels migrating along the Gulf Stream from the Sargasso Sea, off the coast of Florida, didn't turn up.
After years of between eight and fifteen million eels coming into the Bann at Coleraine every year, the number was down to 726,000. Father Kennedy couldn't understand it.
It was a global problem. Every estuary in Europe that attracted eels saw a decline. In response, Father Kennedy knuckled down, just as he had done before when the lives of eels and fishers first came into his life.
It was 1963. Eel fishers were being prosecuted for fishing on Lough Neagh. When they attempted to assert their moral rights to fish the lough the courts rejected their argument. They turned to Father Kennedy.
He learned that the fishing rights were held by Toome Eels Fisheries. They leased them from Lord Shaftesbury, whose family had been awarded them by the English crown in the 17th century, following 'The Flight of the Earls'. He urged the fishers to set up a co-op.
Then he went to Toome Eels Fisheries for licences . . . then he went back for shares . . . then he took a seat on their board . . . and then, in December 1971, he announced the co-op had enough shares to buy the company.
The fishers were in control of their own destiny and for two decades, with Father Kennedy quick to establish new markets in England and the Netherlands, they saw a sustainable future for themselves and the eels.
To alleviate the problems caused by the crash, the co-op bought young eels. This is now an issue for Pat Close. "We aim to buy five to six million annually; cost varies on average £300,000 to £500,000."
Europe and Belfast provide two-thirds of that funding but next year the local element expires and Pat Close sees this as a "genuine concern" and more of a threat to their survival than the noises coming from Europe about eel conservation.
"If these proposals were passed by the EU there would be an impact on us but the EC have come up with their own measures, more palatable to everybody.
"Lough Neagh is a commercial fishery being exploited, not over-exploited, and in order to maintain the intensity we need to maintain that stock, not only would that affect our business it would have an impact on the eels stock of Europe.
"If we weren't here the eels would be depleted. This is a finite resource and needs to be managed. We let 40% go back to the Sargasso Sea."
• At its peak there were 200 boats licensed to go out on the lough; now there are 113
The real issue, Close insists, is local. No new licences have been issued for 20 years and this presents him with a conundrum. At its peak there were 200 boats licensed to go out on the lough; now there are 113. A hundred on the lough is the limit and will remain so while eel stocks are low.
Because the costs of running a boat is high, the fishing has remained with the families who have the tradition, passing from father to son. This knowledge base and the skills that go with it, Close acknowledges, are the key to the future of eel fishing on Lough Neagh.
With a turnover of £3million a year, the vast majority going into the local community, he knows the fishers and the fish must be sustained. And with the fishers getting older, Close wants to see younger people involved but fears the seasonal nature of the work and the long days are a deterrent.
"They go out after 4am, all out together, they look after each other. A couple of hours to lift the lines, grade out the young eels, back in for 7:30am, into the co-op at 8:30, and go out at midday again, to continue a couple of hours, running lines, quite a long day. And I would like to see more young people in it."
In the Netherlands, they hope so too. They know what Close knows.
"Lough Neagh eels are unique: the flesh is perfect for smoking, which is why they are regarded as the best in Europe."
Now he is determined to open up the market, ready for the next season. Who says he hasn't a chance?
Dutch smoked eels
An oily fish rich with omega 3, the Dutch eat more smoked eel than fresh eel. Dutch eel-smokers only smoke the fatter fish, because it tastes better. This is a typical dressing for smoked eel.
1 small cucumber, chopped
6 blades of chive, chopped
Half a lemon, juiced
2 tablespoons basil, torn
1 tablespoon soy sauce
4 tablespoons olive oil
Salt and pepper
Fresh eels with radicchio and ricotta
Soak peas for 12 hours in cold water. Fry most of the onion, all of the carrot and celery, in oil, add the peas and water to cover, cook peas until tender. Blend, then pass through a fine sieve to remove skins. Make an emulsion with oil. Spoon into an ovenproof dish and keep warm in a 75°C oven.
If your eels are whole, peel, gut and fillet. Place the fillets between greaseproof paper and flatten. Season fillets with salt and pepper.
Fry the remaining onion in butter until transparent, add the radicchio and braise in the red wine. Leave to cool, add ricotta and egg, mix thoroughly.
Place this stuffing in the centre of each fillet, roll tightly, wrap in foil and cook in the stock for 15 minutes.
Arrange the creamed peas on a warmed plate, placing the stuffed eels on top.
800g eels, fresh
200g black-eyed peas
150g radicchio/chicory
120g ricotta cheese
40g red wine
40g onion, chopped
25g celery, chopped
25g carrots, chopped
40 g olive oil
20g butter
1 egg
Fish stock
Jellied eels
Spread the eels in a bowl with the coarse sea salt, leave for ten minutes, then rinse the salt off.
In a large saucepan, bring the bay leaves, eels, onions, peppercorns, salt and vinegar to the boil, turn heat to low and simmer until the eels are tender, about 30 minutes with Lough Neagh eels.
Remove the eels, leave to cool.
Reduce the remaining stock by two-thirds. Strain, add carrageen and lemon juice, reduce until the seaweed has melted. Strain again and leave to cool.
Cut the eels into the desired sizes, place in jars with the stock, the cooked onions and peppercorns on top. Put in fridge or a cold place to set.
For a richer flavour use a fish stock and add herbs, spices and vegetables.
1kg eels, peeled, gutted, filleted
600ml water/fish stock
3 onions, sliced
3 bay leaves
30g sea salt, coarse
5g sea salt, crushed
30ml white wine vinegar
1 lemon, juiced
Black peppercorns, handful
Carrageen, handful
Carrots (optional)
Celery (optional)
Herbs (optional)
Nutmeg, grated (optional)