1 December 2013 Edition
Sinn Féin's new National Spokesperson on Women asks . . . Where are all the women?
Ten female MLAs out of 29 is relatively good, but two female TDs out of 14 just doesn't cut it
AT a recent business event 'on the Hill' at Stormont I found myself wondering: "Where are all the women?"
I looked around, continued to politely mingle and then it hit me: I was the ONLY woman in the room.
I was overcome with disbelief, disappointment and anger. It got me thinking about just how under-represented women are in public life and business. More than half (52%) of the population are female but women hold only 18% of positions in elected institutions on this island. Here I was, in a room full of the movers and shakers of the local business world and not a woman in sight. While this had happened before, this time was different – I was outnumbered by a ratio of around 80 to 1.
I began to wonder, is it really surprising that power rests in the hands of a male minority?
For centuries, women have been assigned roles in society by a dominant patriarchy. We can source the wrongful presumptions of what a woman should do and be in 21st century Ireland to several influential institutions: from the unchallenged and unparalleled control exerted by the Catholic Church on Irish women, to the perpetually demeaning portrayal of women drummed into society by the Establishment media in accordance with 'popular culture'.
You can open any publication geared towards a female audience and be sure to find its pages filled with idle celebrity gossip, fashion tips and weight loss advice.
We should be angry that our intelligence has been belittled as our interests are characterised as though we were Stepford Wives.
To make matters worse the popular culture that the media takes its lead from is degrading in a very serious way. There is a clear spectrum of chauvinism that covers society, from pop culture to politics. The recent 'Lapgate' scandal in the Dáil is an example of this. We, as a gender, have been firmly put in our 'place' for too long.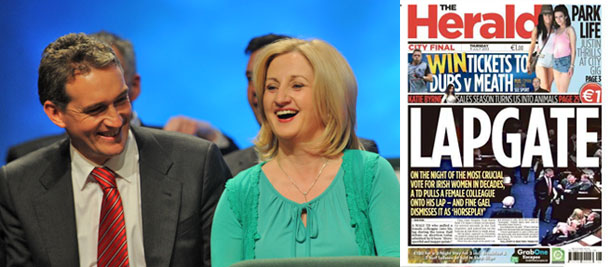 •  'Lapgate' controversy: Fine Gael TDs Tom Barry and Áine Collins
Given the role the media plays in shaping public opinion, and how society views women, it is crucial that women have a key role in decision-making to effect change. The most effective way to make this a reality is introducing mandatory quotas.
There is a litany of varied opinions on this, some of which surmise that quotas are 'unnecessary' and 'offensive to women' or that society should just 'continue to elect the best person for the job' (Yes, continue to . . .).
These criticisms would only be valid if we were already on a level playing field, which we clearly aren't. Ireland has a female population of almost 3.5million. Are we expected to believe that there just are not 83 capable, intelligent and articulate women who are 'right' for the role of a TD. Likewise in the North, is it really impossible to find 54 women who could be competent MLAs? Come on, seriously? 
We need to create the conditions to allow women in positions of leadership to be seen as a social norm. The lack of women at the top cements the age-old image of what leadership looks like: middle-aged and male.
Failing to involve women in shaping our economy is a huge waste of potential talent, not to mention unjust, given that austere economic decisions disproportionately affect women.
Sinn Féin is one of the most progressive parties on this island when it comes to gender equality. Women are more represented at all levels in our party than any other – but we shouldn't be too smug. Ten female MLAs out of 29 is relatively good, but two female TDs out of 14 just doesn't cut it.
And away from the world of political institutions, many Sinn Féin meetings still take place with far too few women in the room. And maybe some of these too few women feel as fed up as I did at the business lunch.   
We are building 'An Ireland of Equals'. We need to prove it by our actions, at all levels and in every sphere of activism. No more excuses!
I am a feminist. We need feminism because there should be more than one woman in the room. Because people still ask what the victim was wearing. Because 1 in 4 women are sexually assaulted and rape jokes are "funny". Because, if I have a daughter, I want her to care about what's in her head and not what's on it. Because we still discuss basic human rights as if they are optional.
We need feminism because we shouldn't need feminism. It's 2013 . . . and I really am fed up being the only woman in the room.