5 August 2013 Edition
The Salmon of Knowledge
Ireland's fishing industry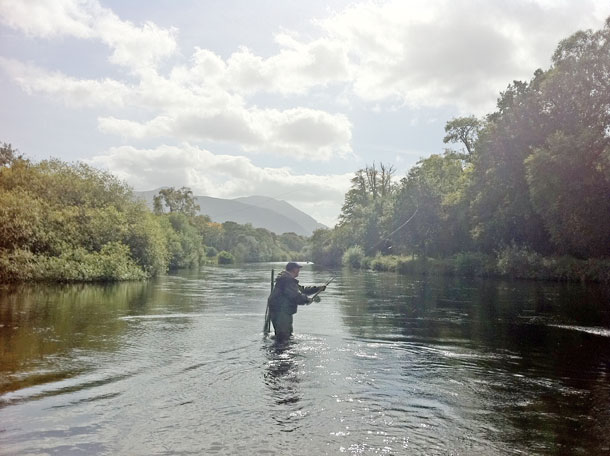 SALMON the size of a bull-calf, magic apples, flaming pigs, plentiful fowl, succulent beef, bone-sucking mutton, juicy fruit, mouth-watering grapes, ever-lasting bread and water and wine. Wondrous food epitomised the ancient voyages of Máel Dúin, Bran, Snédgus and Mac Riagla, and Saint Brendan.
Seeking the "innumerable wonders of the ocean" was a timeless tradition of the peoples who populated the Atlantic fringe. It was more than an allegorical quest to islands of plenty and fruitful lands beyond the horizon. This was an affirmation of sea prowess, an ability to catch, barter and trade, and bring home the plentiful fruits of faraway shores and seas.
However, unlike Portugal and Spain, Denmark and Iceland, Belgium and France, Germany and the Netherlands — whose ports became laden with exotic fish and fruit and vegetables — Ireland did not evolve its indigenous food culture during 800 years of subjugation.
To Spain came peppers, potatoes and tomatoes; to Holland came spices and fruit; to western Europe came deep-sea fish of all shapes and sizes; to Iceland came the knowledge of the sea's bounty and to all came stews and soups flavoured with the ingredients of the New World and the vast Atlantic Ocean. Modern recipes and preserving techniques in these Atlantic countries are defined by activities established hundreds of years ago.
Ireland, despite being a maritime country, lost its ability to fish, learn and trade effectively from its own waters by the 1700s. Salmon became a symbol of oppression with the people denied their own heritage. The consequence was a long dark age that has finally been consigned to history. Ireland is a food nation once again.
The enigmatic wild salmon is the hero of this story of regeneration.
Beef, lamb, pork and chicken, dairy produce, breads, cakes and patisseries, countless vegetables and the humble apple all play huge parts but the salmon, no longer as large as a bull-calf, has the lead role.
Thirty years ago, when a recession worse than the 1930s scattered the young, coastal tourist pubs began to introduce a dish many associated with America. It was called seafood chowder and came in a large bowl with slices of brown soda bread. A variation of mussels, shrimp, prawns, clams, scallops, cod, white fish, smoked haddock and smoked salmon were added to a fish stock containing onions, carrots and garlic, reduced with white wine and finished with a roux of butter, flour and milk, or with cream.
• Damien O'Brien of the 'No Salmon Farms At Sea' campaign, out fishing on the Laune River
It was a quick and simple dish to prepare. The stock was always unique to the individual chef and cook. The fish and vegetables were always seasonal. Although shellfish, particularly mussels, were preferred in most pubs and restaurants, smoked fish gave the dish an unforgettable flavour. Fresh ingredients were the secret to any chowder maker's success.
This was an Irish fish soup that was modern, and popular, and always evolving with thousands of variations. It went by the name of chowder but it had nothing to do with the American tradition, which used salt pork, potatoes and hard biscuits/crackers (and later tomatoes in place of milk) in the recipe, usually over-cooked the fish and hardly evolved over several hundred years.
American chowder originated in Newfoundland, gradually making its way south, where it became popular in New England and New York. American historians trace its origins to the Bretons and their method of cooking fish and vegetables in large cauldrons but admit that Basque and Irish fishermen were also known to frequent the seas around Newfoundland and trade with the native communities. Ideas on how to make good fish stew made easy conversation.
The mythical hero voyages were replicated by nameless fishers who brought back fish now recognisable for their ugliness. The wide-mouthed sharp-toothed monkfish must have looked like a fiercesome creature to ancient mariners. These days it is a fleshly creamy white item without a smile on many a menu. It has even found its way into Irish seafood chowder.
Shellfish allergies mean more pubs and restaurants are putting cod, haddock, hake and monkfish into the chowder mix. Smoked fish chowder is arguably more popular than the shellfish and white fish varieties but salmon is now an essential ingredient in most Irish chowders. And smoked salmon is being used as a garnish as well as an ingredient.
Once mythical, once expensive, once rare, salmon is now ubiquitous in Irish cuisine as the fish of choice for chefs and diners, not least those who love a good seafood chowder with chunky pieces of perfectly cooked fish.
Chefs who approach the task of producing a popular chowder must think they need to eat the salmon of knowledge to find the award-winning combination of ingredients. For the past two years, Frank Walsh, head chef of The West Bar in Westport, has wooed hundreds of chowder lovers to win the National Chowder Championship in the All-Ireland Chowder Cook-Off.
His recipe relies on fresh local fish, which is probably why he wasn't able to persuade the Americans to give him top spot in 'The Great Chowder Cook-Off' in Newport, Rhode Island, in the US in June. But the fact that Irish chefs are able to compete internationally with a product that is a quintessential aspect of Ireland's new status as a food nation should not be dismissed.
• A sea trout caught on the Kylemore River infested with sea lice
The number, quality and size of wild salmon this summer is down to the work done over recent years to clean up estuaries, lakes and rivers and the result of strict conservation management, which has arrested the decline of 20 years ago when stocks were dangerously low and the Atlantic salmon became a protected species under the EU habitats directive.
Commercial fishing of salmon at sea was suspended in 2007. There are various issues about the Erne, Lee, Liffey and Shannon rivers, but this year 62 out of 151 salmon rivers had sustainable populations, an increase from 43 in the mid-2000s. The days of large catches are over. Wild salmon stocks remain under pressure.
Irish farmed salmon, once the minnow against Norwegian and Scottish varieties, is becoming a challenger but there is organised opposition from angling and environmental groups. Plans to introduce farmed salmon on a grand scale along the west coast are also being seen as a threat to migratory wild salmon.
Damien O'Brien of the 'No Salmon Farms at Sea' group said sea lice were a real danger, an argument that has been constantly rejected by the aquaculture industry despite evidence to the contrary, a recent report revealing that over one in three north Atlantic salmon died from parasite infection. Although the industry is required to maintain low sea lice levels, any infestation would have a devastating effect on small populations in small river systems.
"Ireland will go down in history as the nation that wiped out all the wild salmon in Europe if these salmon farms are allowed to go ahead," said O'Brien.
This has placed Fergus O'Dowd, the junior minister responsible for natural resources, in a difficult position. He must be seen to protect angling with its €555million annual spin-off and support the development of aquaculture, which is projected to contribute to €650million export sales with Irish farmed salmon the key growth area*.
The story of salmon is an allegory similar to the pagan and Christian stories. The plentiful islands of Máel Dúin have come home but without wild salmon they would be the shadow of a myth.
Survival at sea remains the greatest challenge to salmon today.
See the Angling Study