5 August 2013 Edition
We all have the power to make a change
4th Annual Sinn Féin Summer School – Fighting talk in west Cork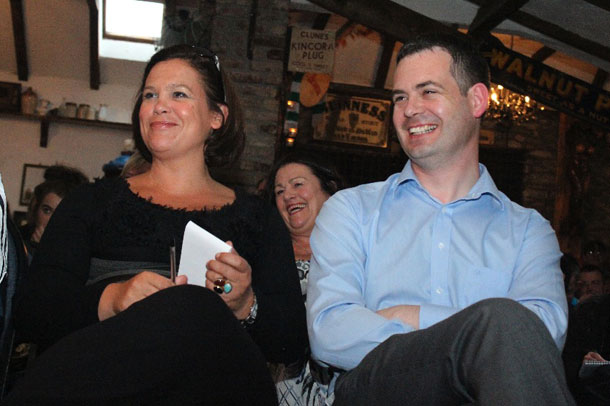 'How was it possible that, in 1916, men and women could take on one the biggest empires of the world and yet the people of Ireland today can't?' – Joanne O'Riordan, Young Person of the Year
THIS YEAR'S Sinn Féin Summer School in the picturesque west Cork village of Baile Mhuirne (enjoying glorious sunshine at the end of June before the July heatwave) lived up to its now-established reputation as one of the most stimulating and open forums on social and political issues.
Straight-talking speakers ranged from controversial soccer pundit and Irish Daily Star columnist Eamon Dunphy to former Ulster Unionist Party MLA and now leader of the new pro-Union NI21 party, Basil McCrea, GAA star Seán Óg Ó hAilpín, and the inspirational Joanne O'Riordan, the 2012 Young Person of the Year and disability rights activist.
Pearse Doherty TD kicked off proceedings on the Friday evening of 28 June before Eamon Dunphy started the weekend by revisiting some of the themes in his An Phoblacht interview in May that came as a shock to many.
Eamon chronicled his transition from being pro-nationalist during the civil rights era and the Bloody Sunday massacre by British Army paratroopers to becoming in later years a rabidly anti-republican columnist with the Sunday Independent until emerging as a firm and outspoken supporter of Sinn Féin today. It's a Road to Damascus that has caused much comment amongst republicans and opponents alike that Dunphy laughed loudly about throughout his Q&A with his audience.
"After my interview in An Phoblacht," he joked, "Sinn Féin had a wave of resignations."
Explaining his journey as starting with the Peace Process, he said that Sinn Féin public representatives such as Pearse Doherty, Mary Lou McDonald, Martin McGuinness and Gerry Adams "have integrity and really represent their constituents". He looks forward to Sinn Féin being in government and he urged Sinn Féin to "make alliances, bring left-wing politics to Ireland".
Joanne O'Riordan, from Millstreet in Cork, was born with a rare medical condition and she has no limbs.
Having addressed a United Nations conference in New York last year, a Sinn Féin Summer School didn't daunt the teenager who mesmerised everyone at the Friday evening session with a speech that was funny as well as a moving call to action.
"I am only one of seven people in the world living with this rare physical form, Total Amelia, and I can safely say it does not make me different; It simply makes me unique," Joanne told a rapt audience for 'Disability and Identity'.
She said that special needs assistants and supports are crucial for many people and Government cuts are "a disgrace . . .  it is disgusting that they are targetting the most vulnerable". Inarguably, the fascinating young woman whose Twitter handle is @NolimbsNolimits added:
"Limbless or otherwise, I know that I have something to offer to my society."
• Young Person of the Year, Joanne O'Riordan, speaks about cuts to disability provisions and the Government's broken promises
She asked people to remember that the men and women of 1916 did not have the technology or resources we take for granted today yet still they took on the might of the British Empire.
"Some of the great heroes fought and died for this country. They had no wireless, no Internet access, no iPods and iPads, but what they did have was a grit and a determination to achieve something better for our people.
"How was it possible that, in 1916, men and women who were far less educated than us, that had little to no means of mass communication, could take on one the biggest empires of the world and yet the people of Ireland today can't?"
Speaking on 'Culture, language and identity', GAA idol and heart-throb Seán Óg Ó hAilpín was another star turn at the Sinn Féin Summer School.
The Cork hurling and football legend was born a bit of a way from the banks of the Lee — on the tiny volcanic island of Rotuma (population 2,000), 465 kilometres north of Fiji, a former British colony in the South Pacific Ocean.
Turning in yet another bravura performance, this son of the South Pacific was passionate in telling what makes him the character he is, how proud he is of his Rotuman and Fermanagh roots as a Cork man who speaks the Irish language!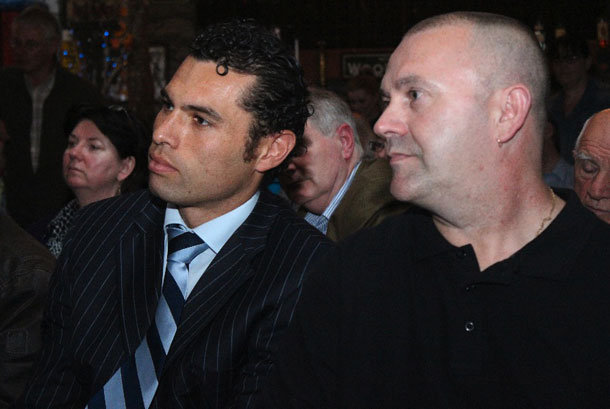 • Seán Óg Ó hAilpín and Sinn Féin's DJ O'Driscoll listen on as Joanne O'Riordan speaks
A regular visitor to the Six Counties, he spoke of how the love of Irish of the H-Blocks Hunger Strikers had a powerful impact on him. He encouraged everyone to use whatever Irish they have and not to be put off for fear of getting it wrong.
"Our language is our right, we have a duty to keep it alive," he said before being mobbed by autograph hunters and fans wanting their photos taken with him.
The Saturday opened a frank and open debate between NI21 leader Basil McCrea MLA and Sinn Féin deputy leader Mary Lou McDonald TD on the theme 'Is it time for a Border poll on Irish unity as provided for in the Good Friday Agreement?'
Basil, who once stood for the leadership of the Ulster Unionist Party, left the UUP in February with South Down MLA John McCaliister over the decision of by leader Mike Nesbitt to support a unionist unity candidate in the Mid-Ulster by-election to try and take the seat off of Sinn Féin.
McCrea and McCallister launched their new pro-Union NI21 party at the start of June so it was something of a political coup for the summer school organisers to have the new unionist party leader for its headline debate.
'Liberal' NI21 may be in some of its social thinking but it is still unionist and Basil McCrea threw down the gauntlet to republicans arguing for a reunited Ireland.
He said that republicans have a huge job to do to convince unionists that a united Ireland is a good idea, especially given the mess the economy is in in the 26 Counties.
In reply, Mary Lou McDonald offered an equallly robust republican view on the Border poll and both contributions can be seen on YouTube at www.youtube.com/sinnfeinireland.
The first-hand account of Donnchadh Ó Laoghaire from Cork, a former national organiser for Sinn Féin Republican Youth, who — in between humorous anecdotes — brought a lump to the throat as he spoke of his own experiences of the pain of emigration and it effect on his generation, his friends and family.
Donnchadh was speaking on the panel 'Emigration – 90 years of complacency?' with speakers Dr Piarais Mac Einrí from University College Cork and Marie-Claire McAleer, Senior Research and Policy Officer with the National Youth Council of Ireland, with Diarmuid O'Donovan, administrator with the Cork County GAA Board, Evening Echo columnist and Raidió na Gaeltachta contributor.
Orla Kelly from Early Childhood Creativity also gave a presentation on 'Why creativity in education matters'.
Movie historian Professor Kevin Rockett of the School of Drama, Film & Music at Trinity College Dublin and author gave his take on 'Irish historical films made during the 1910s' in an expert insight into how motion pictures influenced thinking at the turn of the 20th century, showing some fascinating archive footage and explaining its rationale.
Media Guardian columnist Roy Greenslade is a regular commentator on RTÉ's Drivetime and Newstalk on the Leveson judicial public inquiry into the culture, practices and ethics of the British press after the News International phone hacking scandal. A former editor of the Daily Mirror and author of several books — including a history of British newspapers and Press Gang: How Newspapers Make Profits from Propaganda — he was the key speaker on the topic 'Media ownership – does it matter?'
Sinn Féin Assembly Education Minister John O'Dowd MLA closed the very successful and enjoyable weekend with a comprehensive review of the wide range of contributions, including his own update on what Sinn Féin is doing in the Assembly to try and protect frontline services, defend special needs education and deliver a forward-looking schools programme while resisting cuts imposed by the Tory-led government at Westminster.
People left the Mills Inn on the Saturday evening with the sun still shining and in animated converstaion to be carried on late into the night. Perhaps they had these words of Joanne O'Riordan in mind:
"I would love the Taoiseach of this country to live the life I lead. I would love the bankers of this country to wake up one day and realise what they have done has not only destroyed our country but it has resulted in many vulnerable people becoming more and more isolated and dependent.  
"I am asking people to start challenging this.
"Just like Kevin Barry, the Hunger Strikers and many more besides them, we all have the power to make a change."