28 April 2013 Edition
BBC stopped from filming UVF 'history' rally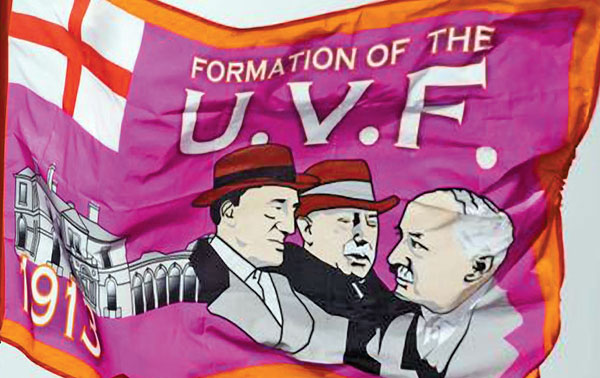 A BBC crew was physically stopped from filming and then followed by a group of stewards until they left the area
REPORTERS were physically prevented from recording speeches at a rally on Saturday 20 April to mark the foundation of the UVF in 1913 despite organisers' claims that it was an historical even that had nothing to do with the modern-day UVF.
The clampdown on news teams was at Craigavon House, on the outskirts of the city, where James Craig and Edward Carson formed the UVF in 1913. Up to 10,000 unionists in period costume had just been filmed parading through Belfast.
The BBC's Mervyn Jess said his and another camera crew were prevented from recording the speeches or filming speakers (including the grand-daughter of James Craig) because they "didn't have a pass" to enter the private grounds.
Jess filmed official stewards holding event-branded jackets up to cameras lenses to stop them filming people leaving. Jess and his crew were then followed by a group of stewards all the way back to their car until they left the area.
Organiser John Stevenson had previously denied there were links with the present-day UVF, saying: "They have had no input and are in no way associated with the parade."
But senior UVF figures, including the man in charge of the UVF gang responsible for the recent attacks on the Short Strand in east Belfast, took up prominent positions in the march.
Ulster Defence Regiment and British Army soldier Eddie McIlwaine, one of the notorious Shankill Butchers UVF gang led by Lenny Murphy that carried out 19 sectarian murders between 1975 and 1977, was also there.