28 April 2013 Edition
Margaret Thatcher and Croke Park 2
Editorial | Eagarfhocal
Despite their best efforts, her government and their agents failed to defeat the Irish republican struggle. Instead, it emerged stronger than ever and more determined to achieve Irish unity and freedom
 Margaret Thatcher
THE DEATH of Baroness Margaret Thatcher has seen the passing of the most polarising political figure in Irish and British politics since Oliver Cromwell.
Prime Minister Thatcher's reign was corrosive.
Unyielding in public to the calls for common sense and justice in her government's approach to the protests by political prisoners in Long Kesh and Armagh jails, behind the scenes she authorised a communications back channel with republicans but failed to act on the logic of this.
Under Thatcher's regime, the British Government – its army, police, security services and surrogates in unionist death squads – brought death and destruction to Ireland.
Under Thatcher, the British prosecuted a vicious counter-insurgency war that embraced censorship, collusion and the killing of citizens in covert operations – including the targeting of solicitors such as Pat Finucane – alongside more open military repression.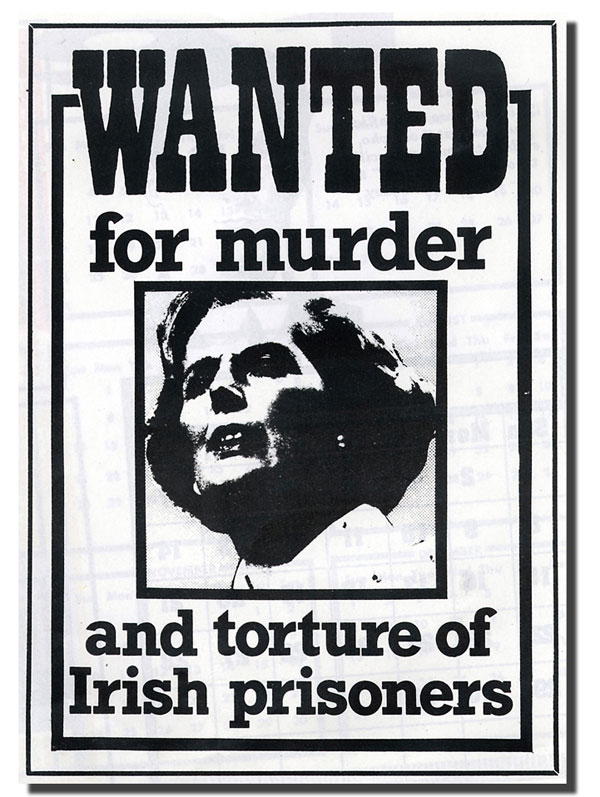 Meanwhile, Thatcher and the British parliament refused to recognise the rights of Irish citizens to vote for parties of their choice. There was no special sitting of Westminster to mark the death of Bobby Sands MP.
In England, Scotland and Wales, Thatcher wrought misery in many working-class communities, particularly during the miners' strike.
Her government denounced Nelson Mandela and the ANC as "terrorists" while she supped tea with the apartheid regime and Chilean fascist dictator General Pinochet. The same SAS that carried out clandestine murders in Ireland for Thatcher's government trained the Khmer Rouge in 'The Killing Fields' of Cambodia.
Thatcher was the figurehead of a ruthless, uncaring regime. There were many more ministers, government officials and military generals involved too.
Margaret Thatcher left this life as a frail old lady suffering from dementia. Her regime, though, left a painful legacy for many Irish – and British – families.
Thatcher abused and insulted Ireland and the Irish people. But we have moved on.
The nationalist community in the North overcame the worst that her regime could inflict.
Her government attempted to criminalise Irish republican prisoners but the sacrifice of the Hunger Strikers in 1981 criminalised British rule in Ireland in the eyes of the whole world.
Despite their best efforts, her government and their agents failed to defeat the Irish republican struggle. Instead, it emerged stronger than ever and more determined to achieve Irish unity and freedom.
In the words of Bobby Sands: "Our revenge will be the laughter of our children."
Croke Park 2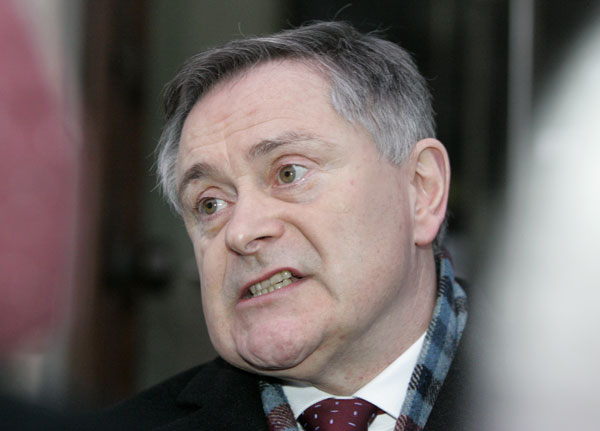 • Public Expenditure Minister Brendan Howlin
THE REJECTION by trade unions of Croke Park 2 is a rejection of the austerity programme of Fine Gael and the Labour Party.
Ministers, most likely with an eye to their imminent retirement by the voters, refused to use Croke Park 2 to look for more cuts to the gold-plated pensions of ex-ministers such as John Bruton, Dick Spring and Bertie Ahern, all of whom are high-earners on the back of their public service profile.
Enda Kenny and Eamon Gilmore showed no such reluctance in wanting to slash a further €1billion from public sector pay which Public Expenditure Minister Brendan Howlin described as "equitable and fair". Sinn Féin deputy leader Mary Lou McDonald responded: "In truth, it is anything but."
Trade unionists agreed with Mary Lou.
The public agrees that the Family Home Tax is anything but fair either.
Sinn Féin activists are on the streets building awareness and collecting petitions while Sinn Féin TDs and senators are driving forward a Bill to 'axe the tax'.
Fianna Fáil now has an opportunity to show that it really is against a tax that it originally negotiated with the Troika – by supporting the Sinn Féin Bill.