26 February 2013
PSNI asked: How many Union flag protest leaders arrested?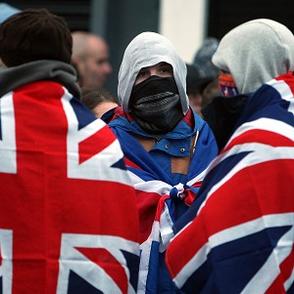 'As these protests are illegal, people have been asking how many organising or participating in them have been arrested and charged'
THE PSNI has been challenged to explain how many organisers and participants in illegal Union flags protests that have blocked roads and brought neighbourhoods to a standstill have been charged with offences.
Sinn Féin MLA Gerry Kelly, the party's spokesperson on Justice, was speaking after the Parades Commission said it has no jurisdiction over un-notified parades or protest marches.
"Any un-notified parade or protest march is illegal and therefore anyone participating in them is breaking the law," Gerry Kelly said.
"The PSNI needs to act on this fact and stop facilitating law breaking.
"We have been saying since the start of these flag parades or protest marches taking place every Saturday past Short Stand that the PSNI needed to stop facilitating them.
"As they are illegal, people have been asking how many organising or participating in them have been arrested and charged since they started in December?"