23 February 2013
All the queen's horse meat for all the queen's men – 'Paper Round'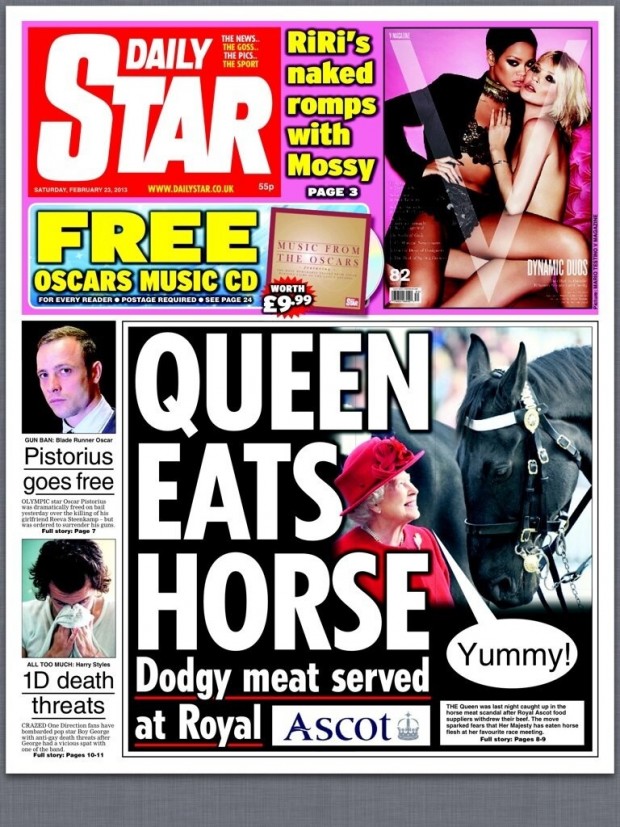 SHOCK HEADLINES for some Saturday tabloid readers to chew over.
The Daily Star fears that posh people such as Queen Elizabeth may have been swallowing horse meat in their meals watching her favourite horses at the gold plate race event at Royal Ascot.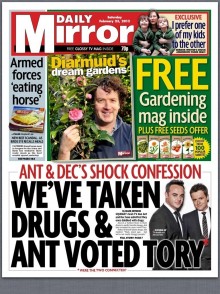 The Star's runaway front page pulls up the headline "QUEEN EATS HORSE" with a pic of Her Maj looking lovingly at a horse's head and puts the word in her mouth "Yummy!"
Over at the Daily Mirror, there's a plateful of tasteless tattle, including the news that British Army burgers contained horse meat, news that won't go down well with the cavalry at Horseguards Parade.
The main headline, however, is even more stomach turning: "ANT & DEC'S SHOCK CONFESSION – WE'VE TAKEN DRUGS AND ANT VOTED TORY."
The Mirror anticipates readers' stunned reaction and adds the perhaps obvious tagline: "Were the two connected?"