23 February 2013
All the queen's horse meat for all the queen's men – 'Paper Round'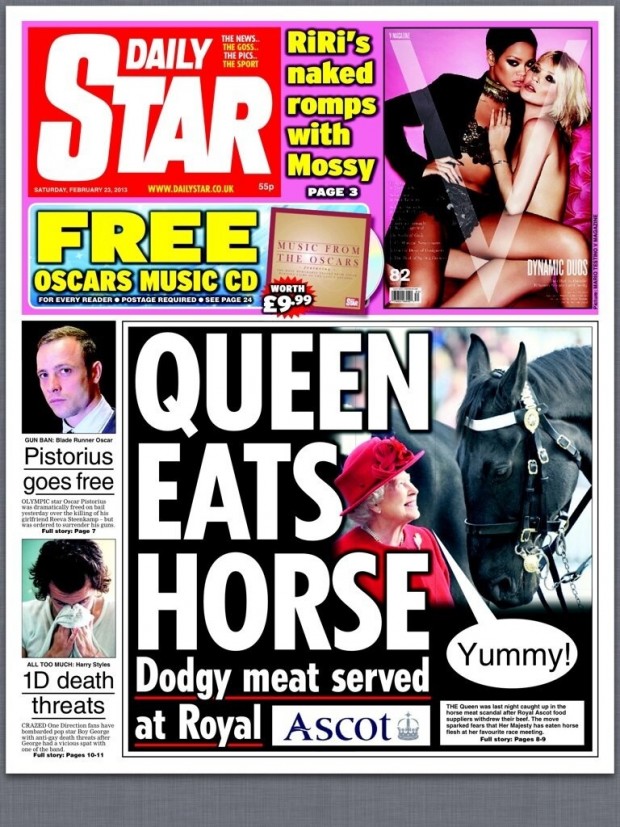 SHOCK HEADLINES for some Saturday tabloid readers to chew over.
The Daily Star fears that posh people such as Queen Elizabeth may have been swallowing horse meat in their meals watching her favourite horses at the gold plate race event at Royal Ascot.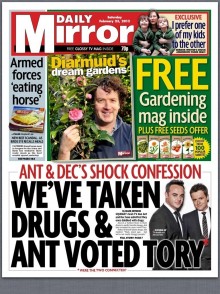 The Star's runaway front page pulls up the headline "QUEEN EATS HORSE" with a pic of Her Maj looking lovingly at a horse's head and puts the word in her mouth "Yummy!"
Over at the Daily Mirror, there's a plateful of tasteless tattle, including the news that British Army burgers contained horse meat, news that won't go down well with the cavalry at Horseguards Parade.
The main headline, however, is even more stomach turning: "ANT & DEC'S SHOCK CONFESSION – WE'VE TAKEN DRUGS AND ANT VOTED TORY."
The Mirror anticipates readers' stunned reaction and adds the perhaps obvious tagline: "Were the two connected?"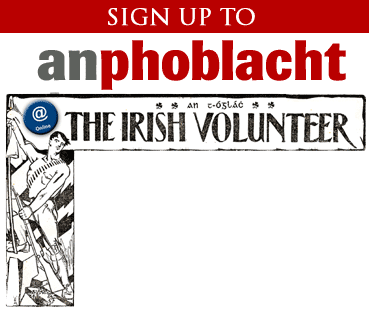 Fascinating insights into
Irish revolutionary history now online
Every week over the next two years, An Phoblacht is making all the editions of The Irish Volunteer – the newspaper of the Irish Volunteer movement – available online exactly 100 years after they were first published
The Irish Volunteer — tOglách na hÉireann was first published on 7 February 1914 and every week until 22 April 1916, just days before the Easter Rising.
Acting as the official newspaper of the Irish Volunteers it outlined the political views of the leadership and reported on the and important events, such as the Howth Gun Running of 1914.
Included in its pages alongside political opinions and news reports are various advertisements for such items as revolvers, bandoliers and military uniforms from stockists across Ireland.
You can now read these fascinating insights into Irish revolutionary history with an online subscription to An Phoblacht for just €10 per year. This includes a digital copy of each new edition of the paper and Iris magazine, access to our digitised historic archives as well as copies of The Irish Volunteer.
Premium Online Service For Only €10 Per Year
For less than €1 a month, you get An Phoblacht's Premium Online Service. Sign up today!
PREMIUM SERVICE:
Full access to all An Phoblacht articles
Interactive online PDF Booklet of each edition
Access to our historic Archives
Discounts for the Online Sinn Féin Shop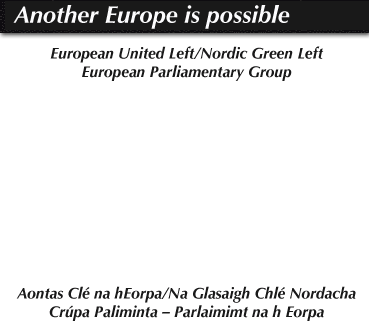 An Phoblacht on Twitter