3 February 2013 Edition
Irish unity – Let the people decide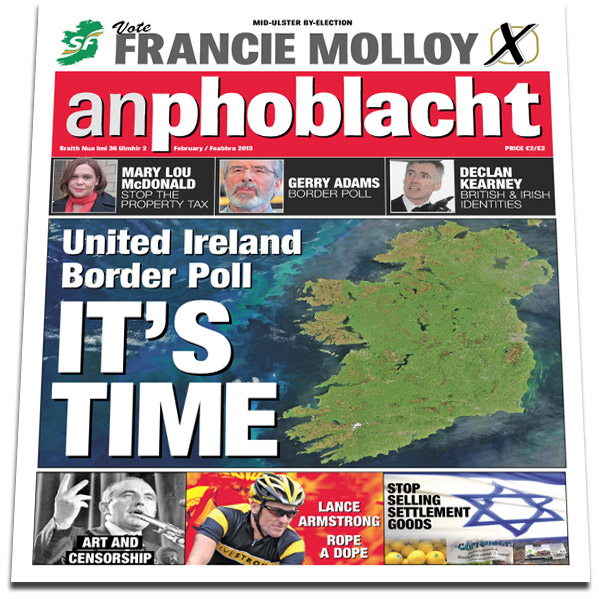 This will provide a unique opportunity for a historic debate on the future of the island.
IRISH REPUBLICANS have argued for Irish unity since partition.
Fifteen years ago, in the negotiations leading to the Good Friday Agreement, Sinn Féin secured the removal of the Government of Ireland Act by which the British claimed ownership of the Six Counties.
This was replaced with a commitment to a Border poll that allows the people in the North decide democratically if they want an end to the Union and partition.
While much of the focus since then has been on issues such as policing, stabilising the power-sharing structures and creating the conditions for the DUP to come on board, Sinn Féin has repeatedly made clear its commitment to Irish unity and the belief that the Good Friday Agreement is part of a process.
Sinn Féin believes the time has now come to campaign for a Border poll.
This will provide a unique opportunity for a historic debate on the future of the island.
Partition created two conservative states in Ireland. In the North, this led to institutionalised discrimination and sectarianism, and decades of division and conflict. But the Peace Process has dramatically changed the situation and allowed an entire generation to live in relatively peaceful conditions.
The political geography of the North has begun to change too. The Northern state was gerrymandered to allow for a permanent unionist two-thirds majority. But recent census figures reveal a shift that gives hope that political dialogue, stability and persuasion can achieve even more deep-rooted change.
Irish republicans believe that all parts of Ireland will benefit economically from an ending the duplication of services and with the creation of an all-island economy.
In the 26 Counties, the enormous economic changes of recent decades, the diminished influence of the Catholic Hierarchy, and the disclosure of corruption in the 'Golden Circles' and in politics have also dramatically and fundamentally changed societal attitudes.
Politics across Ireland is in flux. The future of our country can be what our people make it. We can a build new Ireland in which there is genuine reconciliation between all our people, respecting all of their backgrounds and traditions, in all their diversity.
Those of us who want a united Ireland have a duty to listen to the concerns of unionists. They are fully entitled to be part of this process. The New Republic which emerges has to be one that reflects their rights alongside the rights of others citizens.
All of this is a huge challenge. It will not be easy. But over the past decades, republicans have never shirked challenges.
A Border poll will provide an opportunity to focus on the future and the building of a united, modern and dynamic New Republic with social justice and equality at its core.
The challenge of uniting Catholic, Protestant and Dissenter
Why is the Southern Establishment afraid of a Border poll?