7 December 2012
Flags: Appeal to unionist leaders to speak up for respect in east Belfast
Union flags erected overnight in nationalist Short Strand district
'This is nothing more than an attempt to intimidate and heighten tensions in an already difficult period'
EAST BELFAST Sinn Féin Councillor Niall Ó Donnghaile has appealed to unionist leaders in the area to issue a clear message that the people of the Short Strand must be respected.
The former Mayor of Belfast's call came after Union flags were erected on Thursday night outside St Matthew's Church and homes along Strand Walk.
Monday night's meeting of Belfast City Council voted 29-21 to fly the Union flag on 17 designated days – the same as the Assembly – instead of every day.
Sinn Féin wanted a neutral flag, or both the Union flag and Irish Tricolour alongside each other, or no flags at all, but supported an Alliance Party compromise motion on designated days.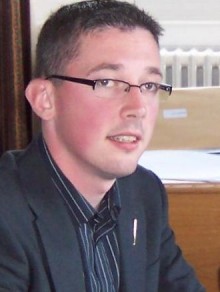 Councillor Ó Donnghaile – pictured left – said today (Friday):
"Once again we see people in this community being subjected to attempts at intimidation by others hell bent on marking territory.
 "Union flags have only recently been removed from this stretch of the road in October. Last night's activities are nothing more than an attempt to intimidate and heighten tensions in an already difficult period.
 "I call on unionist leaders in this part of the city to finally state clearly that the age-old resort within loyalism, to attack and seek to intimidate people in the Short Strand, can no longer be tolerated."
He added:
 "I will work with all those in the east of the city who are determined to ease tensions and improve community relations in spite of attempts by others to undermine that work."