4 November 2012
Jonathan Ross defends Frankie Boyle's white poppy show
The Royal British Legion's slogan is: 'Standing shoulder to shoulder with all who serve' in the British armed forces.
JONATHAN ROSS has defended controversial comedian Frankie Boyle for wearing a white poppy on Ross's prime-time ITV chat show on Saturday night.
The overwhelming majority of presenters and guests appear on British TV wearing the red poppy of the Royal British Legion in the run-up to next weekend's Remembrance Sunday.
The Legion says its red poppy "helps the whole armed forces community". The Royal British Legion's slogan is: "Standing shoulder to shoulder with all who serve" in the British armed forces.
Alongside photos of serving military personnel, its website adds:
"We work with politicians to improve the lives of the armed forces community. We have been campaigning to further the cause of serving personnel, ex-service men and women and their families since 1921."
In 2008, the BBC reported:
"This year's Poppy Appeal was launched in Iraq, the first time the campaign has been launched from an active war zone.
"The Royal British Legion said the choice was a reminder that it helped active personnel as well as veterans."
Some people are uneasy with the red poppy's historic and continuing close identification with the British military today, believing it glorifies and promotes war rather than being simply a symbol of remembrance.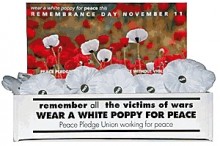 The white poppy remembers all those who have died in war. Britain's Peace Pledge Union, which distributes the white poppy, says the first white poppies appeared on Armistice Day (called Remembrance Day after World War Two) in 1933:
"The white poppy was not intended as an insult to those who died in the First World War – a war in which many of the white poppy supporters lost husbands, brothers, sons and lovers – but a challenge to the continuing drive to war."
The Royal British Legion says it is up to individual choice whether or not to wear a poppy. While wearers of the red poppy proclaim it to be a symbol of freedom, there is often vitriolic criticism of people who exercise that freedom by wearing a white poppy or no poppy at all. Immediately after his appearance on TV, Frankie Boyle was subjected on Twitter to gross insults and abuse.
One typically said:
"Frankie Boyle shove your wipe [sic] poppy up yer arse ya f___ing SCUMBAG."
Jonathan Ross tweeted in reply to another critic of Frankie Boyle:
"Free speech entitles him to wear a white poppy. Or no poppy if he so chooses. Freedom of speech means you get to choose. End of argument!"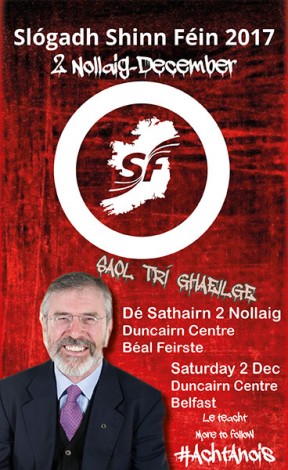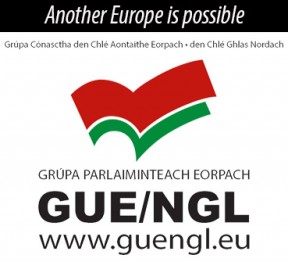 An Phoblacht on Twitter
Premium Online Service For Only €10 Per Year
For less than €1 a month, you get An Phoblacht's Premium Online Service. Sign up today!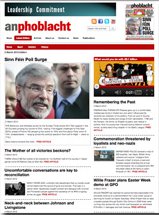 PREMIUM SERVICE:
Full access to all An Phoblacht articles
Interactive online PDF Booklet of each edition
Access to our historic Archives
Discounts for the Online Sinn Féin Shop
An initiative for dialogue 
for reconciliation 
— — — — — — —
Contributions from key figures in the churches, academia and wider civic society as well as senior republican figures