4 November 2012 Edition
It is important that young people have a voice in the Assembly
Megan Fearon: Assembly Member For Newry And Armagh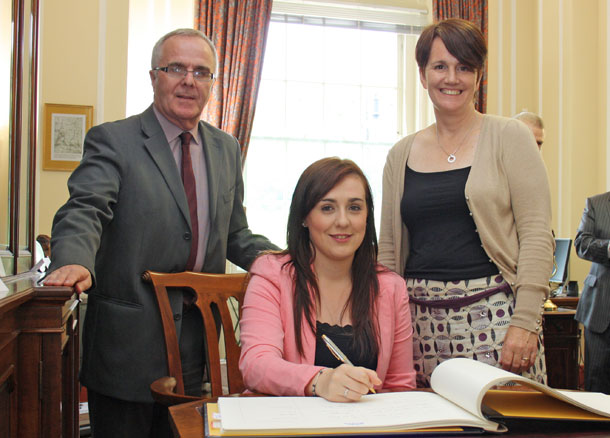 'The fact that Phil Flanagan and Chris Hazzard are also young MLAs highlights the fact that Sinn Féin is serious about ensuring we change the face of Irish politics'
BORN UNDER THE SHADOW of Slieve Gullion into the most miltarised area of western Europe, Megan Fearon was barely three years old when the first cessation of the armed campaign came around.
As teenager she witnessed the demilitarisation of the south Armagh landscape and saw how south Armagh has long been neglected from economic and infrastructural investment. Megan would grow up to be very politically aware and by the politically tender age of 20 would be representing Newry and Armagh as a Sinn Féin MLA at Stormont.
This was not surprising given the republican tradition of her family and the fact that Megan has been involved in politics since her early teens. Megan remembers the occupation of south Armagh as a child and she became active in the Sinn Féin structures in both south Armagh and at Queen's University Belfast. In October, Megan attended the first plenary session of the new all-Ireland Inter-Parliamentary Association in the Dáil. 
 Megan Fearon spoke to An Phoblacht:
"I've always been politically aware from a young age and developed my own political identity early on. My interest in politics has always been spurred on by the inequalities that I witnessed growing up. I've always thought politics should be a forum where we can affect change for the better and I'm beyond honoured to be in a position now where I can do that.
"We have to reverse the economic decline in the south Armagh region due to the little economic investment over the years and create opportunities for young people to live their lives here without having to emigrate.
• 'No jobs. No Future. No Way': Chris Hazzard and Megan at the recent Óige Poblachtach event in Stormont
"My decision to go forward was based on the belief that you must lead by example if you want to make a difference. We need more women in politics and we need more young people. I can't be an advocate for that and not attempt to break the glass ceiling myself when the opportunity arose.
"It has now been three months since I was co-opted to replace Conor Murphy and the Assembly being in recess for a few weeks allowed me time to adjust to the workings of Stormont.
"This is obviously a massive learning curve for me but I have had great support from my community and the Sinn Féin teams in the Assembly and constituency. I also have to acknowledge the tremendous support from my family and friends, who have encouraged me at every turn.
"Martin McGuinness once described politics in the North of Ireland as an education of a lifetime and I can now testify to that fact. While I have a degree in politics, the reality of frontline politics is far faster and more hectic than the theory I studied at Queen's.
"I believe that it is important that any elected body has a full spectrum of society represented so it is important that young people have a voice in the Assembly. I am lucky that Sinn Féin not only recognises this but also actively promotes young people and women as well as other minorities to participate in frontline politics. Some people might claim this is tokenism but the fact that Phil Flanagan and Chris Hazzard are also young MLAs highlights the fact that Sinn Féin is serious about ensuring we change the face of Irish politics.
"I've been involved in several campaigns which myself, Chris and Phil have helped raise in the Assembly, including youth unemployment and lowering the voting age to 16. 
• Megan and fellow Sinn Féin MLAs co-sponsored a motion calling for marriage equality to be legislated for
"There's a mass of issues affecting young people today, mental health and suicide, job creation, tackling emigration, welfare reform, lesbian, gay, bisexual and transsexual rights, rural transport . . . you know the list goes on. We have a lot of work to do.
"But I don't want to be pigeon-holed as being an MLA for young people any more than some of our senior MLAs would be seen as MLA for older people. I am the representative for all the people of Newry and Armagh and I intend to represent each and every one of them to the best of my ability.
"I am confident that, come the next election, I will no longer be the youngest MLA and look forward to passing my experience to whoever that will be."