22 October 2012
Irish-speaking receptionist leaves unionist councillor spluttering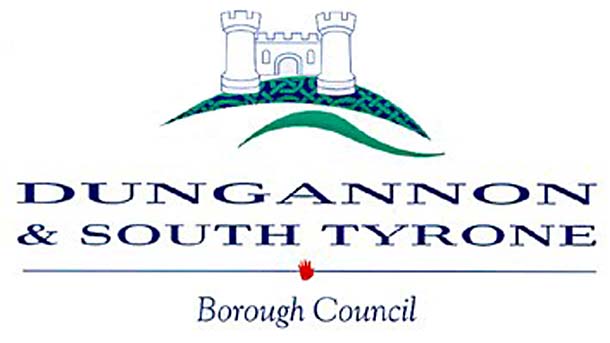 'Councillor Morrow's comments are contrary to the great cross-community work that the council is engaged in'
THE Democratic Unionist Party (DUP) in Tyrone have reacted with fury to news that an employee at Dungannon and South Tyrone Borough Council is greeting callers with the phrase "Dia Duit", the Irish for "Hello".
DUP MLA Maurice Morrow said the use of the Irish language is not council policy, adding:
"This sort of behaviour throws out a very bad signal for the unionist/Protestant community, who represent over 40% of the borough population."
He went on to say that he did not want the council to become "a cold house for Protestants" and called for a full inquiry.
Responding to the claims, Coalisland Sinn Féin council group leader Pádraig Quinn said the council has a strong policy on promotion of the Irish language:
"I would understand objections if the quality of service was affected, however that is simply not the case. In fact, I believe by offering constituents the choice to engage with the council in either English or Irish only enhances the quality of our service.
"Councillor Morrow's comments are contrary to the great cross-community work that the council is engaged in and amount to nothing more than petty complaints from individuals who have not gotten their own way."
Councillor Quinn said he believes Morrow's remarks regarding the council becoming "a cold house for Protestants" had to do with the recent passing of motions on marriage equality for same-sex couples and calling for the release of prisoners. "These votes had nothing to do with Protestantism," he said, "they have to do with justice and equality. That is democracy, and just because a councillor does not agree with the outcome does not give him the right to make childish remarks."
2014 – A YEAR OF CHANGE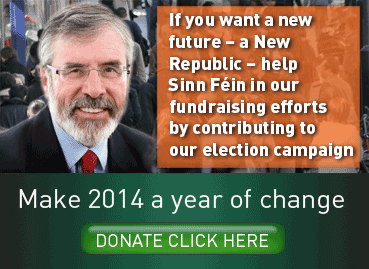 A chara,
Sinn Féin is in government in the North and is a major political party in the Dáil and in local government across this island.
We are the only all-Ireland political party and with each passing day our membership is increasing, our organisational capacity is improving, and we are presenting realistic alternative policies to meet the needs of 21st century Ireland.
On May 22nd and May 23rd, more than 350 men and women will be standing for Sinn Féin in the European and local government elections, north and south.
For those who reject austerity and want a different future, a better future; who want hope for themselves and for their families; who want jobs and prosperity; and who want a real republic on this island – Sinn Féin is that future.
Make 2014 a year of change.
If you want a new future – a New Republic – help Sinn Féin in our fundraising efforts by contributing to our election campaign.
Thank you for whatever you can afford.
Lánaigí libh agus beirigí bua!
Is mise,
Gerry Adams TD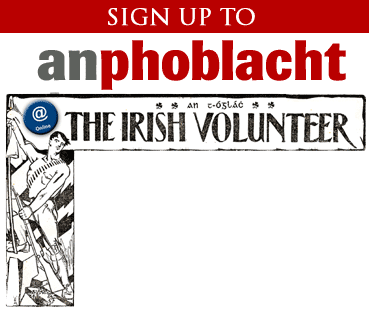 Fascinating insights into
Irish revolutionary history
for you to read online
Every week over the next two years, An Phoblacht is making all the editions of The Irish Volunteer – the newspaper of the Irish Volunteer movement – available online exactly 100 years after they were first published
The Irish Volunteer — tOglác na hÉireann was first published on 7 February 1914 and every week until 22 April 1916, just days before the Easter Rising.
Acting as the official newspaper of the Irish Volunteers it outlined the political views of the leadership and reported on the and important events, such as the Howth Gun Running of 1914.
Included in its pages alongside political opinions and news reports are various advertisements for such items as revolvers, bandoliers and military uniforms from stockists across Ireland.
You can now read these fascinating insights into Irish revolutionary history with an online subscription to An Phoblacht for just €10 per year. This includes a digital copy of each new edition of the paper and Iris magazine, access to our digitised historic archives as well as copies of The Irish Volunteer.
Premium Online Service For Only €10 Per Year
For less than €1 a month, you get An Phoblacht's Premium Online Service. Sign up today!
PREMIUM SERVICE:
Full access to all An Phoblacht articles
Interactive online PDF Booklet of each edition
Access to our historic Archives
Discounts for the Online Sinn Féin Shop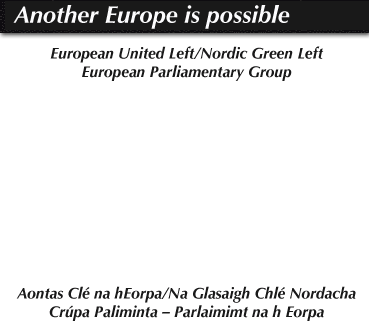 An Phoblacht on Twitter