30 September 2012 Edition
West Belfast's new Sinn Féin MLA Rosie McCorley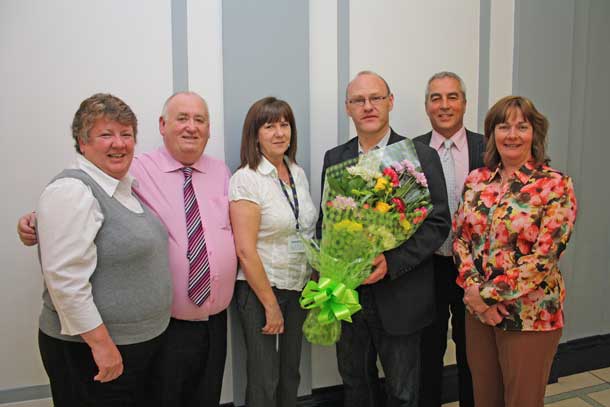 'The door to my office is always open so if anyone wants to see me they are welcome to come in, any time... Sinn Féin activists are here to represent the people and fight for the people's needs and rights. That is the tradition I come from'
REPUBLICAN former prisoner Rosie McCorley is West Belfast's newest Assembly member.
Selected to replace Paul Maskey — who resigned his Stormont seat in line with Sinn Féin policy to end dual mandates — the Andersonstown woman is committed to representing the people to the best of her ability.
Rosie was born in the Lower Falls but moved "up the road" to Andersonstown at an early age.
Similar to so many people of her generation, Rosie was politicised by events on the streets and became active in the struggle.
Arrested in 1990, Rosie was imprisoned in Maghaberry during one of the most brutal periods when the regime implemented its notorious strip-search policy.
Despite the harshness of the regime, Rosie completed a 1st Class Honours Degree in Social Sciences.
Released in 1998 along with her great friend, Marie Wright, who died tragically, Rosie has been active in Sinn Féin ever since.
Having worked in Stormont as one of the party's political advisers, Rosie's selection to replace Paul Maskey sees her walking a familiar path.
Rosie sits on two scrutiny committees in Stormont: the Justice Committee and the Department for Culture, Arts and Leisure (DCAL) Committee.
"Obviously the DCAL Committee is very important to me," says Rosie, "as it gives me an opportunity to really focus on the Irish language."
Since 2007, Rosie has been working within the party to promote Irish and encourage activists to use and promote the language.
She's also keen to promote DCAL Minister Carál Ní Chuilin's Liofa 2015 Irish-language initiative.
"Líofa is a really positive initiative and already more than 2,000 people, from all walks of life, have signed up to becoming fluent in Irish.
"People from the unionist community, members of the PSNI as well as people in public life have all embraced the challenge," stated Rosie.
"Of course, the next big goal is to get an Irish Language Act on the statute books. It is important for the language and for Irish speakers that it is given equal status with English," Rosie says.
The Justice Committee is also important for Rosie as she is focusing on youth justice and community safety.
"This is a big area of work and, given the many issues around young people and the problems they face, it is important that the Justice Committee deals with these matters in a progressive manner.
"I'll be coming into direct contact with all the statutory agencies involved in youth justice, including the PSNI and the Probation Service, so I'm sure it will present many challenges but at the heart of it is the need to do what is best for the young people."
In the true spirit of a republican activist, Rosie highlights the importance of representing the people.
"The door to my office is always open so if anyone wants to see me they are welcome to come in, any time. If people aren't able, for whatever reason, to come to me I'll go to them. Sinn Féin activists are here to represent the people and fight for the people's needs and rights. That is the tradition I come from."