30 September 2012 Edition
FÓGRAÍ BHÁIS
James Farrell, Dublin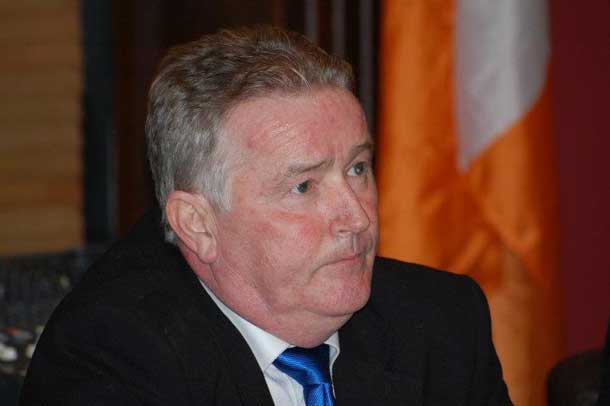 THE death occurred on Thursday 6 September of James Farrell, former Cathaoirleach of the Volunteer Joe McDonnell Sinn Féin Cumann in west Dublin.
Originally from Dublin's Artane, James established himself as formidable businessman running a corporate training service in Dublin. He was a salesman at heart. The glass was always half-full with James. He was a visionary, a man way ahead of his time.
He was also a very proud Irish republican. Addressing mourners in Glasnevin, Sinn Féin Vice-President Mary Lou McDonald hit the nail on the head when she said that James wore his heart on his sleeve. He knew of the injustices and inequality in Irish society and he was never afraid to expose them. He advocated passionately for the most marginalised and disenfranchised in society.
James also campaigned for the release of the Birmingham Six and Nicky Kelly in the 1970s and through the 1980s. He joined the Joe McDonnell Cumann shortly after the turn of the new century and quickly set about organising the Volunteer Martin Savage Commemoration now held annually in Castleknock in December of each year.
He played a key role in the campaign to have Mary Lou elected as a TD in Dublin Central and was also Director of Elections for Felix Gallagher in the 2007 Dáil general election. I recall how proud he was to see Martin McGuinness throw his hat into the presidential race last year, heralding the arrival of Sinn Féin as a potent force in modern-day Southern politics.
James was diagnosed with cancer in June of last year and he fought his illness with bravery. Even after his diagnosis, he tied in to Martin's presidential bid and to Paul Donnelly's by-election campaign. At 56, he died much too young and I'm sure he would have loved to have been around for the centenary celebrations in 2016. He was a proud 'Shinner' and he was excited about the party's electoral prospects in the 26 Counties. His motivation and positivity were infectious. As Felix recalled, James was also a fantastic Dublin wit.
He will be sorely missed by all who knew him and our condolences go out to his wife Yolande, his daughters Emma, Rachel and Abbi and to his wider family circle. We'll make sure to keep fighting the good fight on your behalf, a chara. Slán.
BY SÉAMUS HAZLETT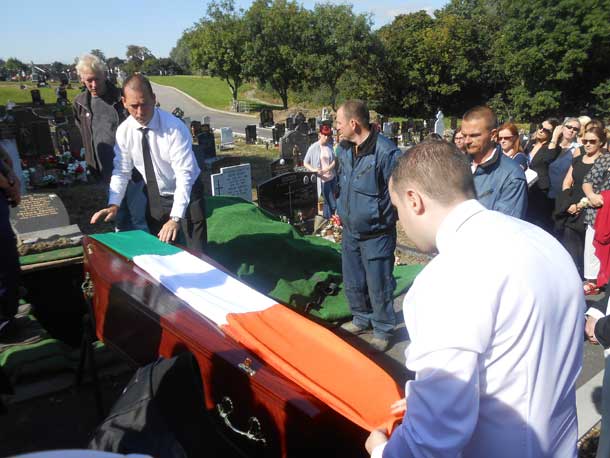 Mourners at Glasnevin Cemetery heard how James Farrell was 'a proud Irish republican who wore his heart on his sleeve'