30 September 2012 Edition
Brian Kennedy: 'Wasn't I a lucky boy?'
Sinn Féin Summer School 2012 | 7 & 8 September – Baile Bhuirne, Cork & Kerry Border
'When I was growing up in Belfast, having an identity was almost an illegal thing to do. I came from the Falls Road but anyone who could get near me was telling me I'm not Irish, I'm British and to suck it up'
KATHLEEN LARGEY'S iconic republican ballad, Four Green Fields, set 8-year-old Brian Kennedy onto a path from the Falls Road to New York's Broadway and to share the stage at other international venues with music all-time greats such as Joni Mitchell, Bob Dylan, Ray Charles, John Lee Hooker and fellow Belfastman Van Morrison.
For someone who had driven down from appearing at the Clontarf Castle in Dublin the night before to arrive "out of my comfort zone", Brian Kennedy didn't show it. International singing star he may be but there were no airs or graces about him when he breezed into the Sinn Féin Summer School on the Saturday afternoon in bright sunshine at the Mills Inn in beautiful Baile Bhuirne on the Cork/Kerry border.
Brian posed for the customary photos and cheerfully chatted with and gave advice to anyone and everyone who spoke to him before he joined the Summer School's 'Arts & Politics' session. The line-up with Brian included Trish Lambe, Project Manager of the Temple Bar Gallery of Photography; Ray Yeates, Dublin City Arts Officer and former Artistic Director of the Axis Theatre in Ballymun; and Elaine Harrington, aka Temper-Mental MissElayneous, the young, outspoken Dublin rap artist.
Brian spoke of his admiration for Elaine, her story and particularly her dedication to rapping in her distinctive Finglas accent. He also mentioned his good friend Damien Demspey for being true to his roots and his voice.
"I grew up on Bóthar na bhFál and there's that brilliant thing of the notion of accent," Brian said. "I adore and love sounds and voices and particularly being a mentor on shows like The Voice of Ireland. Accents are a bugbear of mine. In auditions you often get singers, especially people from Ireland, getting up and singing in these very strong American accents and they're from Ballymun or Limerick."
No one would think of having Máire Brennan of Clannad or Dolores Keane not singing in their own accents, he said.
But it takes a while for people to find their identity, Brian noted.
"When I was growing up in Belfast, having an identity was almost an illegal thing to do. I came from the Falls Road but anyone who could get near me was telling me I'm not Irish, I'm British and to suck it up. When I went to school in St Paul's, we learned British history, not Irish history.
"The wonderful twist of fate that happened to me was that, on the first day I went to secondary school, at 11 years old, I just happened to fall into the year where I got to do Irish. You could do either Irish or French and," Brian laughed incredulously, "they were both 'foreign languages'!"
Later in the Q&A with his audience, he added: "I was really lucky to learn my mother tongue."
Confidence as a nation and as individuals cropped up throughout Brian's Q&A.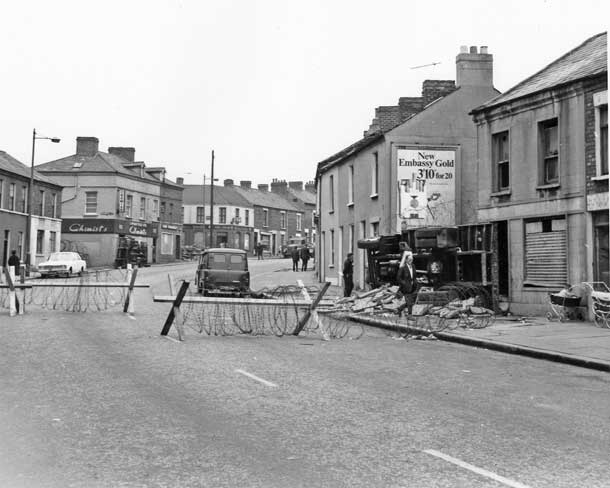 Bóthar na bhFál, where Brian grew up
"I'd love to give self-confidence workshops because I know what it's like not to be confident, to shit yourself in front of an audience or other people. I don't think you're ever too old to learn to be confident. Confidence is a very powerful and extraordinary thing to get right.
"There were certain stores I would not go into in Belfast before because they were not for people like me. Now I would go anywhere, talk to anyone." Even "the Queen of England" with "her tiny wee feet", which distracted Brian no end when he and Martin McGuinness met her at the Lyric Theatre in Belfast.
Given his experience as a youngster growing up on the Falls Road during 'The Troubles', Brian surely never dreamt he'd one day be singing in front of the Queen of England.
When he was a youngster, he had to go "into town" to do messages such as pay bills for his granny and the like.
"They told us we weren't growing up in a ghetto but you'd get to the bottom of the Falls Road and there was a steel barricade with two turnstiles. All the men had to queue up on the left, and all the women on the right and, slowly but surely, once the soldiers and the police had checked your credentials, who you were and where you were going and what time you were coming back at, then they MIGHT let you through the turnstiles into join the rest of Belfast city. That didn't happen on the other side, mind you, just on our side. So if that's not a ghetto I don't know what is."
Brian also spoke about how reporters paid him and his pals 50p — "To us, 50p was like a thousand quid" — to throw stones. So how did he not become caught up in the conflict?
"Singing was my salvation. Singing absolutely took me over, absolutely enveloped me."
It was while he was queuing at one of the RUC/British Army checkpoints that Brian started devising melodies.
"As I'm standing there one day, I hear this ambulance siren — in those days they were proper, hardcore, acoustic ambulance noises — just two notes: nee-naw, nee-naw. And my natural reaction to that was to think of a harmony. I had no idea why I did that, it wasn't conscious. Years later, I think it might have been a way to take the fear out of what ambulances are for because, more often than not, they're not there for a good reason. So maybe I took the heat out of it by coming up with a harmony. My autobiography — which is written but not published yet — is titled 'Harmonising With Ambulances'."
The first major musical impact on his life, though, was Kathleen Largey's 'Four Green Fields'.
"When I was 7 or 8 I'd go into the local shop, Patsy Crawford's. I was wee and peering over the counter. In those days, the local shop would sell a jumper and a tin of ham and a school uniform and a tin of mouse poison and what have you. And there, on the very top, would be this washing line of vinyl albums, LP records, hanging from clothes pegs. Every time I'd go in, I'd look up and I see this album, 'Four Green Fields'. I'd think 'Four Green Fields' - right.' The cover was a picture of an old lady with a spinning wheel but kind of in the shape of Ireland but also floating above Ireland. So I used to torture Patsy: 'Play that record, play that record!'
"I remember it was the first time that I heard someone speaking Irish. Then I had no idea what it meant, and then all of a sudden there was that banjo thing before you heard: 'What did I have, said the fine old woman'.
"And in those days, before I knew how to make a record, it sounded like that person coming from that speaker was speaking directly to me — nobody else — and it had that sense of mystery (I didn't know how records were made, that microphones were involved). But the curious mixture of Irish first and then English singing about four green fields and about how one of them was in bondage, and strangers came and tried to take it from me. All those amazing words. And me — as an 8-year-old boy — standing in the place they were singing about! I had no idea. That was an amazing moment."
In 1990, Brian released his first single, 'Captured', and the B-side was 'Four Green Fields' "because I wanted to record the first song I'd ever heard. And wasn't I a lucky boy?"
And Brian Kennedy, internationally-famous singing star, closed with the audience at the Sinn Féin Summer School joining him in singing 'Four Green Fields'.
That was an amazing moment too.
Brian's new CD, 'Voice', is out now.