2 September 2012 Edition
Shadow Dancer: An MI5 v IRA thriller with the politics taken out
Film review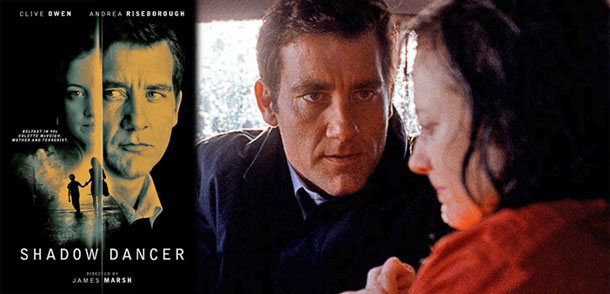 Shadow Dancer Paramount Pictures Director: James Marsh Cast: Clive Owen, Andrea Riseborough, Aidan Gillen, Brid Brennan, Domhnall Gleeson, Gillian Anderson 101 mins (15)
ANY FILM financed by BBC Films and the British Film Council (with a few bob from the Irish Film Board) is unlikely to be a box office production that portrays the IRA of recent decades fairly, particularly up against Britain's own Security Service, MI5.
Shadow Dancer is based on the novel of the same name by Tom Bradby, Political Editor for the London-based ITN, who gets a cameo role in the early part of the better film he's scripted from his book.
Bradby used to be ITN's Royal Correspondent and while he was having a sleepless night over whether the stars and funding would come through for his 'IRA film', he got a phone call from the British Royal Family. He was being given the only interview with Prince William and Kate Middleton on the occasion of their engagement (Bradby and his wife were even invited to the wedding).
Tom Bradby seems like a nice guy but his Establishment credentials are solid.
Although the movie is touted as a taut thriller based on the intelligence war between MI5 and the IRA, there's not too much politics in Shadow Dancer, aside from the odd allusion to tensions in the Republican Movement about the Peace Process in the run-up to the Good Friday Agreement in 1998.
When the film was shown to a hand-picked audience in Belfast, Bradby says:
"We had IRA hunger strikers and people on the other side standing up to say how much they liked it. I think part of that is because we somehow managed to drain all the politics out of it."
And when he pitched the idea of the novel over the phone to a literary agent his wife already knew, Bradby recalls the publisher insisting:
"If it is about the developing relationship between the agent and her handler, I might be interested; but if it is about the politics, forget it."
All that said and noted, Shadow Dancer is a half-decent thriller.
Bradby recalls the genesis of his plot line:
"As a young reporter in Belfast in the winter of 1993, as I wandered along the Falls Road in the sunshine one particular afternoon (not a common circumstance for all kinds of reasons), I had what I thought was a neat idea.
"I had spent much of my lunch hour that day talking to an officer in the intelligence services about the psychologically complex business of recruiting and running agents in the IRA. And I had passed most of the afternoon at a press conference in west Belfast which had been presided over in part by a strikingly beautiful young republican woman.
"So what, I wondered, if the war raging around us were to throw these two together? Wouldn't it be possible to imagine circumstances in which a powerful sense of common feeling might emerge from the intensity of their life-and-death struggle? And if so, where would it lead and what would it mean?"
The resultant film opens in 1973 with Colette McVeigh (Andrea Riseborough) as a child in Belfast and a shooting before swiftly moving to London 20 years later. It's 1993, and Colette – now the single mother of a young son – is captured by MI5 during a bombing operation while on active service with the IRA.
Mac (Clive Owen), her MI5 handler, offers her a chance to escape a long jail sentence in England in return for becoming an informer against her community and the IRA, including her two brothers, Gerry (Aidan Gillen) and Connor (Domhnall Gleeson), both active IRA Volunteers.
Colette agrees to become an informer and returns to Belfast, sliding off for secret meetings with Mac to pass on information. They become drawn closer together — especially so when Mac discovers his MI5 superiors are using him and Colette to put IRA Internal Security off the trail of another informer even closer to home.
Directed by Oscar-winning James Marsh (2008 Best Documentary Feature Oscar, Man on Wire), Shadow Dancer is a bit like Spooks on the big screen but (as Bradby admits) without politics.
Filmed in Dublin and London, Shadow Dancer suffers from several credibility factors (including the botched IRA ambush of a top RUC officer and its aftermath) but the pace carries you along regardless to the twist at the end.
A three-star thriller.