2 September 2012 Edition
Who's leading unionism?
Leaders and leadership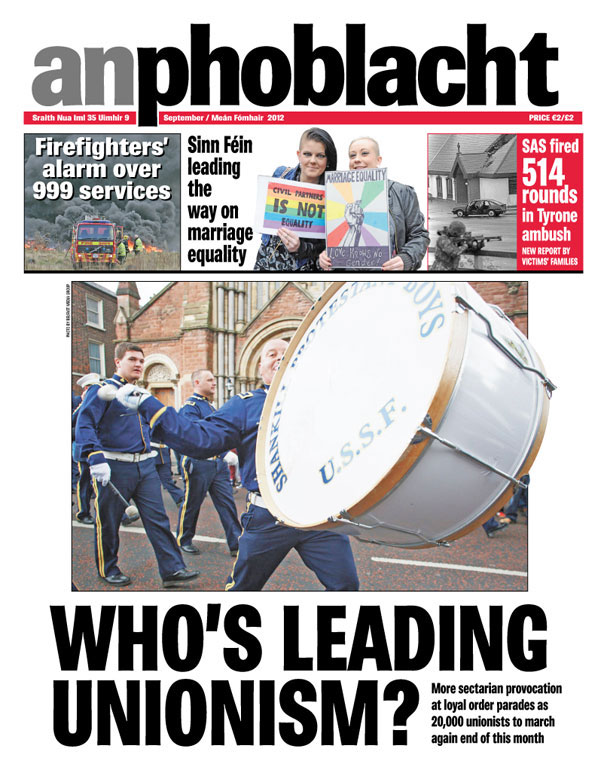 More sectarian provocation at loyal order parades as 20,000 unionists to march again end of this month
THE LEADERS of unionism have to start showing leadership.
Sinn Féin leaders have made strenuous efforts to open dialogue with unionists, reduce tensions and achieve fair compromises at 'flashpoints' wherever possible. Unionist leaders, on the other hand, have stood idly if not actually excused the sectarian coat trailing of 'Kick the Pope' loyalist bands who seem to be going out of their way to inflame sectarian tensions and provoke a violent reaction.
The response of unionist leaders — both political and in the loyal orders — to events on The Twelfth and 25 August has been lacklustre if not totally absent.
That cannot continue. Even their leaders must recognise it does no good for unionism as well as great harm to community relations.
This is a crisis that unionist political and religious leaders cannot stand and watch spiral out of control.
At the end of this month, on 29 September, more than 20,000 unionists, members of all the loyal orders, will parade through Belfast to celebrate the signing of the Ulster Covenant. Their route is due to take them once again past St Patrick's Church, which seems to have become a focal point for insulting behaviour by hardline loyalist bands.
Is the Ulster Covenant Centenary Parade to be used as a vehicle for another vile outpouring of sectarian venom and hatred towards Catholics? Is that what the leaders of unionism and loyal orders — who profess the virtues of the Bible and Christian teaching — will allow to happen in their event?
Or will we see unionists show the positive leadership that is badly needed?