25 May 2012 Edition
Raymond McCreesh remembered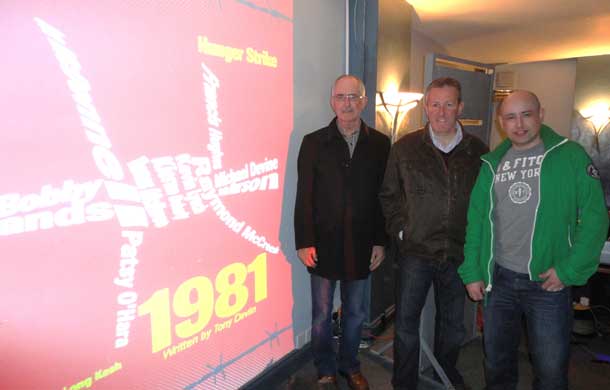 TO COMMEMORATE the 31st anniversary of the death of Camlough man Raymond McCreesh on hunger strike in the H-Blocks of Long Kesh, the Fegan/Quinn Sinn Féin Cuman, Derramore, arranged for Tony Devlin's acclaimed 1981 play to be performed in Carrickcruppen Hall on Friday 19 May.
Raymond, who was captured by the British Army at the age of just 19, was only 24 when he died following 61 days on hunger strike. He was the third prisoner of war to die during the 1981 prison protest that was to claim 10 lives. The 1981 Hunger Strike was the culmination of the Blanket Protest, the No Wash Protest and the first hunger strike in 1980. It was to have far-reaching political and social consequences.
The play's audience was treated to a roller-coaster of emotion which, according to local Councillor Pat McGinn, "was at times poignant, angry and even humorous, but which captured the energy of this period of our history".  
The following day, the Seamus Steel Sinn Féin Cumann, Camlough, held a wreath-laying ceremony at the Republican Plot in St Malachy's Graveyard, Camlough, where Raymond McCreesh is buried.