25 May 2012 Edition
IRA Volunteer Paddy Kelly commemoration: 2 June, Killenard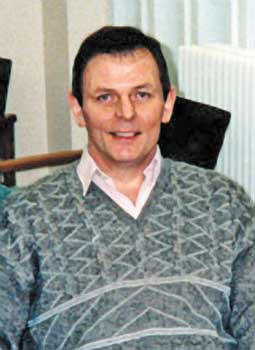 Paddy was released from prison in late 1996 to die in his Portarlington home the following June
THE 15th anniversary of the death of IRA Volunteer Paddy Kelly is being marked in Killenard, County Laois, on Saturday 2 June.
Paddy died on 11 June 1997 at the home of his long-term partner, Angela Rice, in his native County Laois, as a result of gross neglect and inhuman treatment at the hands of his British captors.
Having operated as an active service Volunteer in various parts of Ireland, including south Armagh, Paddy was involved in the IRA's England campaign and in 1992 was arrested in England and sentenced to 25 years in prison. Prior to his arrest, Paddy had suffered skin cancer and during his imprisonment his condition deteriorated. Despite the clear gravity of Paddy's condition, the British authorities refused him access to adequate medical attention.
Finally, under widespread international pressure, he was repatriated to Portlaoise Jail in 1995. He was released from prison in late 1996 to die in his Portarlington home the following June.
Paddy Kelly was a highly-respected republican. As Sinn Féin TD Brian Stanley put it:
"Paddy was a dedicated and determined republican — respected the length and breadth of Ireland. He served time in some of the worst prison conditions in what were called Secure Units — units that Paddy described as 'steel tanks' — with minimum lighting, poor sanitation and often no mattress. This is the 15th anniversary of Paddy's death and I'm calling on people to join us on Saturday 2 June to commemorate Volunteer Paddy Kelly's contribution to the struggle."
Assemble at 5pm at the Railway Bridge, Killenard, and parade to the local graveyard.