25 May 2012 Edition
Palestine hunger strike ends after Israel concedes key demands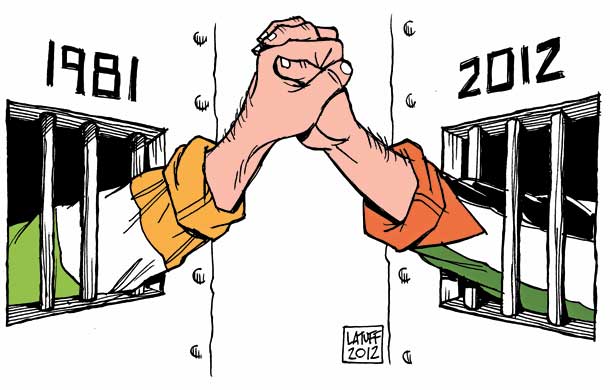 MORE THAN 1,600 Palestinian prisoners have ended their mass hunger strike in Israeli prisons after winning a number of their key demands on the eve of Nakba Day, marking the expulsion of more than 700,000 Palestinians from their homes by Zionists in 1948 to create the Israeli state.
Some of those taking part in the hunger strike had passed the 70-day mark and were perilously close to death when it was ended.
Many Irish political former prisoners — including hunger striker Laurence McKeown, who refused food for 70 days in Long Kesh in 1981; Sinn Féin spokesperson on the the Middle East Pat Sheehan MLA, who spent 55 days on hunger strike in Long Kesh; and former Officer Commanding IRA prisoners Brendan 'Bik' McFarlane — sent messages of support to the protesting internees. Ireland's political ex-prisoners are always mindful of the international solidarity and support they received in 1980, 1981 and throughout the struggle, particularly from Palestine.
Sixty-four Irish TDs, MLAs, MPs and senators (including Sinn Féin's 17 Oireachtas members and 29 Assembly members) also signed a cross-party petition supporting the prisoners demands for an end to administrative detention (internment) and solitary confinement and to allow the prisoners to see their families.
The Egyptian-brokered deal saw the Israelis concede to allowing the families of Gaza prisoners to visit them in custody and also to end solitary confinement for 19 prisoners. Israel refused  another demand which called for the release of all prisoners who had served six months in prison but had not been charged or tried, however they did agree to provide a list of accusations to administrative detainees or release them at the end of their term.