30 April 2012 Edition
Water charges: Government faces public revolt
FINE GAEL/LABOUR INTRODUCE NEW TAX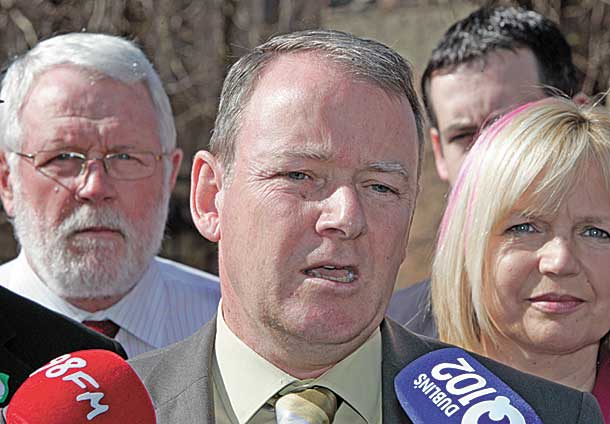 People simply do not have the money to pay these mounting charges and stealth taxes and any attempt by the Government to force or bully homeowners into paying will be opposed every inch of the way by Sinn Féin' – Brian Stanley TD
HARD-PRESSED homeowners already struggling with mounting debts and cuts to supports will be forced to pay up to €800 per property to have water meters installed, Fine Gael/Labour Party ministers have reluctantly revealed.
It has been reported that the installation fee will be payed in €39 instalments for 20 years from 2014 onwards — and that is before any bills for the water people have to use are taken into account.
Fine Gael Environment Minister Phil Hogan said he expects 90% of homes in the 26 Counties to be fitted with water meters and facing water charges by 2014.
The introduction of these charges is being backed by the Labour Party who have again been forced to break another one of their pre-election promises. Labour TD Joanna Tuffy had previously described water metering as "a retrograde step" and "a regressive tax". During last year's general election campaign the Labour Party ran a series of advertisements in national newspapers slamming Fine Gael plans to introduce such charges. One poster, newspaper and billboard campaign slogan by Labour in February 2011 read: "Look what Fine Gael have in store for you . . . €238 per annum water tax."
The Sinn Féin spokesperson on Environment, Community and Local Government, Brian Stanley TD, hit out at the new stealth tax, saying: "Any attempt to bill households for the huge cost of installing water meters will be fiercely resisted."
Sinn Féin (which has succesfully blocked attempts by the British Government to impose water charges in the North) has called on Fine Gael and Labour to abandon their plans to bring in a tax on water, saying that it amounts to an unfair double taxation.
Brian Stanley said the time and money would be better spent on fixing the abysmal water pipe system which sees more than 40% of water lost through leakage in some areas.
"The Government should invest money from the National Pension Reserve Fund not in water meters but in long-term sustainable employment. Sinn Féin believes that water metering and water charges are wrong. They will do little to prevent the water crisis this country faces. What we require is investment and an all-island approach to water conservation."
In the Dáil, challenged by Sinn Féin deputy leader Mary Lou McDonald TD, Fine Gael leader and Taoiseach Enda Kenny was unsympathetic to families uanble to meet their water bills and said their water would be cut off. Mary Lou McDonald said it is a disgrace that the Taoiseach was considering such an outcome as water is essential for any decent quality of living.

• Eamon Gilmore was outspoken in his opposition to water charges before he joined Labour (Pic: Irish Election Literature)