2 June 2010 Edition
Ten Specific Proposals to tackle Violent and Anti-Social Crime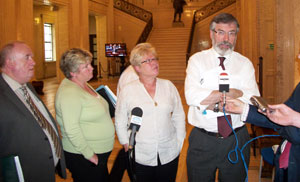 The north's Minister for Justice David Ford has been given a series of ten specific proposals to tackle violent and anti-social crime by Sinn Féin. Gerry Adams met with Ford on Tuesday, accompanied by Councillor Marie Cush, Fra McCann MLA and Sue Ramsey MLA.
Adams also raised concerns about conditions for prisoners in Maghaberry and current situation within the prison.  
"The proposals we put to the Minister have emerged out of the recent experience of the west Belfast community of violent crime, the experience of victims, the work of the Community Safety Forum and the PSNI," Adams said after the meeting.
"The proposals can be grouped into a number of broad issues. These include technical issues like the definition of 'hotspots' and how the PSNI and other agencies deal with these; the supervision of repeat offenders; and legislation around the under-pricing and availability of alcohol and illegal drinking in public places."
The Sinn Féin President said it was a useful meeting and that Minister agreed to come back on the proposals.
"Our list of proposals is not exclusive or exhaustive," he said.
"They are useful first steps in beginning to address the problem of violent and anti-social crime but much more needs to be done."
The Sinn Féin delegation put to the Minister community concerns around the problem of prolific repeat offenders and the fact that their behaviour is poorly monitored and sometimes not at all.
"We also pointed to the fact that the Public Prosecution Service and other agencies do not have a definition for 'hotspots' in the way that the PSNI and the local community have," Adams added. "This is a particular problem when bail restrictions are being imposed and the PPS and the courts fail to understand the importance of this definition."
Sinn Féin's full ten proposals can be read in the news section of www.sinnfein.ie