2 June 2010 Edition
Remembering the Past: Jimmy Steele and Republican News
By Mícheál Mac Donncha

The split in the IRA and Sinn Féin led to the establishment of An Phoblacht as the national republican newspaper in January 1970. Six months later republicans in the Six Counties founded Republican News under the editorship of Jimmy Steele.
The need for an additional paper in the North was felt given the torrent of events that were occurring as the Orange state lurched from crisis to crisis, with nationalist districts under siege from the RUC and loyalists and with the British Army playing an increasingly aggressive anti-nationalist role.
Jimmy Steele brought to his position as editor a lifetime of experience as an active IRA volunteer. Born in 1907 in Belfast, he joined Fianna Éireann and then the IRA. He was only 16 when he was first arrested, an experience repeated many times in the '20s and '30s. He was one of 12 republicans arrested in Belfast's Crown Entry in 1936, leading to their famous trial for treason. Steele was sentenced to five years in Crumlin Road Prison.

Released in 1940 he was re-arrested in December of that year and received a ten-year sentence. In January 1943 Jimmy Steele escaped from Crumlin Road with Hugh McAteer, Paddy Donnelly and Ned Maguire. That Easter he and McAteer appeared on stage at the Broadway Cinema on the Falls Road when the IRA took it over for an Easter commemoration, a popular and daring snub to the British regime at a time of intense repression. Jimmy Steele served several more terms of imprisonment in the '40s and '50s, his final release being in 1960.
A writer of articles and poems for republican journals, Steele edited the papers Glór Uladh and Resurgent Ulster between 1951 and 1957. He later edited the booklets 'Belfast Patriot Graves', 'Antrim's Patriot Dead' and 'Belfast in 1916'. He was centrally involved in the National Graves Association and ensured the successful completion of the Co. Antrim Republican Memorial in Milltown Cemetery.
Steele pledged his allegiance to the Provisional Army Council in 1969. He was appointed Publicity Officer of the Belfast Brigade and in that capacity established Republican News as a monthly republican journal for the Six Counties. The first issue appeared in June 1970. It was a crucial period as the British Army became increasingly aggressive and was being seen in its true role as an occupying force by growing numbers of nationalists. This was seen most clearly in the Falls curfew of 3-5 July.
Steele in Republican News brought the traditional republican analysis to the situation, highlighting the reality of British imperialism then and in the past. He also used its pages to stress the anti-sectarian nature of republicanism, writing of Protestant patriots and appealing to the unionist population as fellow Irish people.
His editorship was to be short-lived, however, as, after two issues of Republican News, Steele died on 9 August 1970. The paper continued until its amalgamation with An Phoblacht in 1979.
The first issue of Republican News appeared in the first week of June 1970, 40 years ago this week.
An Phoblacht Magazine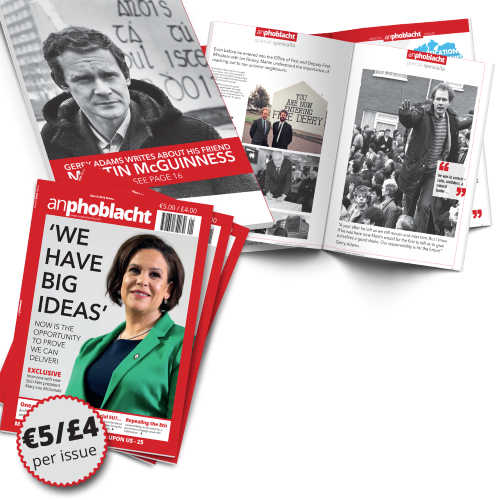 AN PHOBLACHT MAGAZINE:
The first edition of this new magazine will feature a 10 page special on the life and legacy of our leader Martin McGuinness to mark the first anniversary of his untimely passing.
It will include a personal reminiscence by Gerry Adams and contributions from the McGuinness family.
There will also be an exclusive interview with our new Uachtarán Mary Lou McDonald.
test