2 June 2010 Edition
THE JULIA CARNEY COLUMN
And now for something completelty different...
"So, what do you do exactly?" It was my first ever Sinn Féin cumann meeting and, to be honest, I wasn't completely impressed. Donal seemed okay. He was the cumann secretary and the lad I'd contacted about joining. His brother, Trevor, also seemed relatively sound though I wasn't 100 per cent sure he was aware this was a political party and not a Celtic match. The chairperson, Ronán, glared at me the whole time having taken an instant, and it would turn out lifelong, dislike to me and the other lad, well, I was fairly sure he was an eejit so I can't be bothered making up a fake name for him.
"Well, we sell the papers every Thursday," said Donal. I nodded encouragingly but there was a silence. "And sometimes we do a collection." I nodded again. "And then there's the commemoration at Easter." He drifted off. I was remarkably unsurprised to later learn I was the first young person to join the cumann in years and the first girl since, well, ever. 
Years later I ran into Donal at a commemoration in Belfast, both of us with that surprised delight you get when you find someone you knew way back who's still tied in. He finally explained Ronán's dislike of me for, you see, the chairperson of the first cumann I was a member of thought I might have been a garda informer. I was shocked.
"Jesus Donal," I exclaimed. "If you thought I was an informer how the hell did you let me into the party?" He had the good grace to look embarrassed for a minute and then shrugged. "To be honest, you were dead keen to sell the paper and we figured if you were a tout , what the harm, at least we sold a few papers off the back of you."
Oh, how my Special Branch handler and I would laugh about it in times to come. But that was my introduction to the giddy world of the newspaper industry. Going from pub to pub every Thursday night with an average paper sale of 17. Little did I know, walking out of pubs where everyone was singing rebel songs but no one was buying the paper, that one day I'd be writing for it. Mother Mary in her infinite mercy, have pity on me.
But fear not comrades, the paper might be changing, but we have lots to look forward to in the new look Phoblacht.
Martina Anderson starts her 10 part series, '101 reasons Derry is better than Belfast', though you get the sense she's reaching a bit at the end when she points out Derry rhymes with merry, but Belfast rhymes with buckfast. Not to be outdone, Gerry Adams is on the case preparing his response, tentatively entitled 'Four reasons Belfast is better than a 13th century village of mud huts'. He's stalled on number three at the minute but no better man than our Gerard to keep plugging away and we hope to have it for the Christmas edition.
Well known football fanatics Martin Ferris and Barry McElduff will co-write Chuckie Banisteoir. Barry takes over Kerry football club Ardfert for the year and Martin returns the favour by coaching Omagh St Enda's senior team. Each month they'll update their training diary exclusively for Phoblacht readers letting you know how they get over the language barrier and the different styles of football. At the end of the year the two sides will meet in a football match or bare-knuckle fist fight to the death, depending on which one Dessie Mackin feels he can sell the most tickets to.



An Phoblacht has a long tradition of inviting people we don't agree with to write for the paper in the spirit of open debate and so on. Like Toireasa Ferris, for example. From next January Ruth Dudley Edwards joins the Phoblacht team with her provocative column, 'Yes, it's your faul't. Each month Ruth chooses a different social problem and shows how it's the IRA's fault. Sneak preview of her first one, how the Tyrone Brigade caused climate change.
But the one worth waiting for is Declan Kearney's 27-part history of the peace process negotiations from May 2004 to July 2005. Weighing in at just short of a hundred thousand words it explores, in exhaustive detail, every twist, turn and long, boring, seemingly endless, drawn out pause, that the talks entertained us with during those 14 months. Mighty stuff.
And worry not young chuck, all your old favourites will be back. Eoin Ó Broin will keep trying to dazzle people with his Maoist trickery. There'll still be a page in Irish that only seven people read. And we'll still have Remembering the Past to remind us what utter bastards the Tans and Free Staters were.
It might be a bit bigger and we may have a Brit to edit it (jury very much still out on that one, by the way) but it's the same paper, our paper. By, for, and sold by unrepentent fenians.

Editor's note: Sigh. We would like to issue our weekly apology to all those offended by Julia. We've issued Toireasa, Declan and Ruth with her address.

An Phoblacht Magazine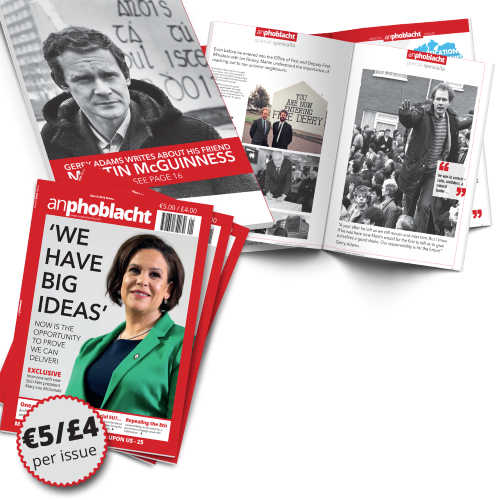 AN PHOBLACHT MAGAZINE:
The first edition of this new magazine will feature a 10 page special on the life and legacy of our leader Martin McGuinness to mark the first anniversary of his untimely passing.
It will include a personal reminiscence by Gerry Adams and contributions from the McGuinness family.
There will also be an exclusive interview with our new Uachtarán Mary Lou McDonald.
test