2 June 2010 Edition
Will the world just stand by?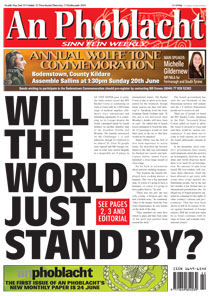 As this paper goes to print, the Irish-owned vessel the MV Rachel Corrie is continuing en route to Gaza with its 1,000-tonne cargo of medical supplies, children's toys, educational and rebuilding equipment. It is continuing on its voyage despite the brutal, calculated attack by Israeli military on another member ship of the Freedom Flotilla last Monday. The number massacred on the Mavi Marmara is still unknown, though it's believed to be almost 20. Over 50 people were injured and 680 foreign citizens in total were seized illegally in a despicable act of piracy in international waters. The Rachel Corrie is due to arrive at its destination by the weekend, though Israel sources say they will intercept it. Speaking from the boat, Irishman Derek Graham said, "If this aid is not delivered, then Monday's deaths will have been in vain". He added that if Israeli forces attempted to board the ship, all 15 passengers would sit with their arms in the air so that they would not be attacked.
Shane Dillon, was the first of five Irish deportees to arrive home. He described the horrific drama as the ship was surrounded by blacked-out vessels and helicopters before armed forces launched a close-range assault at close range.
He hit back at accusations about activists wielding weapons.
"The weapons the Israelis displayed were cooking knives, a hammer. This was a big merchant ship, of course it's going to have a hammer, of course it's going to have galley knives," he said.
"There was one girl, she was only young, a Belgian girl, she had a broken nose," he continued. "One of the leaders from the Free Gaza Organisation, he was beaten on the deck of the ship.
"They smashed our stern door which is glass and they beat some of the girls and pushed them around the deck."
The Israeli government has said the sea blockade of the Palestinian territory will remain and the 1.5 million Palestinian people are to receive no aid.
There are 15 people on board the MV Rachel Corrie. Speaking in the Dáil, Taoiseach Brian Cowen called on Israel to allow the vessel to proceed to Gaza and said there would be 'serious consequences' if any harm was to come to Irish citizens. As of now the Israeli ambassador remains in Ireland.
In the meantime, most country's governments have issued mild statements about the need for an investigation. Activists on the ships and world observers know there is no need for an investigation. No amount of spin from Israeli PR foot-soldiers will convince them otherwise. Israel has been allowed to get away with crime after crime against the Palestinian people, but in the last few months it has flouted laws in international jurisdictions also. Its illegal use of forged passports signaled its contempt for the rights of other country's citizens and governments. That has now been shown in full in its actions of terror against hundreds of foreign citizens. Will the world just stand by as Israel continues with its siege on Gaza  and commits international crimes?
Irish Government should expel Israeli Ambassador – Adams
Sinn Féin members attended demonstrations in Dublin, Belfast, Derry, Monaghan, Waterford, Dundalk, Donegal, Mayo and several other locations on Monday to protest at the actions of Israel whose forces killed a number of civilians when they attacked one of the ships taking part in the Gaza Freedom Flotilla. The numbers of those killed is still unclear with suggestions of between 10 and 20, with many more injured and hundreds detained.
Sinn Féin politicians raised the horrific incident in both the Assembly and the Dáil on Tuesday, with MLA Raymond McCartney securing time for the topic under 'matters of the day'.
Speaking from the Belfast demonstration Gerry Adams said he welcomed the fact that Minister Micheál Martin has summoned the Israeli ambassador to explain the actions of Israeli forces in killing up to 20 civilians taking part in a peaceful humanitarian mission.
"Monday's murderous attack is an affront to international law and has endangered the lives of Irish citizens. It requires a firm and resolute response by the Irish Government which must now expel the Israeli Ambassador," the Sinn Féin President said. "The Government must also use its influence to discontinue the EU's preferential trade agreement with Israel."
He added that in the wake of the tragedy, the Dublin Government should support and seek the backing of other countries for a new international aid mission to Gaza "which will ensure that necessary vital supplies reach the suffering people of that besieged area."
'There must be consequences'
Sinn Féin TD Aengus Ó Snodaigh, who had hoped to be on board the Free Gaza Flotilla which was attacked by the Israeli Army has described the attack as cold and calculated. Ó Snodaigh had been part of the flotilla until it Reached Cyrpus where a sinister message was relayed that politicians would not be allowed to proceed with the vessels. "We were told vessels with politicians on them couldn't leave the port," Ó Snodaigh told An Phoblacht. "We had Cypriot special forces tracking us from port to port, but we could not get out. A message was given to one of the boats that they would arrest us if we tried to go to Gaza. A Cypriot MEP communicated that to us.
"This was a humanitarian aid mission carrying 10,000 tonnes of aid to the besieged city of Gaza.  The blockade of Gaza is illegal under International law.
"At all stage of preparations to join the flotilla the organisers reiterated non-violent and peaceful resistance to any boarding by Israeli army.  The Israelis had nothing to fear from this flotilla.
"My thoughts are with the families of those who died. They were courageous men and women as was each and every person on the flotilla."
On Monday morning, Aengus, Sinn Féin Vice-President Mary Lou McDonald and a number of the party's Dublin councilors handed in a letter of protest to the Israeli ambassador.
Amnesty International reaction
Amnesty International has called on Israel to launch an immediate, credible and independent investigation into the killing by its armed forces of members of the Peace Flotilla.
Noeleen Hartigan, Programmes Director for Amnesty International Ireland, said: "Israel says its soldiers acted in self-defence, alleging that protestors attacked them, but it seems incredible that the level of lethal force used by Israeli troops could have possibly been justified. It appears to have been out of all proportion to any threat posed."
For nearly three years Israel, which is the occupying power in the Gaza Strip, has banned all movement of goods and people, except for the most basic humanitarian necessities, which are imported by international aid agencies. Only a fraction of patients in need of treatment outside Gaza are allowed out, and dozens have died waiting for Israeli permission to travel.
"The blockade does not target armed groups. It punishes Gaza's entire population by restricting the entry of food, medical supplies, educational equipment and building materials," said Noeleen Hartigan.
"Unsurprisingly, its impact falls most heavily on those most vulnerable among Gaza's 1.5 million people: children, the elderly and the sick. The blockade is collective punishment, illegal under international law. It must be lifted immediately."
On Tuesday the UN Security Council condemned the killings.
In a formal statement following more than ten hours of closed door discussions in New York, the UNSC also called on Israel to conduct an impartial investigation and to release the ships and civilians being held.
International Crime Pays
By Dara Mac Neill
 
Ultimately, the real surprise was that so many people were surprised, or at least purported to be.
Because it had seemed in the aftermath of Operation Cast Lead - the murderous assault on a cornered civilian population in Gaza - that Israel had long since lost its capacity to shock the international community.
But the key feature of modern Israel is that it has absorbed the chief lesson of its short history. And that lesson is simple: crime pays. Errant behaviour and repeated transgressions are not punished. For Israel, the opposite is often the case and the transgressor is rewarded while the victim is doubly punished.
After the murder of over 1,400 Palestinians in the Gaza Strip - the huge majority civilians, several hundred of them women and children - a UN investigation led by former South African judge Richard Goldstone found the Israeli military guilty of possible war crimes and crimes against humanity.
But as of yet, there have been no moves to instigate legal or other proceedings against either the IDF (Israeli Defence Force) or the state of Israel. And within the international community of nations, the repercussions for Israel have been negligible to non-existent.
 There is no single country that has been the subject of a greater number of UN resolutions of censure and condemnation (well over a hundred). In addition, Israel remains famously in breach of longstanding and crucial resolutions: on the Palestinians' Right of Return to the homes they were expelled from (Resolution 194, passed 1948); on withdrawal from the Occupied Territories (Resolution 242, passed 1967); on the illegality of settlements in the Occupied Territories (Resolution 446, passed 1979).
 And so the obvious lesson is learned: as the sanctions and penalties have failed to materialise, so Israel's capacity to act with utter impunity has simply amplified and expanded.
By comparison, Saddam Hussein's alleged and unproven breach of UN resolutions brought invasion, regime change and continued occupation.
More recently, we saw the limited fallout from Israel's illegal use of the passports of other nations to carry out the assassination of a Hamas figure, in Dubai. There has been noise and raised voices, some diplomatic expulsions, but no penalties. 
Indeed Israel's flouting of international laws and conventions, not to mention its endangering of the citizens of several other countries, had no impact on the members of the Organisation for Economic Cooperation & Development (OECD), which is comprised of 31 of the richest, most powerful nations on earth.
On May 27-28, Israel was formally accepted into the organisation, along with Estonia and Slovenia. The OECD describes itself as an organisation that brings together "countries committed to democracy and the market economy..."
Obviously, the market economy scores far higher than democratic values, in the OECD entrance exam.
Within 48 hours of that accession ceremony Israeli commandos were storming a flotilla of civilian vessels carrying humanitarian aid to the blockaded citizenry of Gaza. No doubt their assault was timed to minimise potential embarrassment at the OECD. But as of yet, there have been no calls from fellow members for their expulsion.
Ten, maybe more, unarmed civilians - aid workers or activists - were killed. Murdered.
When you dispatch a heavily armed assault force onto ships in the dead of night, ships that carry humanitarian supplies and civilians and which are sailing in international waters you must bear the full responsibility for all that follows.
The activities of a small number of Somali pirates - which generated tides of international outrage and led to the dispatch of naval vessels - never came close to the actions of Israel in this case.
If the aim was to take the ships into an Israeli port, as has been claimed, why not approach them in daylight hours, in Israeli waters? And why not 'arm' your troops with crowd dispersal and crowd control equipment, as opposed to automatic weapons?
It was said that the civilian death toll in the Gaza offensive was so high because Israeli commanders were anxious to minimise their military casualties, so maximum force was unleashed and Gaza became a virtual free fire zone. It appears those in charge of the Israeli piracy policy take the same view.
Several months ago, before this latest outrage, the Israeli writer Gideon Levy lamented the state of his nation, believing that no positive change was possible in the "complacent, belligerent and condescending" Israel of today.
In the aftermath of Israel's venture into piracy, the country's most prominent peace group, Gush Shalom described the Nethanyahu administration as a "government of pyromaniacs that has set fire to the region."
They went on: "Only a crazy government that has lost all restraint and all connection to reality could do something like that - consider ships carrying humanitarian aid and peace activists from around the world as an enemy and send massive military force to international waters to attack them, shoot and kill.
"This is a day of disgrace to the State of Israel, a day of anxiety in which we discover that our future was entrusted to a bunch of trigger-happy people without any responsibility."
Over the next 24-48 hours, the crew of the MV Rachel Corrie will come into contact with Israeli forces as they seek to breach the illegal blockade of Gaza. There are five Irish crew aboard.
Their ship is named after the 23-year-old US citizen who was crushed to death by an IDF bulldozer in the Gaza Strip, as she stood in front of the vehicle to prevent the demolition of Palestinian homes. No one was ever charged or held responsible for her death. 
COUNTRYWIDE PROTESTS
MONAGHAN
DUBLIN
BELFAST 
WATERFORD 
DERRY
CORK
DONEGAL 
Also see Editorial