2 June 2010 Edition
Slaughter on the high seas
In launching a commando attack on the Gaza aid flotilla that resulted in the deaths of humanitarian activists, Israel, in the words of one commentator, "ran into its own fist".
The brutality of the illegal assault on an unarmed vessel, in international waters, has caused outrage across the world, particularly given the cargo of humanitarian aid carried by the vessels, which threatened Israel only to the extent that it highlighted that state's collective punishment of the people of Gaza.
Israel is now in the diplomatically uncomfortable position of detaining citizens of many nations, including Irish citizens, who were forcibly and illegally abducted on the high seas in what is, under international law, regarded as an act of piracy. It has no right to deprive these people of their liberty, particularly as none of them had any intention of ever visiting Israel.
The 26-County Government has spoken out against Israel's actions  but it must go further. Given the unlawful kidnapping of Irish citizens, the Israeli ambassador should be summoned and expelled, as an indication of the anger of the Irish people.
For activists concerned for the plight of the people of Palestine, now is the time to press ahead with a robust international campaign to isolate the Israeli state for its human rights abuses.
Just as South Africa was made an international pariah state while it persisted with its despicable policy of apartheid, so too should Israel be shunned while it persists in its persecution of the Palestinians.
It's time to intensify the campaign for a boycott of Israeli goods and to exclude Israel from any international forum that offers legitimacy to Israel's apartheid campaign against the Palestinians.
The people of Israel doubtless feel besieged, but the isolationist policies pursued by Benjamin Netenhayu, and which are only possible because of massive diplomatic, economic, and military subsidies from the United States, are an exercise in futility. Ultimately, Israel will have to reach an accommodation with its neighbours.
The solution lies in real dialogue and a true Middle East peace process, and the role of ourselves as activists is to strive to bring Israel to that realisation.
Also see: Will the world just stand by?

An Phoblacht Magazine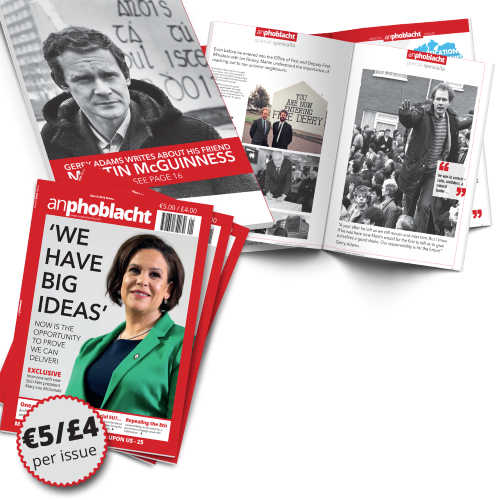 AN PHOBLACHT MAGAZINE:
The first edition of this new magazine will feature a 10 page special on the life and legacy of our leader Martin McGuinness to mark the first anniversary of his untimely passing.
It will include a personal reminiscence by Gerry Adams and contributions from the McGuinness family.
There will also be an exclusive interview with our new Uachtarán Mary Lou McDonald.
test