27 May 2010 Edition
Sectarian tension in Coleraine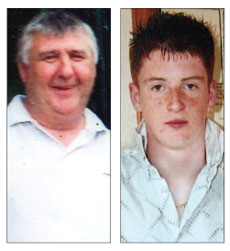 By Laura Friel
A hundred reported incidents and repeated death threats, one year after the killing of Catholic Kevin McDaid, sectarianism continues to blight the lives of the people of Coleraine. News of heightened tensions in Coleraine came as PSNI statistics reveal an 25% increase in sectarian crime in the north last year.
49-year-old Kevin McDaid was attacked close to his home by a 40-strong loyalist mob on May 24 2009. The mob had driven into the Catholic enclave after Rangers beat Celtic to a Scottish football title.
McDaid was looking for his children when he was confronted by the gang and beaten. He died at the scene. A second man was also seriously injured. Damien Fleming was beaten unconscious and left for dead.
McDaid was a well know community worker involved in cross community initiatives and was probably known by some of his assailants.
In the wake of the killing 11 men were charged but attempts at intimidating witnesses, including members of the victim's family, have accompanied the arrests.
As May 24 approached this year, the McDaid family were afraid loyalists would use the first anniversary of Kevin's murder as an opportunity to taunt his family.
Ryan McDaid, son of the victim, said his mother had made the decision to take the whole family to stay with relatives in England because she was "worried loyalists will antagonise us".
Ryan and his twin brother Marc are on bail after being charged with issuing threats and assaulting one of those accused of involvement in their father's death.
Witnesses to the mob attack have also been threatened. According to the PSNI there are currently 25 people under death threat and a number of them have had up to a dozen death threats made against them.
In the last year there have been death threats issued "almost on a daily basis" says the PSNI Chief Inspector Nicky Thompson. Many of those threats have been issued through the Samaritans helpline.
Sectarian chants
Meanwhile crude sectarian chants were shouted by loyalists during an Orange march in Ballymena on Saturday night at the spot where Catholic teenager Michael McIlveen was murdered by a sectarian mob in 2006.
The 15-year-old Catholic, known as Mickey-Bo was beaten to death by a sectarian mob armed with baseball bats. His funeral was attended by both Catholic and Protestant young people determined to take a stand against sectarianism within the town.
Last Saturday, when Orange supporters turned the corner onto Broughshane Street, some shouted "Fuck Mickey-Bo" and a number of people were threatened.
Sinn Fein MLA Daithi McKay has criticised the PSNI and Parades Commission for their handling of the 2,500 strong Ballykeel Loyal Sons of Ulster parade. McKay said the incident could have been avoided if the contentious parade had been rerouted.
"The playing of The Sash past the pubs on William Street, the singing of sectarian songs and the crude reference to the death of Michael McIlveen, the behaviour of bandsman and threats to myself and Sinn Fein councillor Monica Digney, all highlight one thing. The marching of bands down William Street is motivated by bigotry and sectarianism," said McKay.