27 May 2010 Edition
Dáil debates possibility of by-elections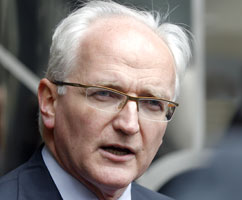 As An Phoblacht goes to print, Leinster House faces a vote about the three outstanding by-elections due in the 26 Counties. Speaking during the debate this week, Minister for the Environment John Gormley said he may fast-track the proposed Commission that would oversee elections .
Gormley said he was considering establishing a commission on a non-statutory basis to report on the electoral reform agenda contained in the renewed Programme for Government.
The vote on Wednesday night, if passed, would require all by-elections to be held within six months of a vacancy arising. Sinn Féin pushed the government to a tied vote on the by-election in Donegal recently, with the Ceann Comhairle having to cast his vote for the government.