27 May 2010 Edition
Another View by Eoin Ó Broin
Dishonest Politics
Who has the right to comment on the Croke Park Public Service Agreement? 
Labour leader Eamon Gilmore says that political parties should not 'interfere' in what is a matter for public sector workers. They should be left in peace, he says, to consider the strengths and weaknesses of the agreement and make their decision accordingly.
I don't agree. 
The Croke Park deal is not just a matter for government and public sector workers. 
Yes, it is an agreement about the pay and conditions of public sector workers but it is also an agreement about how the government intends to spend public money and the range and quality of public services to be provided with this money.
On this basis, the content of the Agreement and its success or failure is a matter for all citizens who pay taxes and use public services. This makes it a deeply political matter and the electorate have a right to know where political parties stand on the issue. 
Of course it is not hard to understand Labour's discomfort with the Agreement. 
Party strategists will be deeply concerned that taking a definitive position either way will alienate existing or potential voters. The fact that a significant proportion of their support comes from angry public sector workers makes opposition to the deal rather tricky. 
Opposition to the deal would provide them with a strong stick to beat the government and satisfy the left of their activist and electorate base. However it would also create potential difficulties with more cautious, and better paid, public sector workers.
Opposition to the deal would also create a significant policy rift with Fine Gael, which would be exploited for all it is worth by political opponents in the coming election.
Supporting the deal would create exactly the same problem but in reverse, alienating the left of the party and demonstrating beyond reasonable doubt that in the coming election a vote for Labour would be a vote for Enda Kenny and Fine Gael.
So Eamon Gilmore is left with a fudge, or more accurately an avoidance strategy. 
This is a far cry from his Ard Fheis speech in April when he told delegates that he wanted a government that would both "change the way the system works and be prepared to change the system if necessary".
The Croke Park Agreement is a bad deal for taxpayers, public sector workers and users of public services. It is part of the government's campaign of cuts. It leaves in place the Government's recent assault on low paid public sector workers. It will lead to the loss of up to 14,000 public sector jobs. It will undermine the states already fragile social infrastructure.
As with everything else the Government touches, it will be the low paid, the poor and those in greatest need of public services that will suffer the most. 
Eamon Gilmore's argument that political parties should not 'interfere' in the public debate on the Croke Park Agreement is not only absurd, it is downright dishonest. 

An Phoblacht Magazine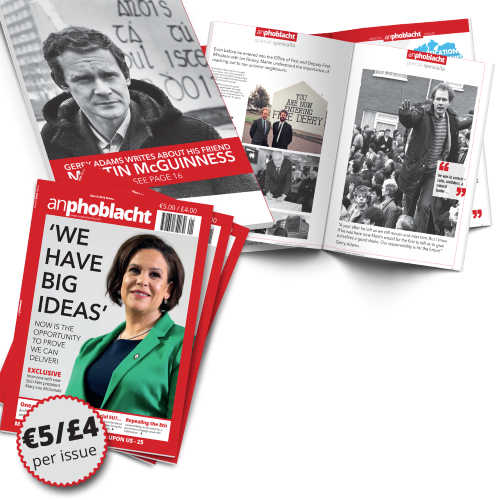 AN PHOBLACHT MAGAZINE:
The first edition of this new magazine will feature a 10 page special on the life and legacy of our leader Martin McGuinness to mark the first anniversary of his untimely passing.
It will include a personal reminiscence by Gerry Adams and contributions from the McGuinness family.
There will also be an exclusive interview with our new Uachtarán Mary Lou McDonald.
test