27 May 2010 Edition
An old hand for the new-look An Phoblacht
Meet the new editor, John Hedges 
By Ella O'Dwyer

BORN into a working-class family in London in 1955, it was as much the basic sense of social justice he absorbed from his English father, a dyed-in-the-wool Labour Party man, as the birthplace of his mother in Dublin's markets district, off Ormond Quay, that shaped John Hedge's politics. "We were never a heavy political family but we knew where we stood - uncompromisingly Labour and fervently anti-Tory," he explains.
The family moved from London to East Anglia in the 1960s. As a teenager, there were moments that highlighted his Irish background, both to himself and others. John joined the local air cadets and one day in Holland he got into an altercation with a US Army junior officer when a well-respected air cadets corporal stepped in to help, adding: "We Irish have got to stick together."
At 16, Hedges returned to London. He spent a lot of leisure time in Hyde Park and some Sundays at Speakers' Corner. It had its share of eccentrics, attention seekers and sophists - "anyone could pull up a ladder and start spouting - but it was also a platform for people with genuine causes".
"One day in the park," John says, "I heard this booming voice coming from a giant of a man who practically rattled the trees with passion and raw emotion. That man was Mick O'Kane from Strabane and the London-based Joint Action Committee, an ad-hoc group centred on the hunger strike of Gerry Kelly, Hugh Feeney and sisters Marian and Dolours Price and their demands for the repatriation of all Irish political prisoners who wanted it.
"When Mick roared, you took notice," Hedges recalls. "He spoke about the hunger strike and 'force feeding' of Irish republicans. Gerry Kelly was force fed something like 170 times by prison officers. It was horrific stuff. Importantly, Mick added that it wasn't enough to be appalled, to be moved, or to be angry - you had to be involved. I went up to him as he was packing up his ladder and I took the first steps into active republican politics."
John joined the Joint Action Committee and later its 'parent body', the Prisoners' Aid Committee (PAC), which by then had become independent of the Sticky leadership.
The PAC was one of the very first groups to campaign on the cases of the Guildford Four, Birmingham Six, the Maguire Seven, Judith Ward, and Noel Jenkinson, framed for bombing the Parachute Regiment HQ at Aldershot Barracks in England after Bloody Sunday.


In 1981, when John Hedges returned to London from visiting POWs' families in Belfast in the week that Bobby Sands died in the H-Blocks, he was arrested by the Terrorist Squad and driven in handcuffs to the top-security Paddington Green Police Station, in west London.
"They told me I was the first person to be held in the new anti-terrorist unit - a milestone I could happily pass on, I thought - and I think that may be true, given a couple of things that happened after."
Escorted into a room for his first bout of questioning, John instinctively looked up in surprise to see a clock on the wall, reducing his disorientation a little. "Yes, that's coming down in the morning!" one of the interrogators grumbled. Later on, John was taken out of his cell for a wash. The hulk escorting him was a young, burly member of the notorious Special Patrol Group, "a public order goon squad". Passing a room with no door but bristling with CCTV screens and high-spec surveillance equipment, John stopped to openly marvel in his distinctly London accent at all the technology providing security for the building.
"Impressive, eh?" beamed the big SPG man, adding hastily, "Come on before anyone sees us - you're not supposed to see that. What are you in for?" "Prevention of Terrorism Act," his captive replied almost delightedly as the blood drained from his jailer's face.

Released after three days without charge but also consequently without a job, John returned to his mother's birthplace in Dublin and filled a vacancy as a trainee proof-reader/reporter with An Phoblacht. He's been with An Phoblacht in Dublin ever since, in one capacity or another and through time he earned the honorary title of 'John the Brit'.
"The late, great Mick Timothy was editor then and he taught me practically everything I know about writing for newspapers," John tells me. But the lessons were sometimes painful from the genial but no-nonsense Manchester-born editor. All articles in those days were composed by dedicated typesetters from hand-written or typed 'hard copy' and the text pasted down in long columns on grid sheets by hand, using scalpels - no computer technology in those days.
"My very first attempt at an article was on four hand-written A4 pages," John still remembers with a laugh. "Mick looked at it, told me (encouragingly) everywhere I was going wrong and sent me off to give it another go. My second draft was better but still not quite there; try again, Mick said. The third was handed up and he said that I was almost there - once more. I was losing the will to live and begged Mick to add his expert touch to what was needed and push the piece through. He heard my plea...  and tore up the hand-written pages into pieces and tossed them in the bin, making the obvious observation that he couldn't finish it now and I'd just have to do it all again and properly. I did - and I never forgot that lesson."  
I, as a reporter, remember the paper's most recent editor, Seán Mac Brádaigh, (excusing the latest temps, Martin and Joanne Spain! - editor)  telling us staff one day that from then on he'd be letting John Hedges have a second look at all the material, by way of facilitating the sub-editing process.
 "Oh, is John the Brit still around?" I queried. Then he rang me and in his broad EastEnders accent said: "That piece you wrote last week was a bit pedestrian." Pedestrian!!! I nodded in agreement, as you do, having visions of lame-duck republicans on the high streets carrying drooping copies of 'the paper'. "Don't be afraid to put a bit of colour into it," says he. Colour? Surely that was down to the photographer! "Try to bring the piece to life for the reader," he added earnestly.
He obviously learned more than one lesson from Mick Timothy!
When John started working with the paper the production job was laborious.  The staff could work 12-hour days, sleeping overnight on the production room floor. New technology means that we have new ways of working but there's also much more competition out there with almost instant access through 24-hour TV news, blogs and Twitter. "That's why securing An Phoblacht's future is such a challenge," John says, "An Phoblacht is nothing without its readers and we need Sinn Féin supporters and voters to get behind the new-look An Phoblacht, to make it their own, tell us what they want, read it, use it, buy it and sell it. It is, after all, the voice of Irish republicanism."

Editor's note: Next week's paper will feature a four page pull-out on the new monthly paper with contributions from key paper workers throughout the years
Supporting the Dublin Dockers last year 
An Phoblacht Magazine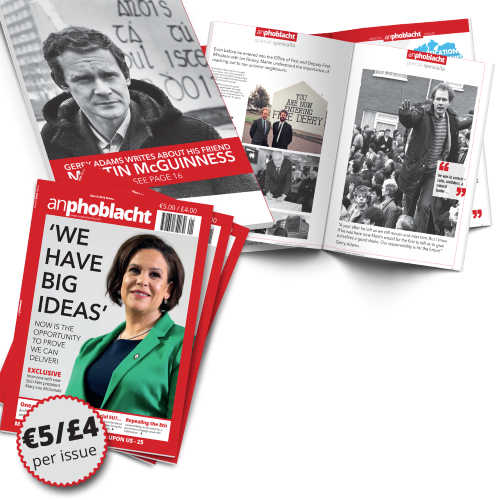 AN PHOBLACHT MAGAZINE:
The first edition of this new magazine will feature a 10 page special on the life and legacy of our leader Martin McGuinness to mark the first anniversary of his untimely passing.
It will include a personal reminiscence by Gerry Adams and contributions from the McGuinness family.
There will also be an exclusive interview with our new Uachtarán Mary Lou McDonald.
test