27 May 2010 Edition
Ministers should lead the way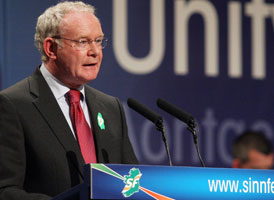 Sinn Fein Deputy First Minister Martin McGuinness has called on all Ministers in the Executive and civil servants on the highest paid grades to take a 5% pay cut as a result of planned Tory/Lib Dem cuts.
McGuinness said the priority of the Executive must be about growing the economy and protecting frontline services from the planned Tory cuts.
"We must be seen to take the lead in cutting unnecessary expense in government and cutting back on bureaucracy," he said.
"That means making savings where we can. It must mean moving ahead with the Review of Public Administration and Education Skills Authority. It means trying to press ahead with capital build projects including Long Kesh to help stimulate the local construction industry
McGuinness said Sinn Féin will be proposing the pay cut to all Ministers at the Executive meeting on Thursday.
"Given the levels of poverty which exist within our community and the reliance on frontline services I believe that this is an entirely reasonable and proper proposition."
Earlier in the week, Sinn Féin west Belfast MP Gerry Adams led a constituency delegation to meet the Health Minister Michael McGimpsey to discuss the future of the regional Women and Children's Hospital at the Royal Group of Hospitals.
The delegation included Gerry Adams, MP; Sue Ramsey MLA; Geraldine McAteer, chief executive of the West Belfast Partnership Board; Michael Culbert, Chair of the health sub-group of the WBPB; and Aine McCabe, co-ordinator of Blackie Community Forum.
Speaking after the meeting, the Sinn Féin president said," I listened very attentively to the Minister's explanation for construction of this key health project being put on the back burner.
"I accept that there are competing demands on the health budget but the reality is that many sections of the present Children's Hospital and the Royal Maternity are very old. There are problems with general maintenance and with space for patients and administration, with demand increasing.
"Despite the skill and commitment of the staff this is placing women and new born babies at unnecessary risk.
"I intend meeting the Minister again on this issue and to discuss it with others including some in the Executive and interested groups."